Microsoft's cloud and mobile play begins to pay off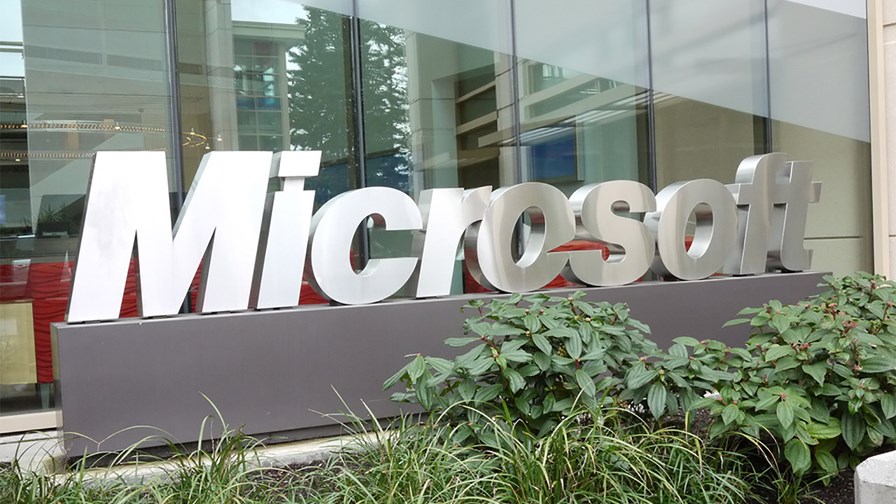 Microsoft surprised the markets last night with better than expected first quarter financial results. Strong sales of phones, tablets and cloud services helped Microsoft record a 25 per cent rise in Q1 revenues year-on-year to $23.2bn, although operating income fell 8 per cent to $5.8m.
In fact, all but one of its seven business segments recorded quarter-on-quarter growth, the odd one out being its devices and consumer licensing unit whose revenue contribution fell 9 per cent. Microsoft said this was mainly attributable to a $176m decline in Windows Phone revenue (equal to 46 per cent), due to lower per-unit royalties from OEMs. Not surprising, given that Microsoft changed its policy to now offer its Windows Phone OS free of charge to selected OEMs, in an attempt to encourage more development and greater sales.
So what about the phones themselves, as the industry was anxious to see what early impact Microsoft would have on its newly acquired Lumia range – either positive or negative?
Whilst Microsoft didn't make explicit reference to sales volumes in its financial release, some statistics were given in the accompanying materials. They revealed that Microsoft sold 9.3m Lumia smartphones in the quarter, up 5.6 per cent tear-on-year, prior to the buyout of Nokia's phone division. Not a stellar performance by any means, but a safe start.
This modest growth was driven by European markets, where Windows Phone receives better carrier support than in the US, and also from lower priced devices. Non-Lumia phones tracked average market performance, Microsoft claimed, without providing details. Combined, Microsoft's phone hardware business reported revenues of $2.6bn with a gross margin of $480, or 18.5 per cent.
The firm's tablet business also saw improvements, with revenue of $908m for its Surface range of tablets, and although no sales numbers were given Microsoft said the products generated positive gross margins. Our best guess is that sales were under 1m, which just underlines how well Apple is doing with its 12.3m iPad sales, despite complaints that this figure wasn't high enough.
Still, sales of its Surface tablets were dwarfed by Xbox sales, as its games console (increasingly becoming a home entertainment hub) notched up sales of 2.4m units and a 58 per cent revenue increase.
Cloudy future
Cloud revenue was split over consumer and commercial, and was positively impacted by the firm's push to move its Office suite to the cloud. Unfortunately for us, Microsoft doesn't break out pure cloud revenue. However, it did say that commercial cloud revenue increased 128 per cent, which also includes its Azure services and Dynamics CRM. Its commercial Office products grew 5 per cent, which it said was attributable to the move to the cloud-based Office365.
Overall, its commercial revenue grew 10 per cent to $12.3bn, driven mainly by server products and services. Its commercial unit now has gross margins of $9.9bn, dues, it says, to increased sales and engineering efficiencies in cloud services.
In fact, Microsoft CEO Satya Nadella told analysts during a conference call that the company's cloud business should generate $4.4bn in revenue this financial year, so we can extrapolate that cloud was a $1bn business (or thereabouts) in Q1 – closing in on Amazon AWS (see later).
"We are innovating faster, engaging more deeply across the industry, and putting our customers at the centre of everything we do, all of which positions Microsoft for future growth," said Satya Nadella, CEO of Microsoft. "Our teams are delivering on our core focus of reinventing productivity and creating platforms that empower every individual and organization."
Amazon under-delivers
Talking about cloud services, what of Microsoft's rival Amazon? The online firm also reported its quarterly numbers last night, and quite a contrast they were too. Although it increased revenues to $20.6bn for its third quarter, it reported a record net loss of $437m. That lead to some investors screaming "ponzi scheme!" at the company.
But whilst its retailing business (and to a lesser extent its devices business) caused investors to have nightmare, there was an upside – its cloud business.
Amazon famously hates to break out specific services in its results, and so we have to scrutinise the "other revenue" line for the impact of Amazon Web Services (AWS). Revenue for this "other" category increased 37 per cent year-on-year to $1.38bn, and the firm's CFO revealed that AWS usage had increased almost 90 per cent from the previous year.
Whilst it is impossible for those outside Amazon's inner circle to know exactly how well AWS is performing, it is clear that it has been a $1bn business for over a year now. If current trends continue, this time next year it could exhibit more growth than Amazon's core retailing business. In the meantime, we've updated our Amazon financial graph: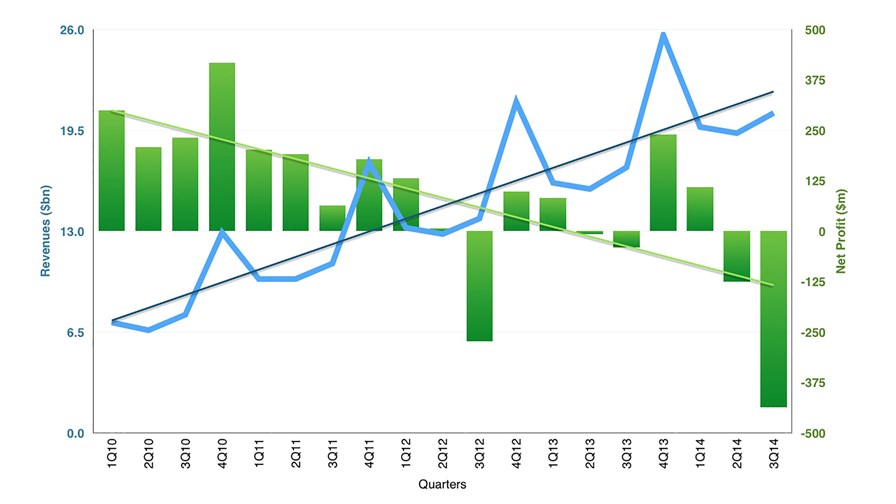 Email Newsletters
Sign up to receive TelecomTV's top news and videos, plus exclusive subscriber-only content direct to your inbox.