Ofcom wants BT to open up its Dark Fibre to competitors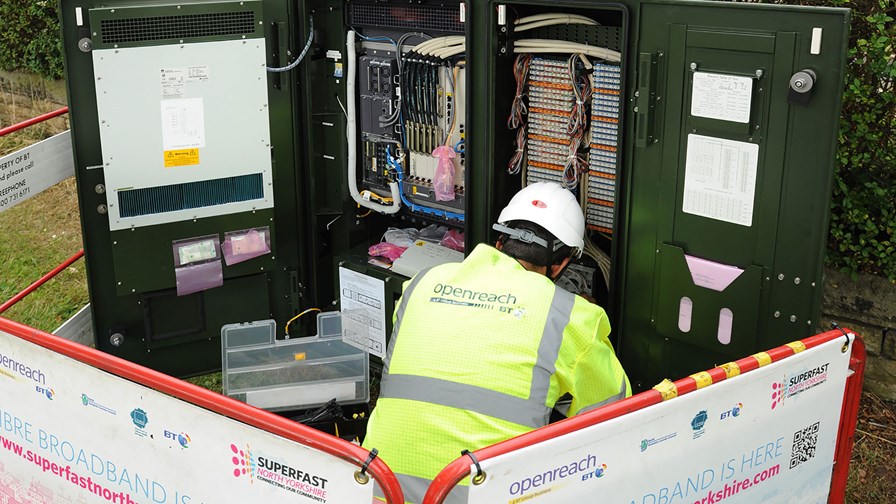 Quite a change in strategy from UK regulator Ofcom this morning, with the news that it is revising its 2012 position on using so-called dark fibre (installed but unlit fibre) for competitive leased line provision. In an announcement today, Ofcom is now proposing to open up BT's fibre assets to competitive service providers, to encourage faster installations of high-speed Ethernet leased lines for business customers.
All the signs were there that Ofcom was about to re-investigate dark fibre, when BT co-authored an open letter to Ofcom in March this year, along with Virgin Media and Kingston Communications, warning that such moves would risk future infrastructure investment and allowing multiple operators to tamper with the physical network would "cause service faults for customers".
But the imminent purchase of mobile giant EE by BT may have forced Ofcom's hand. Rival mobile operators are concerned that BT will use its vast installed base of fibre for backhaul to significantly reduce the cost of mobile service provision, creating an unfair commercial advantage. BT may bluster about such a move, but it could very well be in its long-term interest, if it means the EE deal will sail through the regulatory scrutiny process.
"High-speed, fibre optic leased lines are invisible to most people, but they form a critical building block in the UK's infrastructure that underpins people's personal and working lives," said Jonathan Oxley, Competition Group Director at Ofcom. "Today's proposals should help businesses across the UK who rely on high-speed data lines. We want to see more innovation, faster installations and more competition, by providing operators with the opportunity to deploy the technologies of their choice."
That said, businesses will have to wait a couple of years to benefit from such a move. Today's proposals are subject to consultation, which ends in July, with a final decision expected in the first quarter of 2016. Then BT would be required to publish a draft 'reference offer' for industry, containing wholesale pricing and terms for access. This would then be subject to negotiation between BT and other providers, with a final reference ready by the end of 2016. And then, and only then, when the wheels of bureaucratic regulation have cranked round a few more time, dark fibre access would become available to competitive telcos from April 2017.
Leased line services
Ofcom says the market for leased lines is worth £2 billion per year in the UK, not just from businesses and organisations but also mobile operators and ISPs. BT already offers wholesale leased line products, which bundle fibre and BT's own network equipment, at regulated prices to competitors. Ofcom now wants BT to go further, allowing operators to use BT's fibre with their own equipment – i.e. utilising the unlit dark fibre.
The proposal covers the whole of the UK except central London, where Ofcom believes there is already sufficient competition in the market, and the East Yorkshire city of Hull, where an historical quirk means that most leased lines are provided by Kingston Communication (but that, as they say, is another story).
Installing more fibre cable than is needed is a common practice – if you're digging up vast swathes of roads and pavements, you might as well run some extra cheap fibre while you're at it. This future-proofs the network to an extent, allowing the operator to connect (light) this fibre when demand arises.
Ofcom is also concerned that BT Openreach often takes too long to install leased lines, and too often changes the date on which it promises to deliver services. Since 2011, the average time between a customer's order and the line being ready has increased from 40 to 46 working days. Ofcom wants this to return to 40 working days by 2017. Not on the face of it a vast reduction, but given Openreach's problems of late, Ofcom appears to be placing the company under closer and tighter scrutiny. The regulator also wants to place new, minimum quality of service performance requirements on Openreach.
Early reactions
BT is not too impressed by the news. In a statement this morning it said: "Openreach's current offer creates a level playing field and a vibrant, competitive market with hundreds of competing companies, large and small. Mandating dark fibre risks favouring a few companies that have the greatest capability to deploy it, to the disadvantage of all other firms."
Referencing it's earlier letter to Ofcom in March, BT also said: "It will undermine investment – as a number of service providers have warned – and it would also increase costs, divert resources and add more complexity just when we're beginning to make progress on improving service."
However, BT's rivals are jumping up and down for joy. Gigabit city operator CityFibre welcomed the proposal, not surprising when you consider that in the last year CityFibre has delivered the UK's first dark fibre solutions to a Public Services Network project, mobile operators (EE and Three) and the first trial of a dark fibre FTTH service through a joint project with Sky and TalkTalk.
"Dark fibre has been validated worldwide as the only infrastructure platform to deliver cost-effective, future-proof digital connectivity fit for purpose in the decades to come," said Greg Mesch, CEO of CityFibre, adding that his company "has long championed making dark fibre widely available in the UK, placing it at the core of our Gigabit City projects over the last three years."
Update: The reactions keep flooding in…
Telecoms analysts Ovum echo our thoughts on the mobile competition aspect of this proposal, and that it could reassure UK mobile operators should BT successfully acquire EE later this year.
"Vodafone, for example, has been particularly vocal about the need for a dark fibre product to connect base stations and backhaul mobile traffic without fear of interference from BT," said Matthew Howett, Practice Leader, Regulation at Ovum. "This is relevant since BT currently provides all UK mobile operators with high-speed mobile backhaul links."
He adds that elsewhere in Europe, a requirement for dark fibre is fairly common. According to recent Ovum research, around half of the 28 member states already have a requirement in place – along with countries in Asia such as Japan, Singapore and South Korea.
"Up until now, alternative connectivity providers haven't been able to roll out new superfast fibre using the incumbent's passive infrastructure, so businesses are struggling with out-dated, slow connectivity, which is holding them back," said Barney Lane, Director of Regulation at business telco Colt. "Opening up access to infrastructure in areas without sufficient competition has proved successful in boosting investment in superfast broadband in the rest of Europe, including Southern Europe, where local SMEs have far better connectivity options available to them than those in the UK."
Email Newsletters
Stay up to date with the latest industry developments: sign up to receive TelecomTV's top news and videos plus exclusive subscriber-only content direct to your inbox – including our daily news briefing and weekly wrap.