MEF releases key global Ethernet services specifications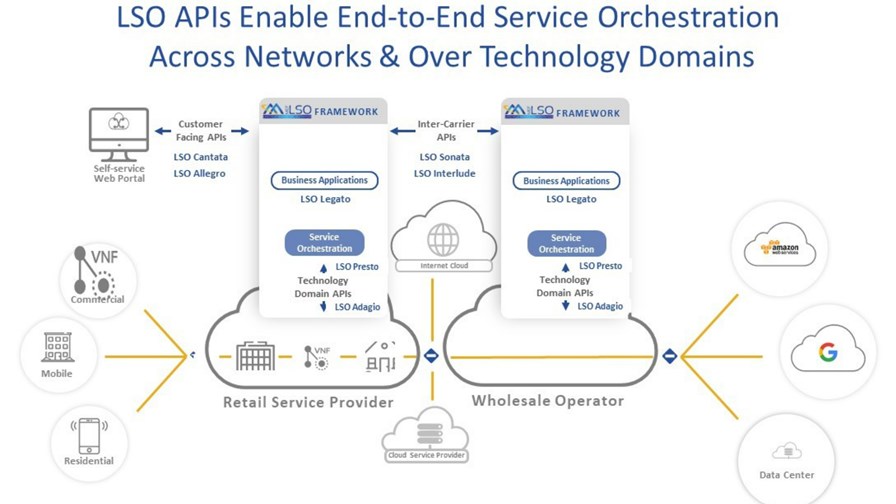 MEF releases new specifications for its LSO and MEF 3.0
Aims to foster a global - orchestrated with partners - service capability
Giving Ethernet customers that 30 to 90 second Netflix or Amazon experience
Regular readers/viewers of TelecomTV will be aware that the MEF (originally the 'metro Ethernet forum' - but now sporting a broader remit around carrier adoption and evolution of Ethernet networks and services) is in the process of carving out a leading role in the integration of SDN with, not just Ethernet, but with multiple service types including Layer 1, CE, IP and SD-WAN.
Last year the MEF announced MEF 3.0, self-defined as a 'transformational framework for defining, delivering and certifying agile, assured and orchestrated communication services across a global ecosystem of automated networks.'
See 'Orchestrating agility with MEF 3.0' an interview with MEF President, Nan Chen, in the wake of the 3.0 announcement. According to Nan Chen, the ultimate objective of MEF 3.0 is to enable carriers to deliver agile orchestrated services on a global basis.
Last week the MEF released more flesh for the 3.0 and LSO bones with, amongst other announcements, its Network Resource Management: Information Model, and Network Resource Provisioning: Interface Profile Specification, both part of the MEF's Lifecycle Service Orchestration (LSO) Reference Architecture.
Long, technical story short, one important objective with the latest specifications is to enable that 'global orchestrated Ethernet' imperative mentioned above by Nan Chen. It sounds complex and it is.
"We not only need to do this north and south within a single carrier, but we also need to go east to west between two or more carriers because the fact is that no single carrier completely owns any one customer," says Jack Pugaczewski, Distinguished Architect at CenturyLink. (see - Open LSO APIs and Orchestrated Services)
The idea is to provide a slick and structured way for service providers to extend the reach of their network footprint over partner networks without losing manageability and functionality. In other words to orchestrate their own service seamlessly on a partner's network and to keep the capability there, ideally without any human intervention. The key is the API.
"And it's not just one API, it's a set of APIs that is going to make this work," says Pugaczewski. "After you activate, it's the service assurance. I want to see how my network is behaving and I want to orchestrate connectivity with my cloud applications across the network.
"So if we want to move to a Netflix or Amazon sort of customer experience where the customer spends 30 to 90 seconds activating a service, just like you would to get a movie, we have to have automation. These (MEF) APIs and the corresponding software that's being built is going to give our customers that 30 to 90 second Netflix or Amazon experience instead of 30 to 90 days."
Email Newsletters
Sign up to receive TelecomTV's top news and videos, plus exclusive subscriber-only content direct to your inbox.