Listen up, T-Mobile offers 'free' streaming music but is accused of zero rating tactics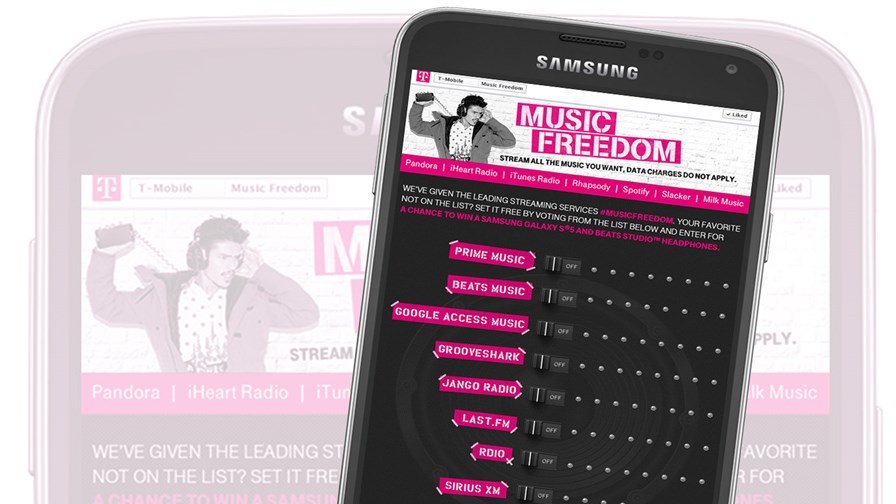 T-Mobile USA is not afraid to break ranks and go against the accept industry norm. The self-titled "un-carrier" and its straight-talking CEO John Legere announced a new service this week designed to make listening to streaming music easier and less costly for its customers.
The mobile operator's customers will now be able to stream all the music they want from popular streaming services, including Pandora, Rhapsody, iHeartRadio, iTunes Radio, Slacker, and Spotify – without ever hitting their LTE data limits. Music services from T-Mobile partners, including Samsung's Milk Music and Beatport, will also stream without data charges for T-Mobile customers.
"As a committed music freak, I'm personally outraged at the way the other guys are using the music you love to lure you into over-priced plans with sweet 'promotional offers' that quickly roll into higher prices or trigger those absurd overage charges," said T-Mobile CEO and President John Legere. "Music should be free of all that. Music should have no limits. So, beginning right now, you can stream all you want at T-Mobile from all of the top music services – data charges do not apply."
In fact, the often potty-mouthed Legere went as far as to describe rivals AT&T and Verizon as "raping" their customers, of being "greedy bastards" and that "those f*ckers hate you". He subsequently apologised.
According to T-Mobile, 37 per cent of US mobile users say they avoid streaming on their phones, mainly out of fear that they'll use up their data and run into overages. The services themselves might be free to listen to (although there's usually a subscription charge attached), but of course every bit of data counts towards a cap, and overages can be hugely expensive. Or in T-Mobile's case, data speeds are throttled back when limits are reached.
But not everyone was impressed. The Public Knowledge advocacy group claimed that T-Mobile was using the threat of data caps "to undermine net neutrality". It said that by singling out specific services as being exempt and therefore of more attractive to customers it was engaging in gate-keeping and zero rating services.
It said that startup music services, or those without scale and happy to remain as niche services – as well as those without a business development relationship with T-Mobile – will be penalised. And even if T-Mobile allows any music service to apply for inclusion in the its "unmetered lane, that process sets a dangerous precedent. Should every new music startup have to register with every ISP they care about before launching?"
T-Mobile also made several other announcements this week. It is launching a "test drive" service, giving prospective new customers seven days to try out an iPhone 5s, and if they don't think the network is for them they can simply return the phone at no cost. It has also expanded its VoLTE service to now cover 100 million people in 15 regions, with full nationwide coverage planned by the end of 2015.
All this as Sprint reportedly strengthens its war chest with a further $40 billion as it prepares to a merger deal with T-Mobile. The new money is split between a bridging loan and refinancing of existing debt. Sources say a deal could be announced in July.
Email Newsletters
Sign up to receive TelecomTV's top news and videos, plus exclusive subscriber-only content direct to your inbox.