Legere de main: CEO works magic at T-Mobile USA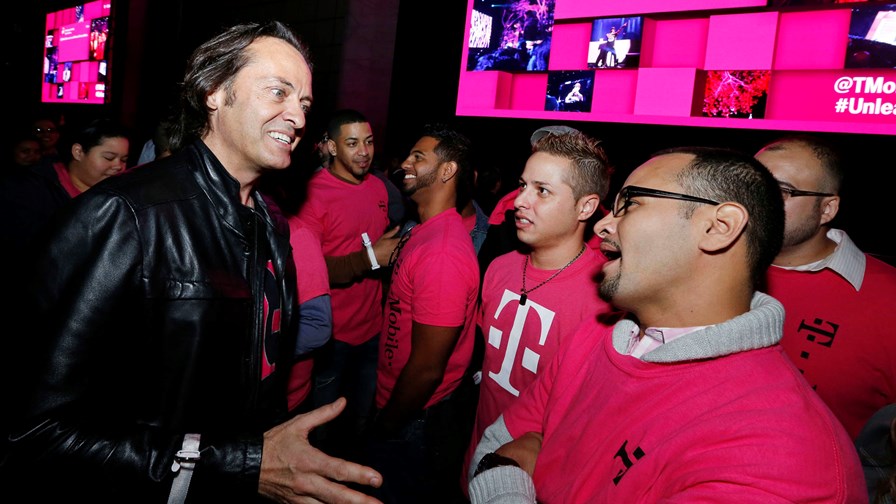 The US mobile service provider T-Mobile might still be a prime takeover target but it looks likely to command a considerably higher sales price than might have been expected after posting some excellent Q1 figures. They were so good that CEO John Legere couldn't stop himself cursing in jubilation as he took to Twitter to rub his rival's noses in it.
In the first quarter of 2014 T-Mobile USA added 1.3 million postpaid customers to its subscriber base as well as 465,000 additional prepaid users. It also shifted 6.9 million handsets. Pretty darned good by any measure, but that's not the whole of it.
Just under a year ago T-Mobile acquired the prepaid wireless service company MertoPCS. The takeover was explicitly designed to "help the competing provider [T-Mobile] become more competitive with the other national carriers". The strategy seems to have worked. With the number of MetroPCS users that T-Mobile has now absorbed, the net total increase in subscriber numbers for the quarter was 2.4 million. As the company joyfully pointed out, this increase was considerably more than the likes of AT&T, Verizon, and Sprint managed to put on between the lot of them.
T-Mobile USA's revenues were up by 47 per cent to US$6.88 billion. For Q4 2013, that figure was $4.68 billion. Sales were also up by 15.3 per cent. However, on the down side, the service provider made a loss of $151 million on the quarter, up from $107 million in the same quarter of 2013. The higher loss is down to the expense of the MetroPCS acquisition and costs associated with the integration of the two companies which is proving more of a financial drain than had been anticipated.
However, the market shrugged off the increased loss and T-Mobile shares rose by more than 9 per cent. Investors are impressed by the company's determination to be the troublesome outsider and iconoclast in an increasingly hidebound, expensive and uncompetitive US mobile sector.
The 'un-carrier'
T-Mobile, describing itself an "un-carrier", and determined to differentiate from the slew of greedy "me too" operators that are in some cases, almost literally, throttling the goose that lays the golden egg, has successfully persuaded 53 per cent of MetroPCS subscribers to switch to a new network and new contracts and now has the lowest postpaid churn rate of any of the big Us mobile service providers. At 1.5 per cent it is a figure AT&T, Verizon et al would love to be able to emulate but can't.
Furthermore, T-Mobile is expanding into 15 new markets (with more to come) and expects to further increase its postpay user base by a further 2.8 million to 3.2 million by the end of Q$ this year.
Commenting on the figures, John Legere, who is no by no means a carbon copy of your average US telco CEO, said, "A year ago I promised that we would bring change to what I called this arrogant US wireless industry. We are delivering on that promise and our results reflect the growing customer revolution that we've ignited".
He added, "We are now approaching 50 million customers, added 2.4 million net new customers in the first quarter alone, and posted our fourth quarter of consecutive service revenue growth, while once again adding more net new postpaid customers than the rest of the industry combined!"
T-Mobile has given the US mobile sector a well-deserved kick up the rear and by providing genuine competition and a new approach, has forced its competitor's to cut their expensive and restrictive tariffs and introduce meaningful subscriber incentives as they scrabble around to stem the flow of disgruntled users who are churning away to sign-up with T-Mobile USA. Now though, T -Mobile will have to demonstrate that it can make a profit from its increasing customer base without antagonising users or blunting its competitive edge.
The newly released Q1 figures show ARPU at $50.01, a fall of down 1.4 per cent year-on-year.
Acquisition target
Despite its improving fortunes, T-Mobile remains as acquisition target. Back in 2011 AT&T Mobility sought to 'merge' with T-Mobile to become the largest wireless operator in the US with upwards of 130 million subscribers. The FCC indicated it would oppose the deal and the US Department of Justice drove the final nail into the coffin of AT&Ts ambition by blocking a proposal that it, it adjudged, would "substantially lessen competition" in the US wireless market. The DoJ was right.
However, while the AT&T deal may be dead, rumours of impending mergers and/or acquisitions won't lie down. The fact of the matter is that T-Mobile is now a very real threat to the continued viability and existence of Sprint which currently remains the third-biggest cellular operator in the US with 55 million users. However, T-Mobile, with some 49 million subscribers, is coming up fast on the rails and Sprint is getting twitchy. If things go on as they are and one wireless carrier does eventually have to leave the US market, it is no longer beyond the bounds of possibility that it could be Sprint that goes to the wall rather than T-Mobile USA. Sprint is worried - and, given its reputatioin for shoddy customer service, so it should be.
Hence the Wall Street Journal article of last December which reported that Sprint has a team working on a $20 billion proposal to merge with T-Mobile USA "in the first half of 21014". Well, we are not that far from being halfway through 2104 and nothing much seems to be happening – but then events may well be unfolding behind closed doors.
That said, if a Sprit/T-Mobile merger is on the cards, it could face the same regulatory hurdles and disapprovals as those which scuppered the AT&T proposal. Indeed, since that approach failed, the FCC and DoJ have reiterated that the US needs 4 major carriers to ensure genuine competition. As one anonymous legal blogger obseved, "They say two's company but three's a crowd. Well, the FFC says four's competition but three's a cartel".
Meanwhile the plot thickens. Less than a week ago Bloomberg reported that SoftBank and Sprint are planning to make a $24 billion bid for T-Mobile sometime between July and September. Interestingly and significantly the report added that the front-runner to become CEO of the new Sprint/T-Mobile mashup will be none other than the aforementioned John Legere, the current CEO of T-Mobile, who has gained much kudos during his tenure there and is riding high in investor approval.
That's for the future. "The past", as L. P. Hartley wrote, "is a foreign country. They do things differently there." That's certainly true of another of Mr. Legere's responses to T-Mobile USA's Q1 good news. This time it was considerably less corprate and formal in nature. In an ebullient Tweet he told his followers, "We have outpaced the competition AGAIN – 12 times over! I shit you not!
Email Newsletters
Sign up to receive TelecomTV's top news and videos, plus exclusive subscriber-only content direct to your inbox.