Cloud-based Unified Communications should be a happy hunting ground for CSPs. If they move fast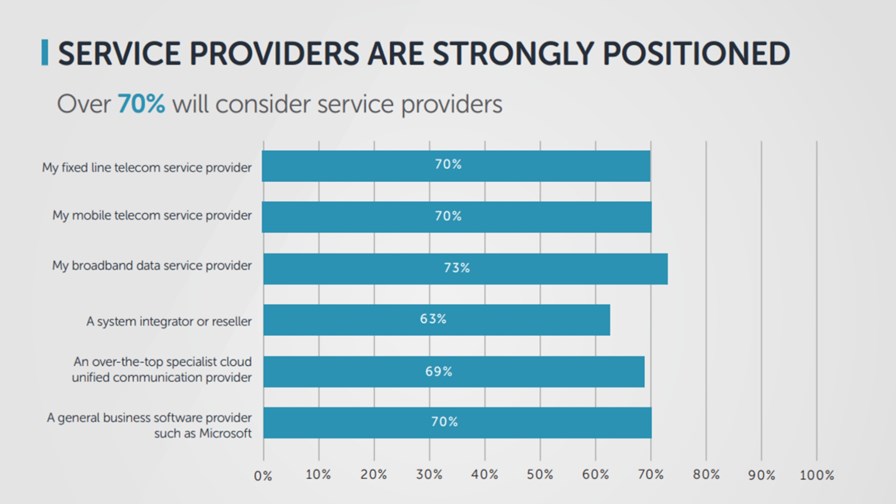 70% of enterprises are poised to take their unified communications into the cloud
CSPs could and should be ready to welcome them with compelling cloud services
The fight will be tough, but CSPs have some compelling advantages
Enterprises from around the globe are poised to make a big push into cloud-based unified communications (UCaaS) over the next two years, according to the results of a survey by SaaS system specialist and Cisco subsidiary, Broadsoft.
Better yet, Communications Service Providers (CSPs), have a very good chance of picking up a lot of that new cloud applications business and cutting out the enterprise software players who have dominated the area for the last few decades, claims Broadsoft.
As always there are caveats and requirements if CSPs are going to make a good showing. First of all, they have to move fast. If, as the Broadsoft survey suggests, 74 per cent of enterprises are already poised to go to the cloud for their cloud UC requirements within two years, then CSPs have to bring a complete and credible offer to the market "as enterprise purchase decisions are made". They're going to meet a lot of competition in doing so.
The report points out that cloud UC is now a core component of many businesses' digital transformation strategies. As in other tech areas, enterprise users tend to reach for buzz-words like 'agility' and they look forward especially to fewer software upgrades (78 per cent), more integrated and bundled offerings ( 70 percent ), a solid user experience (78 per cent ) and reduced IT operation effort (70 per cent).
According to Broadsoft, "the cloud evolution commands an expectation of leading edge technology. IT decision makers rated contextual intelligence and the ability to see all relevant documents and communications history in real time as important ( 75 per cent ). Advanced analytics for performance and productivity monitoring ( 73 per cent ) and artificial intelligence ( 62 per cent ) were also considered important."
But the survey also unearthed some key CSP advantages - enterprise wants and concerns seem to elide nicely with strengths CSPs generally think of as theirs.
First of all, enhanced mobility for remote work communications were deemed important by 69 per cent of respondents, so CSPs have a chance to build their offerings around tailored mobile voice and messaging services. If enterprises also see mobility and its slick integration as important, that could be a big plus.
Also perennial CSP strengths in integration and bundled offerings, "solid" user experience, security (80 per cent) and management controls (78 per cent) were highlighted as important.
To view the full report click here
Email Newsletters
Stay up to date with the latest industry developments: sign up to receive TelecomTV's top news and videos plus exclusive subscriber-only content direct to your inbox – including our daily news briefing and weekly wrap.