AT&T pays the price of 'mobile cramming' and is ordered to refund $80m to customers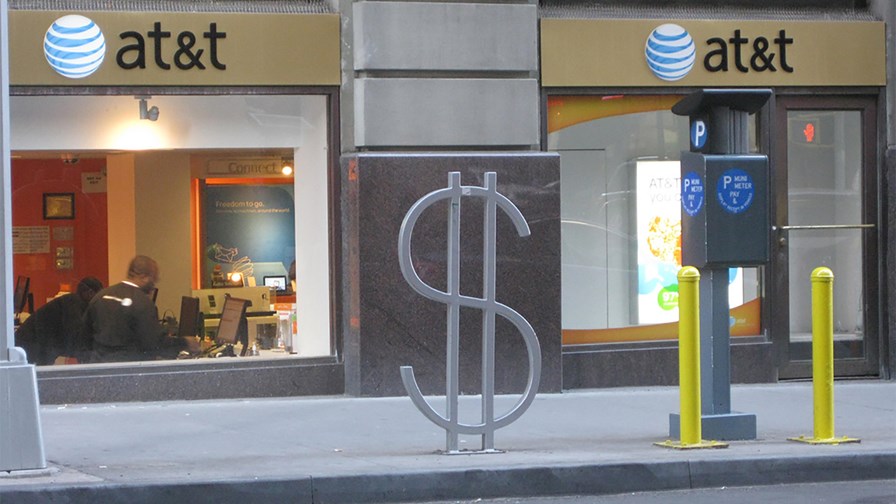 This week, AT&T was hit with a $105m bill from the US Federal Trade Commission for making unauthorized third-party charges, a practice known as 'mobile cramming'. Of the total fine, $80m will be refunded to customers, with the balance being penalties and fees to the 50 states and the FTC.
Despite all the attention this week, mobile cramming has unfortunately been around for a number of years. This new case is part of a larger FTC and FCC effort to clamp down on the practice and is its seventh legal action since 2013 – it still has a case pending against T-Mobile over a complaint it made in July, and whilst it won't comment specifically it is likely that Verizon Wireless and Sprint could be next. And this is just for mobile cramming; it has spent much of the last decade fighting cramming on landline phone bills.
"I am very pleased that this settlement will put tens of millions of dollars back in the pockets of consumers harmed by AT&T's cramming of its mobile customers," said FTC Chairwoman Edith Ramirez. "This case underscores the important fact that basic consumer protections – including that consumers should not be billed for charges they did not authorise – are fully applicable in the mobile environment."
The FTC alleged that AT&T billed its customers for hundreds of millions of dollars in charges originated by other companies, usually in amounts of $9.99 per month, for subscriptions for ringtones and information-based text messages, and that AT&T kept at least 35 per cent of the charges it imposed on its customers.
The problem was, many customers didn't authorize these payments and didn't request the services. In 2011 alone, the FTC found that AT&T received more than 1.3 million calls to its customer service department about the charges. For some third-party content providers, complaints reached as high as 40 per cent of subscriptions charged to AT&T consumers in a given month.
The FTC maintained that AT&T did not act to determine whether these third party companies had received authorisation from consumers for the charges, and so either denied refunds or else referred consumers back to the third-parties to seek refunds – even though consumers actually paid AT&T the money. The FTC also alleged that the wording of AT&T's consumer bills compounded the problem by making it very difficult for customers to know that these charges were being placed on their bills – by listing fees as "AT&T Monthly Subscriptions," consumers could well believe the charges were part of services provided by AT&T, and not third-parties.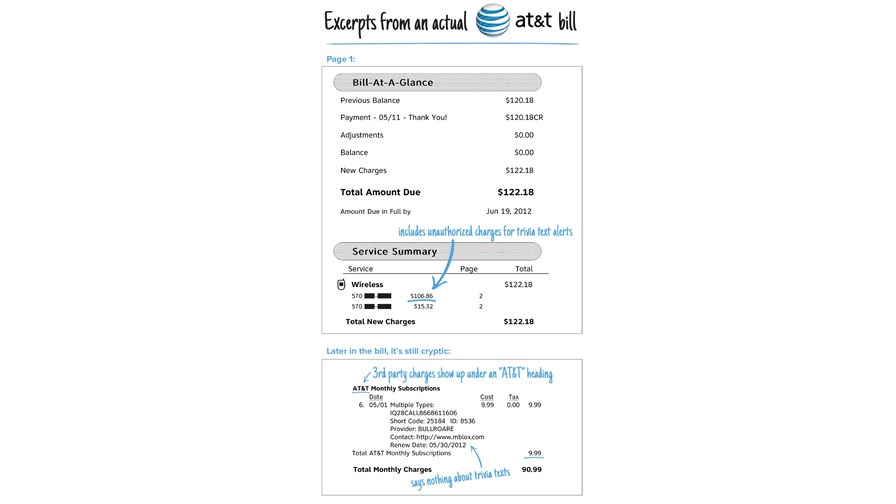 AT&T has been ordered to notify all of its current customers who were billed for unauthorised third-party charges of the settlement and the refund program and must also obtain consumers' express, informed consent before placing any third-party charges on a bill.
This is undoubtedly bad news for the US telcos, who will suffer a PR backlash for their continued inactions to protect their customers, and allegations that they profited from cramming activities (perhaps inadvertently, but they still took their share of the fees). And whilst action against the complicit telcos is welcome, action also needs to be taken against the third-party service providers (or "crooks" would be a better term in many cases) themselves.
In August, the FTC took action against one such cramming scheme. It fined Andrew Bachman $1.2m over his operation and seized a Ferrari and various luxury goods towards payment. This followed a further successful action against a company run by Lin Miao where he was ordered to surrender more than $10m in assets.
AT&T issued the following statement: "In the past, our wireless customers could purchase services like ringtones from other companies using Premium Short Messaging Services (PSMS) and we would put those charges on their bills. Other wireless carriers did the same. While we had rigorous protections in place to guard consumers against unauthorized billing from these companies, last year we discontinued third-party billing for PSMS services."
Industry association the CTIA was not surprisingly rather defensive about the issue. In his statement to the US Senate Committee on Commerce, Science and Transportation in July, Michael Altschul, SVP and General Counsel for the CTIA quoted from an FTC document that said in 2008 it had only received 345 complaints about mobile cramming from a total of 270m wireless customers. He added that there wasn't "a significant problem in this area".
"With the carriers' decisions to no longer support premium short codes for commercial campaigns, the remaining opportunities for third-party charges to appear on wireless bills are limited to instances involving direct carrier billing," said Altschul. "Although CTIA has no first-hand knowledge of carrier practices in this area, it is our understanding that each of the national carriers employs stringent vetting and safeguards to guard against any abuse."
So that's alright then. Meanwhile, AT&T tries to grin and bear it, as it continues its quest to have its proposed merger with DirecTV approved by government regulators.
Email Newsletters
Sign up to receive TelecomTV's top news and videos, plus exclusive subscriber-only content direct to your inbox.