WRC-15 gets underway for its month-long spectrum regulation marathon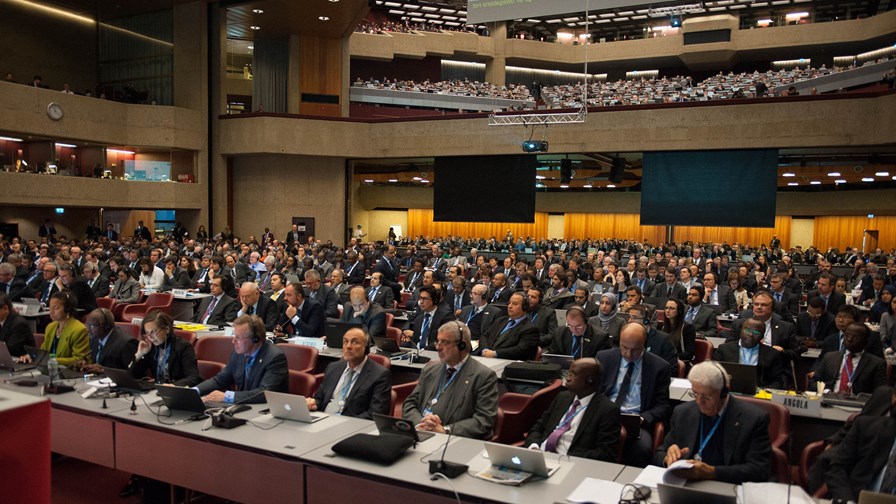 ITU opens the World Radiocommunication Conference in Geneva
First since early 2012; next one planned for 2019
GSMA calls for satellite spectrum to be shared with cellular
Best get comfy, this is going to take some time
For some, the prospect of a month-long, all expenses paid, corporate trip to participate in what has to be the industry's (if not the world's) longest and most drawn out conference would be the idea of heaven. For others, it is more like hell. On Monday this week, the World Radiocommunication Conference convened in Geneva and won't end until November 27.
Last held almost four years ago, the objective of the WRC events is to review the international regulatory framework for radio communications and revise them as needed. The international treaty-making conference is hosted by the ITU, and this month's event is actually working to a broad agenda that was first created about six years ago. They don't like to rush these things… Little wonder, then, that the 5G community is already focused on the next WRC event, scheduled for 2019 (seriously, agenda suggestions are already being submitted).
But there is still a lot on the table at WRC-15, and over 3,000 participants, representing more than 160 out of ITU's 193 Member States, are expected to attend, together with about 100 observers from the ITU's private sector membership and other international organizations.
"The 2015 World Radiocommunication Conference will define new and better ways to regulate radio services and applications," said ITU Secretary-General Houlin Zhao. "In a world where radiocommunications play an increasingly important role in connecting people, I am convinced that the outcome of the conference will contribute towards making the world a better place for all."
WRC-15 will address a number of issues, including:
Mobile broadband communications
Emergency communications and disaster relief
Monitoring the environment and climate change
Unmanned aircraft and wireless avionics systems
Global flight tracking for civil aviation
Enhanced maritime communications systems
Road safety (frequencies for short range radars for collision avoidance systems)
Operation of satellite systems
If you're expecting a lot of 5G action at WRC, then prepare to be disappointed – that's going to be top of the agenda for the next WRC. However, it's the provision of additional frequencies for mobile broadband that is stimulating most of the pre-event lobbying. Top of the list, of course, is the GSMA, which has already released a number of WRC-related press releases to support its cause.
Let the lobbying begin
"Governments have a unique opportunity to ensure we have the spectrum necessary to drive digital inclusion and foster a robust mobile economy over the coming decade," said Alex Sinclair, Acting Director General and CTO, GSMA. "The time to act is now. As it can take up to 10 years from international identification of spectrum to network deployment, decisions made at WRC-15 will determine the availability of affordable, ubiquitous, high-speed mobile broadband services for years to come."
The GSMA backs up its cause with passionate quotes from the CEOs of many of its operator members; in this, the cellular industry appears united. It believes that 600-800MHz of additional spectrum needs to be identified globally for mobile broadband to meet projected consumer demand by 2020. It also sees it as critical that WRC-15 identify several new globally harmonised bands, ensuring good coverage and capacity characteristics and manufacturing economies of scale.
So what might we see? The 700MHz UHF band may become a globally harmonised band, there could be agreement for spectrum from 1.4GHz in the L-band, an outside chance for more support for sub-700MHz spectrum to be reserved for mobile, and a portion of the 3.4GHz C-band could also be allocated to mobile.
To support the latter, the GSMA has published a report looking at the projected economic benefits of using C-band spectrum for mobile broadband, especially in densely populated areas. The report suggests that the use of C-band spectrum for mobile broadband can be achieved through the development of sharing techniques to allow mobile services to co-exist with other users of the band, such as satellite and fixed link services.
"Administrations around the world should make available larger amounts of contiguous spectrum to meet the demand for high speed connectivity in more densely populated environments," said David Wang, President, Huawei Wireless Networks. "C-Band discussions during the WRC-15 offer a unique opportunity which should not be missed."
Looking at London, the study suggests that there would be an economic benefit of €275m over the period 2018 to 2028, and that for Shenzhen would be €126m (where there is less C-band spectrum potentially available). Note that his economic benefit is actually a "benefit from avoided costs" for telcos having to stick with existing network capacity plans, assuming C-band usage doesn't happen.
"With the relentless expansion of wireless services worldwide, all services relying on radio waves are competing for a share of the radio-frequency spectrum to support new applications, growing user numbers and exploding traffic," said François Rancy, Director of ITU's Radiocommunication Bureau. "The deliberations at WRC-15 and its outcomes will ensure that we can maintain a stable, predictable and universally applied regulatory environment that secures long-term investments for a multi-trillion dollar industry."
Email Newsletters
Sign up to receive TelecomTV's top news and videos, plus exclusive subscriber-only content direct to your inbox.