Egypt urged to release more mobile spectrum to aid economy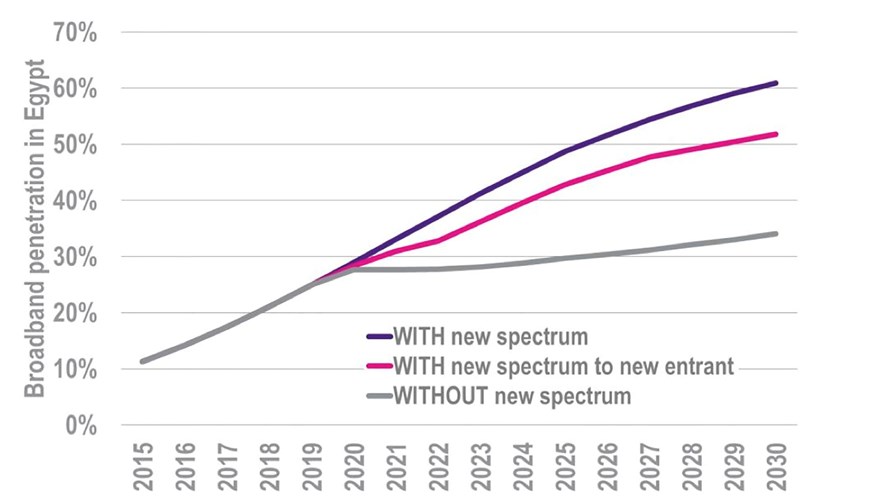 A new report from the mobile trade association GSMA and written by Plum Consulting suggests that Egypt needs to develop its mobile broadband opportunities if it is to benefit from associated economic gains. With one of the world's lowest levels of spectrum assigned to mobile and a limited fibre capacity, the report calls for a change of regulatory policies to aid mobile operators.
By taking action to increase mobile broadband penetration, the GSMA says the Egyptian government could unlock an additional $43 billion in GDP and help create 1.2 million new jobs across the economy by 2030. In response, Atef Helmy, Minister of Communications and Information Technology, invited the mobile industry to convene a joint task force to address the current constraints and assess the demand and supply requirements to fast-track mobile broadband roll-out.
"Following successful discussions, it is now time for the government and industry to take concrete steps to foster innovation and growth through mobile," said Helmy. "This cooperation is a critical part of our joint effort to enhance the lives of our citizens and position Egypt as a leader in the region."
Calls for a new broadband plan
The report calls for the adoption of a stable regulatory environment to support private sector investment in both fibre and mobile networks, together with the development of a new national broadband plan. However, Egypt already has an official broadband plan in place, which was adopted in 2011. But the report's authors say its targets are no longer relevant – the country is a huge way off its 2015 fixed broadband target (75 per cent of households having 2Mbit/s access by next year…) but has already exceeded its mobile broadband one.
Only last week, the ITU's Broadband Commission released its annual report, which showed that Egypt ranks a lowly 104th in terms of fixed broadband penetration, with 3.3 per cent take-up (please note, the ITU defines broadband as a ridiculously low 256kbit/s or more). In terms of household Internet access, Egypt has 34.5 per cent penetration.
However, it fares better with mobile broadband, ranking 62nd with 31.1 per cent. The GSMA estimates that there were approximately 100 million mobile connections and 24 million mobile broadband connections as of June this year.
So if Egypt has met and passed its mobile broadband target of 10 per cent penetration (8m people), why not celebrate the fact?
The report argues that the key is in "unconstrained access" to mobile broadband, and that the market today, despite its success, is too constrained. The GSMA also wants to see the urgent release of additional spectrum in the 700MHz, 800MHz, 1.8GHz and 2.1GHz bands, and access to transmission infrastructure at acceptable prices for all market participants. Quite a long wish list, really.
Egypt's mobile operators, says the report, are becoming increasingly constrained in terms of network capacity and the profitability of their services. The country currently has three operators – Mobinil, Vodafone and Etisalat – but will soon be joined by fixed telco Telecom Egypt. However, Telecom Egypt doesn't have any spectrum, so will have to create an MVNO with one of its rivals.
Meanwhile, Egypt's mobile broadband penetration (which is in the range of 28 to 31 per cent, depending on who's measuring) lags behind its regional neighbours in the Gulf; Bahrain, Qatar, Oman, UAE and Saudi Arabia; although ahead of Tunisia, Sudan and Syria.
"These constraints, combined with a lack of radio spectrum to support the latest mobile broadband technology, are stifling economic growth," said Tom Phillips, chief regulatory officer at the GSMA. "Policies that encourage investment in mobile broadband and enable additional spectrum to be allocated for mobile services are critical to transforming Egypt's economic future."
Email Newsletters
Sign up to receive TelecomTV's top news and videos, plus exclusive subscriber-only content direct to your inbox.