Cisco is pushing IoT to make Kansas City smart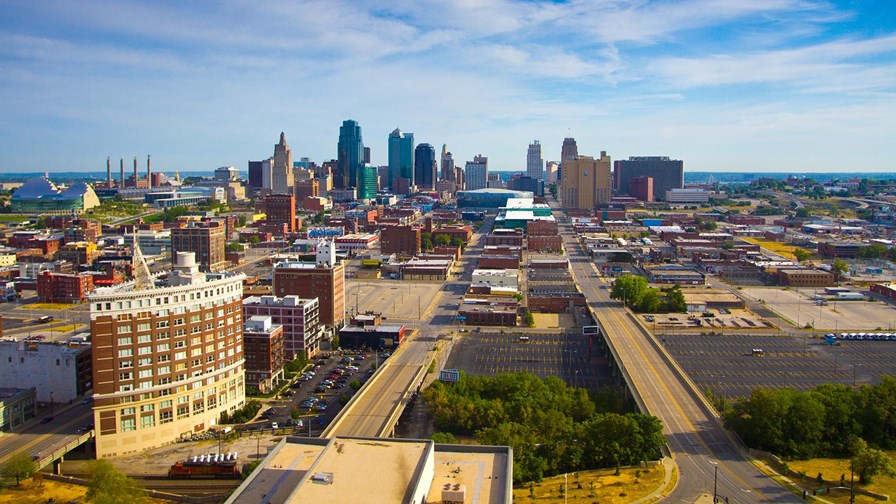 First Google, now Cisco: Kansas City is attracting more than its share of big ICT investment, as it looks to capitalise on its gigabit fibre to become a smart city. Cisco is to develop what it calls a "living lab" in the US city of Kansas, Missouri – home to Google's first fibre project.
As part of the company's 'Smart+Connected Communities' programme, Cisco will work with the local Kansas City authorities to develop the "living lab" in the city's innovation district, as well as exploring new opportunities to build out a citywide network to enhance citizen engagement.
Whilst Cisco made no reference to Google in its announcement, the presence of a citywide gigabit fibre infrastructure was surely a factor.
Both parties signed a letter of intent this week, which outlines a framework for specific pilot projects around a mobile platform for citizen access and infrastructure sensing, citizen engagement facilitated by digital interactive kiosks and mobile applications, smart street lighting and video surveillance.
The agreement also enables access for Kansas City to the Cisco Smart+Connected Communities reference architectures and provides a framework for defining and evaluating various related initiatives. In addition, Cisco is ready to assist Kansas City in developing a digital agenda.
"Today, global competition really is between cities to provide the best quality of life for its citizens, and Kansas City is helping to lead the charge on innovation in the Midwest," said Wim Elfrink, Cisco's EVP of industry solutions and chief globalisation officer. "This kind of thought leadership at the municipal level is what helps pave the way for a smarter, more connected and sustainable city."
Cisco plans to work with local-based Think Big Partners and other innovative companies to manage a Kansas City "living lab" for entrepreneurial development. This lab will serve as an incubator for these open ecosystem participants and the start-up community to develop new solutions to address some of the city's main challenges.
Public-private partnership
"Cisco's investment is further proof that Kansas City is at the forefront of technological advancement," said Kansas City Mayor Sly James. "This joint effort will connect our visitors and residents with our City's services and information like never before. In addition, entrepreneurs will have the opportunity to build their own unique, innovative applications to enhance the public's experience. This furthers our efforts to be the most entrepreneurial city in the nation."
Detailed designs and business structures are currently being discussed, and additional smart services will be identified with the recruitment of further partner companies. A final selection on pilot projects to be rolled out is planned by the end of June.
"Innovative solutions will be developed that are not even on the drawing board once we connect the smart city ecosystem to the entrepreneurial ecosystem," said Isaiah Blackburn, Cisco's chief strategist for Connected and Innovative Kansas City.
The presence of a bar in Kansas City called Cisco's Cantina was surely a coincidence… whilst the Kansas City Star newspaper had just two comments on its website about the news: one wanted better synchronisation of traffic lights, whilst the other wondered if a partner with Huawei would be a better idea…
Cisco believes that the Internet of Things (or 'Everything', as it confusingly calls it, reluctant to give up on its own branding) will be a $4.6 trillion public sector opportunity over the coming decade – compared with $14.4 trillion for the private sector.
Actually, Cisco does make a differentiation between 'Things' and "Everything'. The former, it says, does not include people and process, merely the networked connection of physical objects, whereas the latter comprises many different technology transitions. So that's clear then…
This opportunity for city authorities and politicians comes from the IoT's ability to help public-sector organizations manage assets, optimize performance, and create new business models. The $4.6 trillion figure is equivalent to about one-third of the expected civilian labour productivity growth over the next ten years.
Across the digital divide
Meanwhile, across the border in Lawrence, Kansas, an advisory board this week recommended that the city provide a $1 million loan guarantee for Lawrence-based Wicked Broadband to launch a pilot gigabit project in the city. Apparently the threat to commerce from having a Google Fibre city nearby is becoming too much.
"The clock is ticking here," said commissioner Mike Gaughan, a member of the city's Public Incentives Review Committee. "We don't need to be falling further behind in getting high-speed Internet into the community."
Email Newsletters
Sign up to receive TelecomTV's top news and videos, plus exclusive subscriber-only content direct to your inbox.