EE to deploy small cell networks to connect rural locations in the UK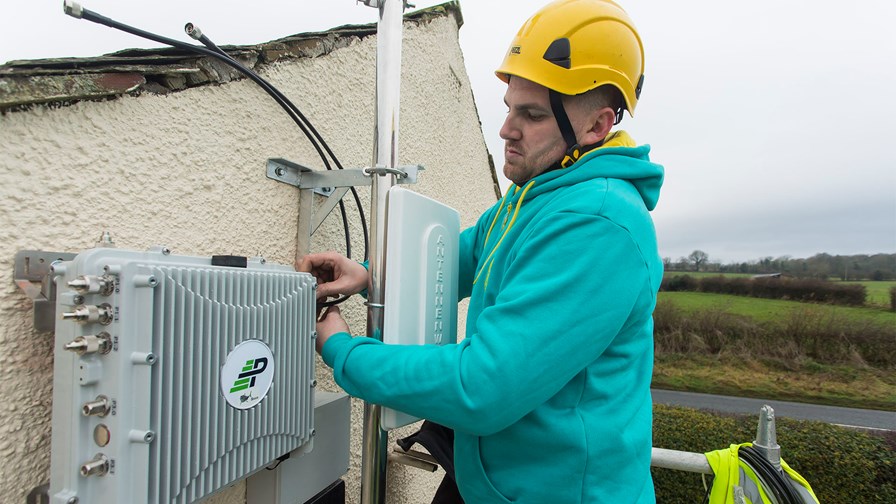 Small cells are not just for urban environments; they work just fine in rural locations as well. UK mobile operator EE has spent the past few months trialling their use in a remote hamlet in the north west of England, in partnership with its technology supplier Parallel Wireless, and has announced commercial deployment plans for early next year.
It's a timely announcement, coming as it does during a heated debate in government about the number of so-called "not spots" in the country, where cellular service remains unavailable to users (either totally, with no coverage whatsoever, or else just limited to one or two operators' networks). The government is keen to implement national roaming to end this embarrassing state of affairs, but the operators are proving extremely reluctant to the idea.
EE's new idea is to create micro networks of femtocells, using building mounted sites with small antennas, which are then "meshed" together to enable wireless line-of-sight backhaul from just one site (the one nearest to a macro site) to the main EE network. "The micro network can connect communities of around 100-150 homes and businesses, across an area of 0.5 square miles with just three or four small antennas," stated EE today. That's not a large area, nor is the density particularly rural – it sounds more applicable to tiny village hamlets where buildings are in close proximity.
For its trial, EE used the village of Sebergham in Cumbria, which is so small that you'll be lucky to find it on Google Maps. Three 3G femtocells were installed along the approximate 2km length of the village street, with each femtocell covering a radius of 500m. They were installed onto the sides of buildings and powered from the mains electricity supply.
"The mobile service here is either non-existent or spasmodic at best, and the broadband is incredibly slow and very unreliable," said Cumbria County Councillor, Duncan Fairbairn. "In rural communities like Sebergham, being connected to good, reliable mobile coverage can make a significant difference to everyday life and we need fast broadband."
National rollout
Starting in early 2015, EE will be expanding its use of small cells in rural areas, upgrading them to support 4G connectivity. The meshed cellular sites will connect to the core network via microwave backhaul, rather than use a fixed line. It also says that planning applications are not required for the installation of its antennas. But given that many rural "not-spots" are located in National Parks and conservation areas, and many older properties have listed building status or other restrictions (for example, no external satellite dishes are allowed), it would be a surprise if these femtocells are completely free of planning restrictions.
"With this innovative new technology, we have the capability to connect every community in the UK, and we estimate that we'll be able to bring reliable voice coverage and high speed mobile broadband to more than 1,500 places for the first time by 2017," said Olaf Swantee, CEO of EE. "We've been working closely with government on the long-term ambition to bring voice coverage to more of the UK, and we believe that this world-first technology will demonstrate significant advancements against that vision."
The scheme is based on radio access network technology designed by US and India-based Parallel Wireless, including its converged wireless system (CWS) and SDN/NFV enabled LTE access controller. The company says that each CWS is capable of delivering 2Gbit/s of wireless capacity, effectively the equivalent of 1,000 x 2Mbit/s DSL connections.
According to a survey of mobile operators by Informa, the greatest challenge in providing rural connectivity is the cost of building backhaul (52 per cent of respondents), followed by developing a cost-effective business model (31 per cent).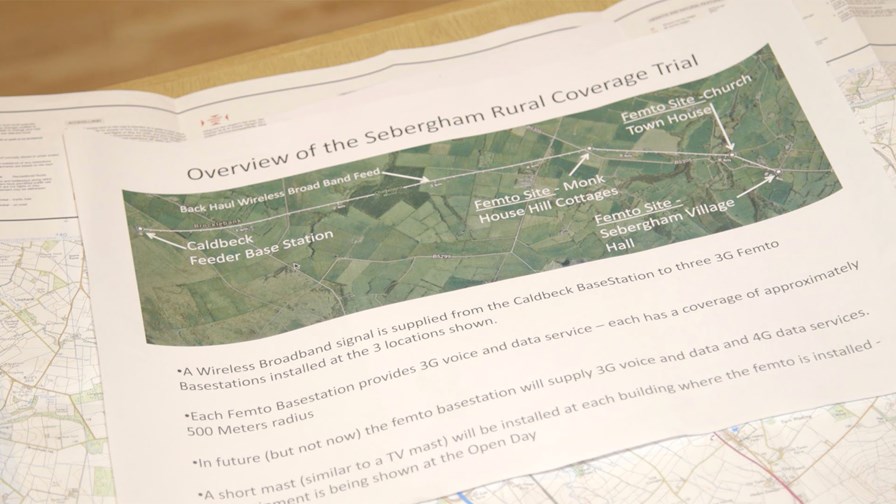 Rural economy
Living in a rural location in northern England myself, I know first hand how appalling cellular services can be, and can see the effects of the lack of investment. The EE trial and future deployment plans are good news for everyone who lives in rural areas of the country, as it should encourage further initiatives from the other operators. But there is a problem with EE's trial, and that goes back to the definition of "rural".
Three femtocells along a road that passes through a community of 347 is one thing, but what about those homes, businesses and farms that are off the main road? And as Councillor Fairbairn says in EE's promotional video: "You're talking about a farming community. People are out there in the fields, walkers and riders are out there in the hills, and to be able to be connected very quickly to emergency services, this is a big need that needs to be satisfied."
Well, unless these micro networks have considerably more cells, these farmers, walkers and riders are going to remain outside the coverage area. True, there'll be coverage in and around key locations, such as the village pub or village hall, and that will be welcomed by residents and visitors. Pretty much what the trusty old red phonebox used to provide, when we still had payphones.
EE acknowledges this caveat, stating that "while wider geographical coverage improvements still require continued investment in the traditional macro network, this new technology enables more targeted voice and data coverage for small communities, at a lower cost of deployment."
This is a welcome step in the right direction to address a horrendous disregard for the needs of rural inhabitants. It will remove network dead spots, but it won't do so completely. Will initiatives like this be enough to see of the government's plans for national roaming?
More carrot, less stick
Last week, the GSMA mobile operators association issued a statement about the governments plans to tackle not-spots.
"The GSMA believes there are alternative solutions for tackling the issue of partial not-spots in the UK outside of mandated national roaming, which is technically complex, expensive and would impede law enforcement activities," claimed Tom Phillips, Chief Regulatory Officer at the GSMA. "We need to look at other ways of ensuring that the consumer experience is continually enhanced."
Actually getting service coverage would be a way to "enhance" the experiences of many mobile subscribers, but the GSMA's solution is to encourage voluntary coverage expansion through government and regulatory appeasements: namely, to reassess the level of annual spectrum charges levied on operators and to reform the Electronic Communications Code to allow operators to access more land to deploy infrastructure.
"We believe the solution to tackling partial not-spots is through continued investment in our mobile networks, enabled by a favourable regulatory environment," added Phillips. "We are concerned that mandated national roaming would limit incentives for investment in future mobile network infrastructure, in turn restricting future socio-economic growth."
Email Newsletters
Sign up to receive TelecomTV's top news and videos, plus exclusive subscriber-only content direct to your inbox.