Security the top business opportunity for telcos – report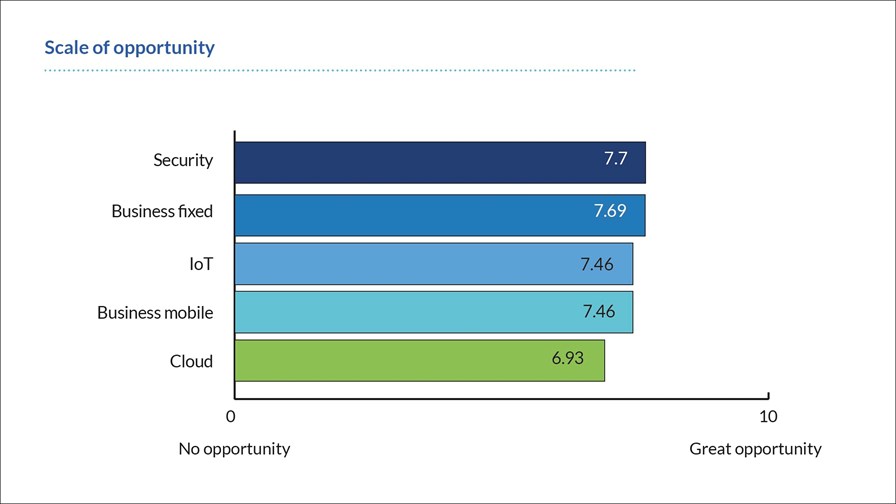 TelecomTV conducted a survey of top-level telco technology decision-makers
We asked them about the business prospects of multiple service types
Security came out top, while IoT is still seen as a strong opportunity
All the results of the survey are featured in The Big Picture report
Security applications offer the greatest business opportunity for leading telcos, according to the results of a survey of major telco CTOs and other top technology decision-makers conducted by TelecomTV.
As part of a wide-ranging survey focused on the trends that are shaping the telecom sector, we asked a select group of chief technology officers (CTOs) and other high-level technology decision-makers from major network operators to rank the business opportunity (for their own company) of a range of service categories from 1 to 10, where 1 represented no opportunity at all and 10 represented a great opportunity.
As the chart above shows, security came out top with a score of 7.7, followed very closely by fixed-line business services. It's "clear that respondents believe security services offer great business potential, reflecting the growing cybersecurity challenges faced, in particular, by business users," noted the authors of The Big Picture report.
Perhaps somewhat surprisingly, internet of things (IoT) ranked joint third, along with mobile business services, despite little evidence that IoT is having much impact on the revenues or profit margins of the world's telcos – see IoT connectivity is still a tough sell.
"IoT scores highly while, in reality, many telcos are downgrading their forecasts for IoT," noted the authors, adding that "hype from the supplier community" might be rubbing off on the CTO functions. "Evidence from the market is that the 50 billion connected things initially predicted have not materialised – IoT is gaining momentum but slowly, and with a high integration price tag for those playing in the area," they added.
The survey also asked about the potential for consumer services, gaming and content – to find out how telco technology leaders ranked the business opportunities associated with those services, download the free report now.
- Ray Le Maistre, Editorial Director, TelecomTV
Email Newsletters
Sign up to receive TelecomTV's top news and videos, plus exclusive subscriber-only content direct to your inbox.