BT spies new cyber opportunities with 'Eagle-i' platform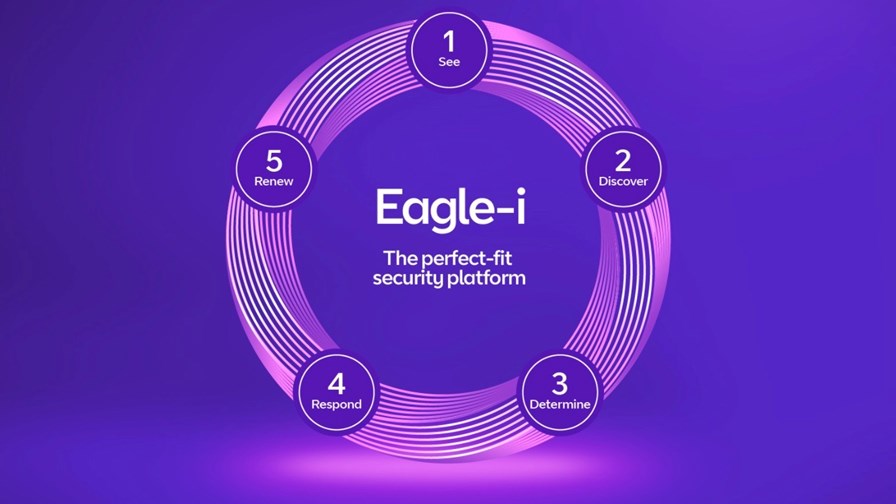 'Most sophisticated cyber defence platform yet'
Detects, neutralises and even predicts incursions
AI and automation-based system learns, evolves and adapts even as it nullifies attacks
Works across traditional fixed infrastructure and multi-cloud environments
"If 76 per cent of global business leaders rate their cybersecurity strategy excellent or good, why have 84 per cent fallen victim to a security incident?" asks incumbent UK telco BT rhetorically. It's a good question and, as any barrister will tell you (for a modest fee), it is eminently sensible never to ask one without knowing the answer well in advance. And BT does. It's because "something isn't working" in cyber security, and that's why it's introducing Eagle-i, BT's new "transformational" security platform that, the operator claims, will not only prevent cyber attacks, but predict them as well.
The operator says it's high time for someone to take a proactive approach to cyber security and BT has the chops and network expertise to do it. According to the operator's official announcement, cyber attacks are proliferating at an unprecedented rate and BT has calculated there has been a 50 per cent increased incidence of malware traffic since April this year, the vast majority of which have been attempts to break into business, municipal, public sector and governmental bodies and agencies (including the NHS) to extort ransom payments by encrypting vital data and computer systems.
In response, BT's Eagle-i uses AI and automation not only to detect and neutralise security threats and attacks, but also to predict them without having to resort to the messy business of rummaging through the entrails of a goat, a time-honoured practice but one that hasn't been particularly successful since before the time of the Romans. BT says its new platform is the most sophisticated cyber-defence platform it has yet introduced and, with it, attacks can be intercepted and nullified before they can infect networks and systems.
Eagle-i self-learns from the intelligence gathered at each intervention, thus serially and constantly improving its knowledge of cyber threats and the mechanisms used to issue them. As it does so, it dynamically refines how it protects customers across a multi-cloud environment. BT is being coy about how much the platform and service will cost and no prices have yet been revealed.
Kevin Brown, the managing director of BT Security, commented: "Security is now at the top of the boardroom and government agenda – yet many organisations are seeing their cyber risks increase to unmanageable levels. This situation demands a new, proactive approach. Eagle-i leverages the latest advances in AI and automation to continually monitor, learn and evolve so customers can stay a step ahead of cyber criminals."
According to the press release, Eagle-i will "find the gaps in your security and respond effectively. By blending human oversight with real-time monitoring and automated decision-making, we can proactively detect anomalies and update your protections against next generation threats. Blocking attacks before they can happen."
Eagle-i's four 'I's – Insight, Intelligence, Intuition and Impact
Threat detection and management is an important and growing area for service providers that are only too well aware, either from painful and expensive personal experience or from the horror stories from others that have suffered crippling ransomware and other attacks, that a cyber incursion can bring a network and a business to its knees. Hence the emphasis on threat detection and management solutions to help to identify, analyse, and remediate cyber threats.
Speed is of the absolute essence when and where a network or cloud infrastructure breach is detected or accomplished, and BT customers (and everyone else, obviously) need to be able to count on advanced cyber security measures that can contain and counteract incursions. An even better solution is the ability to identify threats before they became breaches, to move proactively and dynamically to defend the system or network, and nullify them.
BT bolsters its claim to provide leading edge threat intelligence, detection and management solutions by stressing that its customers get the same level of 24/7/365 protection, in terms of detecting and mitigating cyber threats, as does BT itself. In addition to constant monitoring and protection, those signing up to Eagle-i also get reports and "insights" into how to prioritise systems and network vulnerabilities and remediation work.
The increasing incidence of cyber attacks on businesses is effected mainly and usually through the network, and as corporations continue the transition from traditional fixed infrastructure to cloud networks they are discovering that, for an unknown but possibly lengthy period, they will somehow have to manage complex heterogenous systems, at least part of which will comprise old-fashioned, inflexible assets that are slow to communicate and respond to attacks and incapable of learning from past events or adapt to new ones.
Add to that the current and seemingly intractable problem of the global shortage of skilled and experienced security technicians and scientists, and it is easy to see why BT thinks that with Eagle-i it will hit a profitable sweet spot in the field of rapid, proactive cyber-attack detection and protection.
That's why the telco is plugging Eagle-i's AI and automation capabilities and the "Insight, Intelligence, Intuition and Impact" they provide. That means Eagle-i actually has four 'I's, but BT execs probably didn't want to use that name, because it's likely some of them got called that as kids when they wore specs in the school playground.
In fact, Eagle-i is a good name for the platform and hopefully will never be confused with the preposterous 2008 film Eagle Eye, which starred Shia LaBoeuf and Michelle Monaghan and was described by Roger Ebert, the film critic of the Chicago Sun-Times for 46 years and winner of the Pulitzer Prize for distinguished criticism, as such: "It's not just an assault on intelligence, it's an assault on consciousness".
That film is about villains taking command of every phone network and security camera in the world. As if...
Email Newsletters
Stay up to date with the latest industry developments: sign up to receive TelecomTV's top news and videos plus exclusive subscriber-only content direct to your inbox – including our daily news briefing and weekly wrap.