'Twas the week before Christmas, and the shops were deserted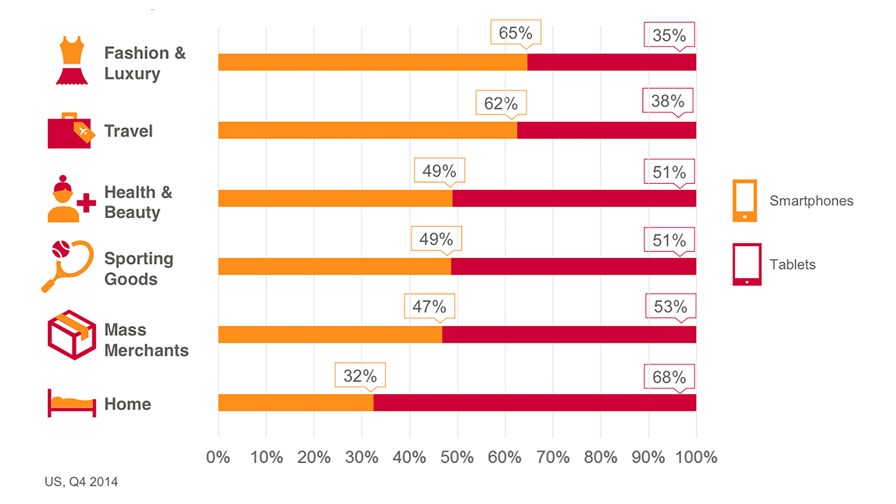 For many of us, our thoughts are turning to that most dreaded of activities: shopping. Yes, the seasonal stress of having to buy gifts is well and truly upon us. But why add the hassle of actually going out and fighting through crowded shopping streets? After all, what are mobile devices for, if not to make our lives easier? According to a new report from digital advertising company Criteo, mobile commerce adoption is far ahead of expectations. The firm has calculated that globally, mobile now accounts for 30 per cent of all eCommerce transactions. In fact, mobile will soon account for 50 per cent of US eCommerce transactions, as conversion rates reach levels seen in Asia.
The quarterly State of Mobile Commerce Report was based on Criteo online shopping data, which covers more than a billion transactions totalling over $130 billion of annual sales. It found a high percentage of mobile conversion rates (defined as the number of actual sales compared to visits to eCommerce websites) in the US, averaging 2.5 per cent. Interestingly, it was higher for tablet use (3.1 per cent for iPad users, 3.0 per cent for Android tablets) than for smartphones (only 2.0 per cent for iPhone users, and 2.2 per cent for Android smartphones). Criteo says this partly reflects larger screen sizes of tablets, but also weaknesses in smartphone-specific site optimisation.
So tablets win out on conversion rates, but smartphones win out on the volume of transactions. Criteo found that in the US last quarter, 53 per cent of all mobile transactions were made via smartphones, and in the travel sector the figure was even higher at 66 per cent.
As for what is being bought, there is a trend towards using mobile devices to purchases higher valued items. For instance, when looking at the overall retail sector, mobile accounted for around 35 per cent of all transactions in the top quartile, but only 6 per cent for transactions in the bottom quartile. To give some examples, mobile accounts for 33 per cent of all fashion and luxury goods transactions, but only 15 per cent of the home interiors sector. Yet when you look more closely at those two examples, smartphones account for 65 per cent of fashion and luxury goods sales, whereas tablets account for 68 per cent of home interiors. Very much a case of horse for courses.
There no longer appears to be any security reservations about making mobile eCommerce transactions, with users switching freely between desktop and mobile sites. However, tablets are accounting for higher transaction values than smartphones. For example, for every $100 spent on a desktop-originated eCommerce transaction in the fashion and luxury goods sector, $102 was spent via a tablet sale and $89 via a smartphone sale. This gap appears fairly consistent across all retail categories, with tablet sales averaging the same as desktop ones, but smartphone sales lagging behind slightly.
Looking at geographic differences, Japan and South Korea have the highest share of mobile eCommerce transactions, at 49 and 45 per cent respectively. The UK leads Criteo's list of Western Markets with 41 per cent, with the USA at 27 per cent and France at 21 per cent. More the vast majority of countries, tablet sales lead smartphone ones, but the position is dramatically reversed in Asia. Of Japan's 49 per cent mobile share, only 5 per cent is from smartphones, and it's more pronounced in South Korea, where only 1 per cent of its transactions are from smartphones.
Next year, Criteo believes that smartphones will continue to displace slower-growing tablets, with larger form-factor phones being an added accelerant to an existing trend towards greater use of smartphones for shopping. And for retailers, understanding cross-device (or omni-channel) behaviour will be the biggest challenge and opportunity, as a majority of users going through their buying journey interact with the same site through multiple devices.
Email Newsletters
Sign up to receive TelecomTV's top news and videos, plus exclusive subscriber-only content direct to your inbox.