Shades of Grey: Black Friday stays at home as shoppers go online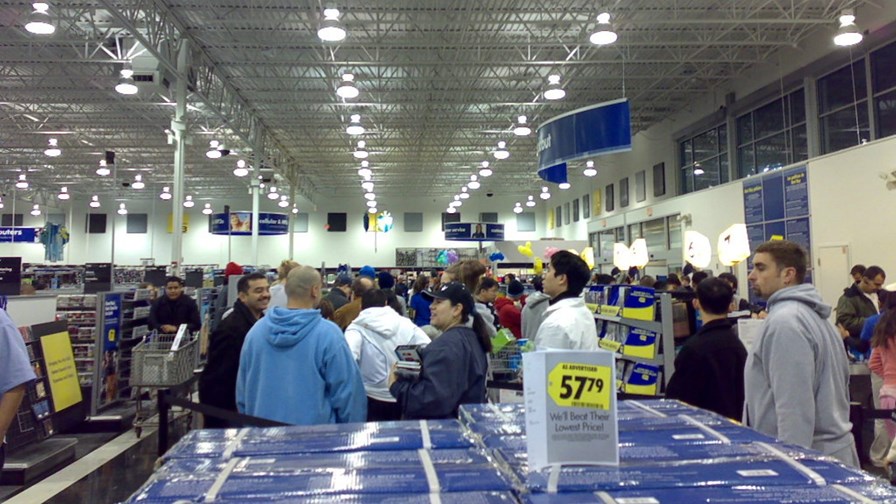 A week ago the 'Black Friday' shopping madness day came and went, but in the UK at least there was no repeat of the exuberant early morning queuing and orgiastic rush for the tills seen in earlier years. Back in 2013/14 the Black Friday concept was young and untried and sort of fresh - today it's, well, slightly old hat (been there, done that, bought the discounted teeshirt), and many of those who indulged must have felt slightly sullied by the collective experience.
So this year, ashamed and abashed, did the formerly over-excited shoppers ignore the discounts and inducements on offer on the Friday following Thanksgiving Day (which after all has no resonance in the UK anyway, since we don't observe it) and stay at work?
Of course not. They rushed the tills anonymously by shopping online instead.
Having had a week to tot up the takings UK retailers are kerchinging out their results and one of the posher ones - John Lewis - claims it's had its best and least black shopping week on record with sales for the week ending Saturday, November 28 climbing to £187.7 million, up 4.6 per cent as shoppers often let their fingers, rather than their legs, do the walking to snatch up home appliances, technology and garments, all at discount prices.
However, Black Friday (the physical, show up and charge the doorway Black Friday) was a no-show as footfall actually fell - nearly 5 per cent fewer shoppers showed up than the year before in the UK.
Online was a different story and not just in John Lewis. Online sales were over £1 billion on the day for the first time. The numbers included a count from Amazon which claims to have sold 7.4 million items on the day, up from just 5.5 million on the same day in 2014.
So that's alright then. There was a distasteful shopping orgy but it was conducted indoors with the blinds drawn.
For those of us who eschewed Black Friday and all its devilish ways in protezst, and joined 'Buy Nothing Friday' instead, there is some satisfactory news. An outfit called 'Clear Returns' which styles itself as a retail intelligence company (a contradiction in terms, surely) reports that shoppers who are stampeded into buying things they probably don't actually want, tend to bring them back and demand a refund.
So not only does a discount frenzy like Black Friday 'cannibalise' sales that might otherwise have been made anyway - just a little closer to Christmas and without the dangling of a huge discount to get things going - but that up to 40 per cent (yes, nearly half!) of the goods bought on Black Friday will have been returned by yesterday on what is being termed 'Boomerang Thursday'. There is justice in the world after all.
Email Newsletters
Sign up to receive TelecomTV's top news and videos, plus exclusive subscriber-only content direct to your inbox.