Open RAN in the frame as FCC pins 'national security threat' badges on Huawei and ZTE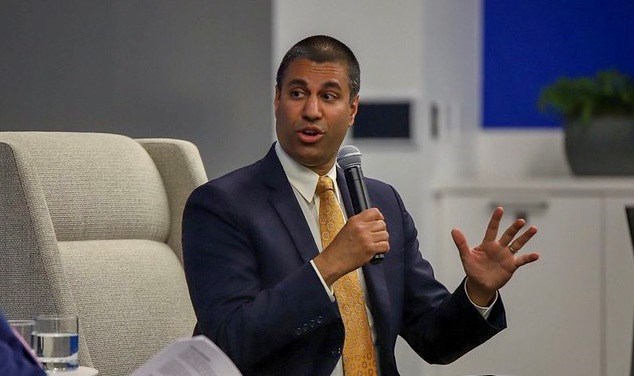 Huawei and ZTE identified as a threat to the US's 5G future
Universal Service Fund (USF) money can no longer be spent on the Chinese duo
Rural Wireless Association "stunned" by decision
FCC commissioner promotes Open RAN as alternative to the deadly duo
US regulator the Federal Communications Commission (FCC) has designated Chinese equipment vendors Huawei and ZTE, already pariahs in the eyes of the US administration and many others, as "national security threats," opening the door for the replacement of Chinese gear installed in rural US networks with US-made Open RAN technology.
FCC chairman Ajit Pai (pictured above) noted the "overwhelming weight of evidence" that make both Chinese vendors "national security risks to America's communications networks — and to our 5G future."
He said the FCC based its decision on the "findings and actions of Congress, the Executive Branch, the intelligence community, our allies, and communications service providers in other countries," as well as noting that "both companies have close ties to the Chinese Communist Party and China's military apparatus, and both companies are broadly subject to Chinese law obligating them to cooperate with the country's intelligence services."
As a result, money awarded to network operators from the FCC's $8.3 billion a year Universal Service Fund "may no longer be used to purchase, obtain, maintain, improve, modify, or otherwise support any equipment or services produced or provided by these suppliers." You can read the full FCC statement in full right here.
The Chinese vendors aren't the only ones unhappy at the news: The Rural Wireless Association, which represents the interests of rural operators with fewer than 100,000 customers, noted that it was "stunned" by the decision to immediately bar the use of USF funds on Huawei or ZTE gear and support services.
"Rural carriers who have deployed Huawei or ZTE equipment or services in their networks will now lack the ability to support their critical networks that are serving hundreds of thousands of rural Americans and those traveling through rural America," noted the RWA in a statement. "Given the difficultly in demonstrating where specifically their USF support is being utilized in their networks, this puts rural carriers in a precarious situation while they strive to offer extended payment terms for their customers as requested by FCC Chairman Pai, adjust to the fallout of the T-Mobile/Sprint merger, and continue to keep rural Americans connected to broadband and telephone services during the COVID-19 pandemic."
The FCC is aware that between three and four dozen US rural operators take USF cash and use equipment from either of the two barred Chinese vendors, and estimate that the average cost of removing and replacing existing kit would cost, on average, $40-45 million, according to this Bloomberg report. FCC chairman Pai told Congress recently that a full rip-and-replace program to get Huawei and ZTE gear out of US rural networks would cost about $2 billion, but that no federal funds have been allocated to support such a move.
Is Open RAN the solution?
So what are the rural operators that were wanting to use Chinese equipment to do? FCC Commissioner Geoffrey Starks advocates "an expedited plan for the removal and replacement of untrustworthy equipment. That plan should seriously consider leveraging Open RAN technology, which will use standardized hardware and interoperable interfaces to enable networks to combine equipment from multiple vendors… this approach could advance American technological leadership, enhance competition, and reduce our reliance on foreign vendors — all while bringing down replacement costs. I have long championed Open RAN technology as a potential solution to this problem that will allow us to ensure that the next technological revolution advances safely and securely."
This will be music to the ears of US vendors such as Parallel Wireless and Mavenir, which have long developed Open RAN technology that enables operators to deploy multivendor, best-of-breed communications networking technology using standards-based hardware and software with open interfaces (rather than integrated proprietary systems).
And no doubt the RWA and its members will be thrilled with the suggestion, but where are the greenbacks coming from for this lengthy process that would not alleviate the key concerns of the actual operators that are caught in the middle of this tussle? "Congress recognized in the Secure and Trusted Communications Networks Act that many carriers will need support to transition away from untrustworthy equipment, but it still has not appropriated funding for replacements. I look forward to working with Congress and my colleagues to ensure there are sufficient funds to get the job done."
So… currently, there's no money for any of this. But at least the US will be protected from what FCC Commissioner Brendan Carr refers to in his statement on the matter as "the threats posed by Communist China and bad actors that might do its bidding."
Open RAN may be an option for the rural operators, but the selection procurement, testing and deployment process would be lengthy. However, this seems like the route that the US administration and many patriots would like to impose on the rural operators, which are likely to be contacted very soon by the Open RAN Policy Coalition, a lobby group set up to "promote policies that will advance the adoption of open and interoperable solutions in the Radio Access Network (RAN) as a means to create innovation, spur competition and expand the supply chain for advanced wireless technologies including 5G."
The Coalition is tied closely to the U.S. government and has a focus that appears to be all about fostering a U.S. (rather than international) telecoms R&D sector. The Executive Director of the coalition is Diane Rinaldo, whose day job is Deputy Assistant Secretary for Communications and Information at the National Telecommunications and Information Administration (NTIA), part of the US Department of Commerce: The Coalition states very clearly that it believes the "U.S. Federal Government has an important role to play in facilitating and fostering an open, diverse and secure supply chain for advanced wireless technologies, including 5G."
As it happens, just days ago the Coalition submitted comments in response to the National Telecommunications and Information Administration's (NTIA) request for recommendations from stakeholders for developing the Administration's Implementation Plan for the National Strategy to Secure 5G: "The Coalition urges the Administration to (1) encourage open and interoperable RAN in implementing all Lines of Effort of its National Strategy to Secure 5G, and (2) take urgent policy actions to advance open and interoperable RAN in a manner that promotes flexibility in the near-term and innovation and market diversity over the long-term."
It's a small world, right?
- Ray Le Maistre, Editorial Director, TelecomTV
Email Newsletters
Sign up to receive TelecomTV's top news and videos, plus exclusive subscriber-only content direct to your inbox.