Private 5G investments set to surge – report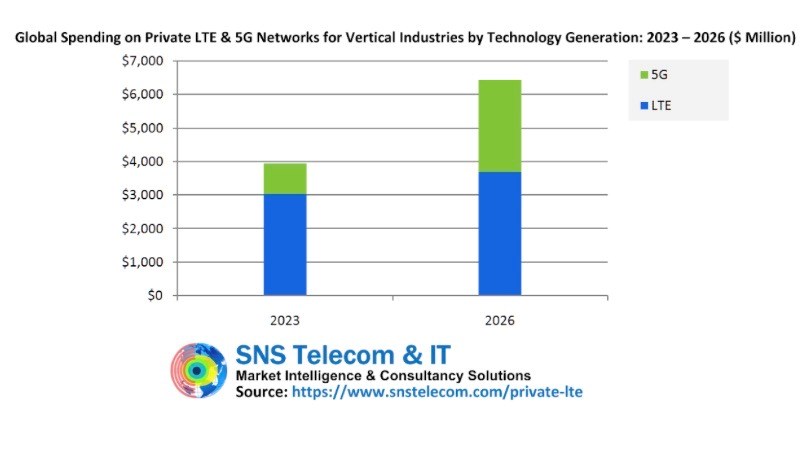 Global spending on private LTE and 5G infrastructure will be worth US$6.4bn by 2026, predicts SNS Telecom & IT
Compound annual growth rate will hit 18%+ in next few years as private 5G drives industrial digitisation and automation of manufacturing and process industries, worldwide.
It will provide productivity and efficiency benefits of 30% to 70%, plus more than 20% in cost savings
And will be the driving force behind the 'Fourth Industrial Revolution'
Still lacking a business case compelling enough to warrant the speculative deployment of vast, hugely expensive and commercially risky standalone 5G networks, the technology's provision globally remains limited and sluggish. Consumer interest is low, and in many markets few are willing to pay a premium for 5G when 4G and LTE work pretty darned well and meet the needs of most domestic subscribers. For their part, many service providers are loath to take financial gambles and are playing a waiting game deep into extra-time as they continue to use hybrid non-standalone networks that rely on the 4G network core.
Telcos are sweating the assets they know will provide a return. Meanwhile, they wait in hope for the distant day when the public and small business users will suddenly decide to upgrade to 5G. Given the current state of the world, cost-of-living crisis, rampant inflation, looming recessions, increasing geo-political tensions and the ongoing impact of an undeclared and illegal war, it seems unlikely they will become 5G enthusiasts any time soon.
However, the private LTE and 5G sector tells a very different story – it's booming. A new, very comprehensive and extremely detailed report from the market intelligence consultancy and research house, SNS Telecom & IT, forecasts that global spending on private LTE and 5G network infrastructure (including RAN mobile core and transport network) by enterprise users will grow at a compound annual growth rate (CAGR) of 18% over the next three years, from about US$4bn to be worth in excess of US$6.4bn per year in 2026. What's more, some £2.8bn of the investments (that's 40%) in 2026 are set to be spent on building standalone private 5G networks that will, de facto, be the leading wireless communications medium to support the surging "Industry 4.0" revolution that is driving the digitisation and automation of manufacturing and process industries worldwide.
The concept of Industry 4.0 (or the Fourth Industrial Revolution) is based in and on rapid innovation and developments in technology and industries that characterise the 21st century and the ways in which companies manufacture, improve and distribute their products as they integrate new technologies, such as the internet of things (IoT), cloud computing and analytics, and AI and machine learning (ML), into their production facilities and throughout their operations.
Private cellular networks, (or non-public networks – 'NPNs' as they are known in the parlance of 3GPP) have become popular in recent years because of the inherent privacy, security, reliability and performance advantages they have over public mobile networks and competing wireless technologies. Their non-obtrusive wireless links can also be pressed into service as a replacement for hardwired connections. Replete with the 3GPP-led standardisation of key features, private LTE and 5G technologies are now widely regarded as an all-inclusive connectivity platform for critical communications, Industry 4.0 and enterprise transformation-related applications. Hitherto, the sectors were the domain of LMR (Land Mobile Radio), Wi-Fi, industrial Ethernet, fibre and other disparate networks.
The report, The Private LTE & 5G Network Ecosystem: 2023 – 2030 - Opportunities, Challenges, Strategies, Industry Verticals & Forecasts (all 2,577 pages of it), was authored by James Bennet of SNS Telecom & IT, and his deep and impressive research indicates that global spending on private LTE and 5G network infrastructure for vertical industries will be a money-spinner into the foreseeable future.
The sector is poised for massive global growth that will transform private LTE and 5G networks into what, to all intents and purposes, will become another equipment ecosystem running alongside public mobile operator infrastructure.
Currently, private mobile networks range from localised wireless systems in industrial and enterprise settings to sub-1 GHz private wireless broadband networks for utilities and Future Railway Mobile Communication System-ready (FRMCS) networks for train-to-ground communications. Other examples include hybrid government/commercial public safety broadband networks and rapidly deployable LTE/5G systems to deliver temporary or on-demand cellular connectivity.
Meanwhile, end-user companies and organisations across the gamut of primary industries, such as mining, oil and gas together with manufacturing, ports, maritime transport and a wide range of other verticals, say that deploying LTE and 5G solutions have provided productivity and efficiency benefits within the range of 30% to 70%, as well as more than 20% in cost savings. Furthermore, it has reportedly improved staff safety and simultaneously reduced the incidence of accidents by an astonishing 80%.
Also helping the phenomenal growth in the popularity and use of private 5G networks is the realisation, by many regulators and legislators, that for them to prosper, relaxation and liberalisation is the order of the day. For example, initiatives in liberalising spectrum regulations in general, and shared and local spectrum licensing frameworks in particular, are proving pivotal to the increasing uptake and spread of private LTE and 5G networks.
Regulators across the globe have reacted and quickly adapted to the fast-moving new reality and, as a result, national markets have benefitted in the US, Canada, the UK, Germany, France, the Netherlands, Finland, Sweden, Norway, Poland, Bahrain, Japan, South Korea, Taiwan, China, Hong Kong, Australia, India and Brazil as the hitherto tight grip preventing access to shared and local area licensed spectrum has loosened. Even in China, where mobile operators have led in the provision of private 5G, the regulator has started to allocate private 5G spectrum licences directly to end user organisations.
It is worth noting, though, that by dint of taking full advantage of their considerable licensed spectrum holdings, infrastructure assets and mobile networking expertise, national mobile operators have managed to maintain a strong presence in the private LTE and 5G network market. Now, their reach into business-to-business vertical sectors in the 5G era is expanding and digital service providers are deeply involved in extending their reach from localised 5G networks for secure and reliable wireless connectivity in industrial and enterprise environments to nationwide public safety broadband networks.
As the popularity and availability of LTE and 5G private networks has increased, new entrants and classes of operators have emerged and are proving successful, even as the hyperscalers (including AWS, Google Cloud and Microsoft Azure) are offering managed private 5G services by virtue of their extensive cloud and edge platforms. Other big players (such as HPE) are also making strategic acquisitions with an eye to future opportunities – see HPE acquires Athonet to bolster private 5G portfolio.
So which industry sectors are driving private LTE and 5G networks? We'll take a look at that next in our follow-up article.
- Martyn Warwick, Editor in Chief, TelecomTV