The ITU says telecoms needs "light touch" regulation and a better balance between business and consumer interests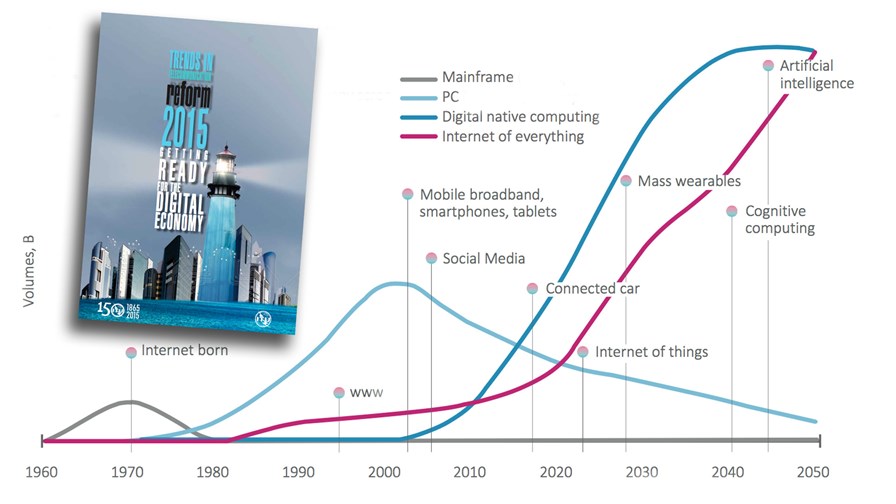 Entering an age of "fourth generation" regulation
Big data and IoT central to future growth
25bn IoT connected devices and a $1.7 trillion market by 2020
Not all spectrum sharing proposals are needed
The ITU has published the latest edition of its report on global ICT regulatory developments. These are the kinds of reports that the ITU excels in, and the 228 page document, "Trends in Telecommunication Reform 2015", is stuffed full of useful statistics and analysis. You can purchase it directly from the ITU. The organisation has also developed the ICT Regulatory Tracker, an evidence-based analytical tool to help pinpoint the strengths and weaknesses of regulatory interventions.
What the ITU calls "fourth-generation" regulation ("integrated regulation led by economic and social policy goals") is focused on the enormous social and economic disruption ICTs are bringing. The report recommends flexible, light-touch regulation, and a recognition of the rights of both businesses and consumers in defining new frameworks for an emerging global digital environment.
"In a digital world, creating the conditions for a data-driven economy to flourish is a must, so getting the regulatory environment right is absolutely vital," said Houlin Zhao, ITU Secretary-General.
This edition of the report looks in more detail at the impact of Big Data and the emergence of the Internet of Things (IoT). In total, The ITU believes that one billion different kinds of wireless IoT devices are expected to be shipped in 2015, up 60 per cent from 2014 to reach a predicted installed base of 2.8 billion connected devices by end 2015.
Up to 25 billion networked devices are predicted to be connected by 2020, driven largely by consumer-connected entities and followed by manufacturing, utilities and transportation. In terms of revenues, the ITU says the market for IoT is expected to grow to $1.7 trillion by 2019 to become the largest device market worldwide.
"This Trends report analyses how the changes that are taking place in the digital ecosystem are impacting both individual consumers and businesses and society at large," said Brahima Sanou, Director of ITU's Telecommunication Development Bureau, which produces the annual study. "The report addresses issues that span the full range of ICT policy-making, and delves into some important, but challenging, questions."
Lessons for regulators
The report says that the main lesson to be learned by regulators is that the amount of information and data being created and transmitted is huge and only going to continue to grow – and very rapidly. Smartphones and tablets will continue to drive ever-increasing demands from users for more entertainment and more information. On the business and commercial side, it says that perhaps even larger volumes of data will be produced by IoT devices.
It outlines eight principles of Big Data implementation, whilst recognising that the use of Big Data is still in its infancy, and many issues have yet to be fully considered or decided. It warns of the potential downside and that administrations will need to balance protecting the interests of the individuals against the ability of public and private sectors to innovate. This will require dialogue and cooperation between policy-makers and regulators, the companies involved, and the public itself.
In terms of spectrum, the ITU recognises that shortage of new frequencies means that regulators are considering new ways to accommodate broadband spectrum expansion through innovations in sharing and licensing, without compromising incumbent uses. Such techniques being investigated include smart antennas, small cells, spectrum occupancy databases, dynamic spectrum access and the bête noir of WiFi operators, licence assisted access. The ITU remains neutral on these various schemes, saying only that "not all techniques are needed or appropriate for all economies and situations", but they should be "a welcome addition for regulators' spectrum management toolkits".
One of the early findings of its Tracker tool is that fourth generation regulation is much more effective at driving both fixed and mobile broadband penetration and adoption than old-style, industry-specific regulation. The lesson, it says, is that smart regulation leads to more economic growth.
"We are building today the smart society of tomorrow and we need to do it right," said Mr Sanou. "The world has enough resources to provide a good quality of life for everyone. We need to get better organized and move a lot faster."
Email Newsletters
Sign up to receive TelecomTV's top news and videos, plus exclusive subscriber-only content direct to your inbox.