Ofcom updates its UK infrastructure report, which shows a less-than united kingdom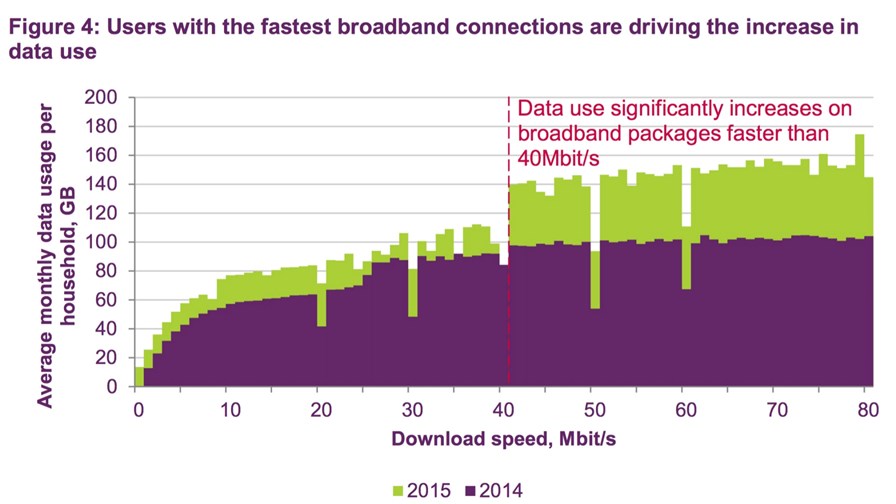 21% of UK not covered by any 3G operator
33% of premises in Wales not reached by 3G
Fixed broadband now adopted by 78% of premises
Usage increases sharply for homes with 40Mbit/s or higher connections
Yesterday, UK regulator Ofcom took one step forward and two steps back. It released a new updated version of its Infrastructure Report – now called the Connected Nations Report – and published a WiFi connection tester app in the Apple and Google app stores. The latter is an utter waste of time and resources (see comments on yesterday's story) and reflects badly on Ofcom's undisputed knowledge and skill, so we will say no more about it. The former, thankfully, is packed full of useful statistics and analysis, as we have come to expect from Ofcom.
As Ofcom states in its introduction, "high quality, widespread communications, fixed and mobile, are an engine of our economy and the pulse of our society – they are not nice-to-haves, but essential enablers of our working and social lives". One of Ofcom's roles is to ensure the quality and availability of communications infrastructure throughout the UK, and to provide accurate supporting information for businesses and consumers. Hence this latest 2015 report.
The good news is that, perhaps unexpectedly, the numbers are up year-on-year across the board. But this somewhat masks the disappointing news that there remain many areas of the UK where fast broadband services remain unavailable and where mobile coverage is poor. So the highlight numbers first, in convenient bullet form (2014 figures in parentheses):
Fixed broadband take-up by 78% of premises (75%)
Average download speed 28Mbit/s (23Mbit/s)
Average monthly data usage 82GB (58GB)
Superfast (30-300Mbit/s) broadband take-up 27% (21%)
Average download speed 63Mbit/s (54Mbit/s)
Average monthly data usage 112GB (n/a)
2G voice service, area not covered by all operators 45% (45%)
2G voice service, area not covered by any operator 16% (16%)
3G voice and data, area not covered by all operators 63% (74%)
3G voice and data, area not covered by any operator 21% (22%)
4G data service, area not covered by all operators 93% (94%)
4G data service, area not covered by any operator 52% (76%)
Number of active cellular data connections 83.7m (83.2m)
Total cellular data usage 72.9PB (44.3PB)
Average monthly data use per SIM 0.87GB (0.53GB)
Number of WiFi public hotspots 44,804 (41,798)
Total public WiFi data usage in June 3.3PB (2.3PB)
So-called superfast broadband continues to be rolled out, and is now available to 83 per cent of UK premises, which has resulted in an increase in take-up, although at 6 per cent that figure is steady rather than spectacular – at this rate, it will be a decade before it becomes the de facto standard. Ofcom notes that the situation has particularly improved in rural areas, where broadband coverage has always tended to be lower than in urban areas. This year, coverage of superfast in rural areas has increased significantly, from 22 per cent in 2014 to 37 per cent. So adoption up, speeds up and hence usage up. However, with its greater rural population, Scotland lags the rest of the UK in terms of availability.
In terms of "What is broadband?", Ofcom maintains the base figure needs to be 10Mbit/s. "Evidence suggests that those consumers with faster connections are more likely to rate their broadband experience good," the report notes. "In general, 10Mbit/s appears to be the tipping point beyond which most consumers rate their broadband experience as 'good'. This continues to support our view that a minimum of 10Mbit/s is required by the typical household."
Over the past year, the average amount of data used by UK consumers has increased to 82GB a month – an average increase of over 40 per cent on last year. Ofcom estimates that about 65 per cent of this data is video traffic. Also, those with broadband speeds of 40Mbit/s or above are consuming far more data, as the graphic at the top of this article illustrates.
Moving on to mobile, it is clear that there has been no change in 2G or 3G coverage, with operator investment for network coverage expansion focused on 4G. A shocking 21 per cent of the UK remains inaccessible to 3G devices – no matter which operator you are with. If you look at premises covered (outdoors, not indoors note) rather than pure geography, the percentage falls almost by a half to 12 per cent not covered, although in Wales it is an alarming 33 per cent.
"Mobile and broadband have become the fourth essential service, alongside gas, electricity and water," said Sharon White, Ofcom Chief Executive. "There's been a technological revolution over recent years, with 4G mobile and superfast continuing to extend across the country. Our challenge is to keep supporting competition and innovation, while also helping to improve coverage across the country – particularly in hard-to-reach areas, where mobile and home internet services need to improve."
Email Newsletters
Sign up to receive TelecomTV's top news and videos, plus exclusive subscriber-only content direct to your inbox.