Mobile skirmishes in Ukraine as telcos battle for 3G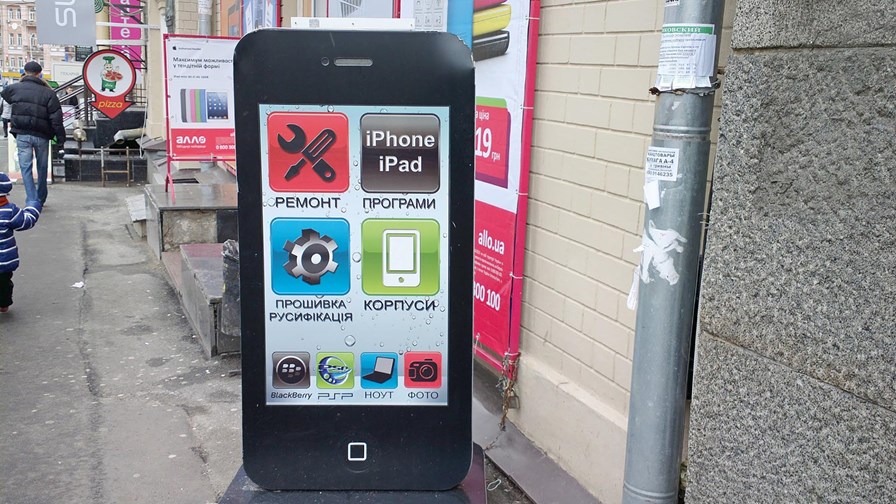 The fighting around the eastern Ukraine border regions between government troops and pro-Russian separatists shows little signs of easing. The reasons are complex and at times difficult for those not directly involved to fully understand. Whilst nowhere near the top of the news agenda, the state of the region's telecoms networks is starting to come under some scrutiny.
News agency Reuters is reporting that Russian mobile operators could be forced out of Ukraine after the government in Kiev indicated that it would favour European companies in future wireless spectrum auctions, in an attempt to curb Moscow's influence. The European Union and the US have already imposed a series of economic sanctions on Russia, and both Kiev and Moscow are trading restrictions.
Whilst Russia has the capacity to withstand these actions for the time being, Ukraine has no such luxury. Its economy is in pretty poor shape, and the prospect of a lucrative 3G wireless spectrum auction must be appealing.
Kyivstar is the leading operator in Ukraine with 25m subscribers, and has been operating there for 16 years. Since 2010 and its merger with rival Beeline-Ukraine, the telco has been part of the VimpelCom group which, whilst headquartered in Amsterdam, is controlled by Russia's Alfa Group. Ukraine accounted for 7 per cent of VimpelCom's revenue last year, although it was forced to record a $2 billion impairment on its Ukraine business and to cut its outlook for the remainder of the year.
However, Kyivstar is keen to describe itself as "a national company created by the Ukrainians for the Ukrainians," and one that supports "the development of independent Ukraine".
MTS Ukraine has around 23m subscribers, with geographic coverage of 98 per cent. It has reportedly invested $10 billion in Ukraine's telecoms infrastructure, including $293 million since 2012. In August, MTS cut its revenue growth target citing instability in Ukraine, its second-biggest market. Its operations in the Crimea were suspended after it was annexed by Russia earlier in the year.
Between VimpelCom and MTS, the Russian firms control an estimated 80 per cent of Ukraine's mobile market.
Other minor operators include Astelit, which operates the 'Life:)' brand, with a 16 per cent market share, and which is 55 per cent owned by Turkcell. Fixed-line telco Ukrtelecom is the fourth operator, via its wholly-owned TriMob subsidiary, and the only one with a 3G licence.
Betting on an auction
Will Prime Minister ArsenIy Yatsenyuk follow his threat to award a 3G license to an EU operator for a peppercorn rent of just a few cents "with the only purpose of not having the Russian monopoly here"? It is probably unlikely and would be extremely foolish. Besides, if the Russian-owned telcos are excluded they will no doubt seek legal action, citing discriminatory terms at odds with Ukrainian and international law.
"If the rumours that MTS will not be admitted to the auctions are confirmed," a company spokesperson told Reuters, "MTS, as a company that belongs not only to Russian investors, but investors from Europe and the US, reserves the right to protect its business interests."
But all this is a little premature, as Ukraine's regulators have yet to publish the exact terms of a new spectrum auctions. Yet Yatsenyuk appears adamant that he wants to end this 80 per cent Russian dominance: "This time Russia will not receive monopoly rights to all telecommunications licenses," he said. "We want to see European companies as participants of the public sale of the licenses."
Yet this could be little more than political rhetoric. The truth is that both VimpelCom and MTS have large, robust networks in place, which could be upgraded to 3G without too much difficulty and extra cost. Could Astelit do the same? Or a new green-field European entrant? Would Ukraine be best served by a full and open commercial auction process, raising as much money as possible for the country and encouraging foreign direct investment, or by giving away a licence to a European telco for free?
Despite the lack of a 3G network, mobile data use in the country is on the increase. Kyivstar reported that usage was up 85 per cent year-on-year during the summer to a total of 4,000TB, and that with average transfer speeds of 155kbit/s in parts of Kiev it is one of the world's best performing 2G networks. But obviously 3G (and a path to 4G) is desirable.
In fact, the current 2G operators don't want a new 3G licence – they want three licences. They don't want one now and another two potentially auctioned in 2018. Kyivstart goes as far as to suggest that such a delay could cost the government at least $3bn in missed licence fees. "Only through joint efforts of the three key players in the telecom market" can national coverage be achieved for 3G or 4G, it said.
Email Newsletters
Sign up to receive TelecomTV's top news and videos, plus exclusive subscriber-only content direct to your inbox.