FCC defends criticism from broadcasters and says OTT is good news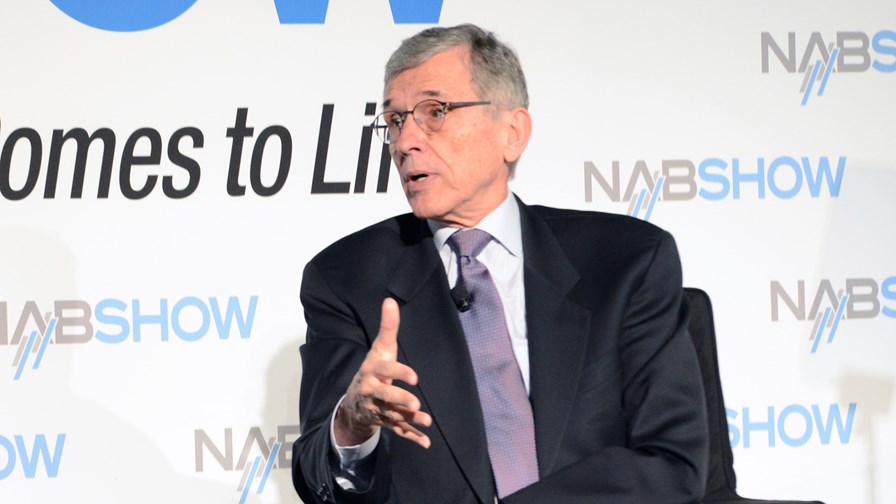 OTT Opportunities
The chairman of the US Federal Communications Commission sought to reassure national broadcasters that they were not being cast aside in favour of wireless and broadband companies, and that the broadcast industry still has a significant role to play.
Yesterday, we reported that the CEO of the US National Association of Broadcasters raged against the FCC regulator over its alleged favouritism towards wireless and broadband companies. "QUOTE," Gordon Smith told delegates to the annual NAB show in Las Vegas.
A day later, FCC chairman Tom Wheeler took to the stage to address the same audience, and hit back at the accusations. And it was an expectant audience, pumped up for round two of the slug fest, as Wheeler himself acknowledged with deft word play.
"I know what some of you are thinking: Gordon Smith and Tom Wheeler mano-y-mano in Las Vegas…that sounds like an awesome UFC pay-per-view," he said in his opening. "Obviously, that's ridiculous. If Gordon and I were to fight it would be broadcast free, over-the-air…"
Wheeler is himself no stranger to US industry trade and lobby bodies, having been the former head of the CTIA wireless association and the NCTA cable association. But he adopted a far more diplomatic and conciliatory approach than did Smith. He wasn't about to trade insults, and instead took the NAB opportunity to highlight three areas where broadcasters have an opportunity to compete and grow their businesses.
Wheeler's first topic, and the one that took up the vast majority of his speech, centred on OTT (over the top) opportunities. With broadcasters subject to an increasing amount of industry competition, he said that this was not necessarily a bad thing, and that the broadcast industry should also become the instigator of competition. But then, the FCC is all about competition: "We believe that competition is better than regulation at stimulating innovation and protecting consumers," said Wheeler. "We are at an inflection point where broadcast licensees can move from being the disrupted, to being the disruptor."
He said he would like to help 'television stations' to become digital 'information providers': "You possess the two most important components of a successful digital strategy: compelling content and the means to promote it. Even better, you can leverage those advantages at only incremental cost."
He cited Netflix is the classic example of an OTT provider, and suggested that broadcast licensees are in the pole position to leverage off the OTT trend to deliver broader OTT services anchored in local news and information. Local content, he says, is the one area that the Internet has yet to conquer.
"We have been spending a lot of time at the FCC working to assure that there is an open Internet," Wheeler assured his audience. "I hope you don't view the open Internet is something relevant only to a different part of communications. The open Internet rules should be seen as an Open Sesame for the expansion beyond your local license; to move from the 'television' business to the 'information' business."
He quoted a Wall Street Journal story about how Yahoo is reportedly relying on net neutrality for a $300 million expansion into local TV news, as well as trials from wireless telcos Verizon and AT&T of LTE Broadcast: "They all are embracing something new that looks startlingly like your model".
Spectrum Auction
Wheeler next moved on to address the forthcoming spectrum incentive auction. He denied that there was any conspiracy against the broadcasters in favour of the wireless operators, saying that it was up to each individual company to decide whether or not to participate.
"I continue to believe that the auction presents a terrific financial opportunity for broadcasters," he told the audience, imploring them to consider the benefits of the auction's spectrum sharing option. "Spectrum sharing will allow you to maintain your existing business while taking home an auction check. It is a once-in-a-lifetime, virtually risk-free opportunity to expand your business model on somebody else's dime."
He cautioned, though, that the incentive auction opportunity was not likely to be repeated in the near future.
His third and final topic centred on proposals to create a new television standard, one that would provide an entry point to the broadband economy for broadcasting. The idea is to adopt OFDM technology to create the ATSC 3 standard, which will have far higher data throughput capabilities.
Wheeler cautioned that ATSC 3 won't be backwards compatible with existing sets (so consumers would have to buy new products… again), and having just been through the transition from analogue to digital television, all parties should not underestimate the magnitude of another one.
However, ATSC 3 will compatible with the incentive auction, once the standard is complete and available.
"If it is possible to get a multiple of throughput on spectrum with OFDM, we, as stewards of the spectrum, need to be supportive," said Wheeler. "If it is possible to expand competition by offering wireless throughput at or better than the level that will be commonly available at the time of its rollout, we need to welcome the competition."
He concluded his presentation by saying that broadcast licence holders have plenty of opportunities in the digital age, so long as they can show "entrepreneurial imagination and leadership" and "think anew and act anew".
Email Newsletters
Sign up to receive TelecomTV's top news and videos, plus exclusive subscriber-only content direct to your inbox.