Europe vs Google: what's all the fuss about?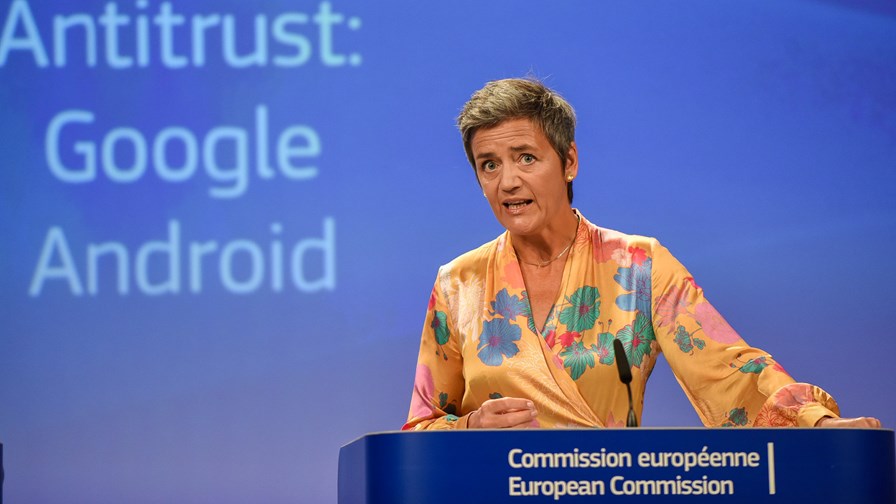 European Commission fines Google €4.34 billion
Google imposed illegal restrictions on Android OEMs
Sought to reinforce its dominant position in internet search
"We intend to appeal," replied Google
Yesterday, the European Commission fined Google €4.34 billion for breaching EU antitrust rules (you can view the extremely long EC press release here), reasoning that since 2011, Google has imposed illegal restrictions on Android device manufacturers and mobile network operators to "cement its dominant position in general internet search". Having an 80 per cent market share in Europe comes with responsibilities.
The Commission's case focused on three types of restrictions that it says Google has imposed on Android OEMs and telcos to ensure that traffic on Android devices goes to Google's own search engine. It says that potential rivals have been denied the chance to compete on mobile (which comprises more than half of global internet traffic) and therefore European consumers can't benefit from effective competition. This, you will not be surprised to learn, is illegal under EU antitrust rules.
Google has 90 days to change its ways or face penalty payments of up to 5 per cent of the average daily worldwide turnover of Alphabet, Google's parent company. Last year, Alphabet reported annual revenues of $110 billion, so that's $301 million per day, making the maximum penalty payments $15 million (presumably for every day it is late in settling.)
Google is also liable to face civil actions for damages that can be brought before the courts of the Member States by any person or business affected by its anti-competitive behaviour. As the Commission points out, the new EU Antitrust Damages Directive "makes it easier for victims of anti-competitive practices to obtain damages".
These are the three restrictions that the EC has highlighted:
Illegal tying of Google's search and Chrome browser apps. It believes that Google achieves billions of dollars in annual revenues with the Google Play Store alone, collecting valuable data from Android devices, and so would still have benefitted from a significant stream of revenue from search advertising without the restrictions.
Illegal payments conditional on exclusive pre-installation of Google Search. The EC dismissed Google's claim that payments to some of the largest device manufacturers as well as mobile network operators based on exclusivity were necessary to convince device manufacturers and mobile network operators to produce devices for the Android ecosystem.
Illegal obstruction of development and distribution of competing Android operating systems. The EC found that in order to be able to pre-install on their devices Google's proprietary apps (including Google Search), OEMs had to commit not to develop or sell even a single device running on an Android fork; it added that Google's arguments that these restrictions were necessary to prevent a "fragmentation" of the Android ecosystem were "not well founded".
It is worth noting that the Commission does not question the open source model or the Android operating system as such. Rather, it focuses on Google's proprietary Android apps and services, and the business terms that Google imposes on device manufacturers (and those operators who white label their own devices).
In June 2017, the EC fined Google €2.42 billion for abusing its dominance as a search engine by giving an illegal advantage to Google's own comparison shopping service. The Commission is currently actively monitoring Google's compliance with that decision, which Google has, not surprisingly, appealed.
So Google will accept the decision and make wholesale changes?
Obviously not. "The decision ignores the fact that Android phones compete with iOS phones, something that 89 per cent of respondents to the Commission's own market survey confirmed," said Google on its corporate blog, in an article attributed to CEO Sundar Pichai. "It also misses just how much choice Android provides to thousands of phone makers and mobile network operators who build and sell Android devices; to millions of app developers around the world who have built their businesses with Android; and billions of consumers who can now afford and use cutting-edge Android smartphones."
The blog goes on to extol the virtues of Android and how Android has "created more choice, not less", with more than 24,000 devices, at every price point, from more than 1,300 different brands.
"To be successful, open-source platforms have to painstakingly balance the needs of everyone that uses them," continued to Pichai blog entry. "History shows that without rules around baseline compatibility, open-source platforms fragment, which hurts users, developers and phone makers. Android's compatibility rules avoid this."
Not everyone agrees with Pichai's stance. DuckDuckGo, one of the most popular alternative search companies (thanks in no small part to its firm stance on user privacy) took to Twitter to say: "We welcome the EU cracking down on Google's anti-competitive search behaviour. We have felt its effects first hand for many years and has led directly to us having less market share on Android vs iOS and in general mobile vs desktop."
However, this situation is likely to run for many years before we see a resolution, much to the joy of the massed ranks of lawyers on both sides.
"We are concerned that today's decision will upset the careful balance that we have struck with Android, and that it sends a troubling signal in favour of proprietary systems over open platforms," concludes Pichai's blog. "We intend to appeal."
Email Newsletters
Sign up to receive TelecomTV's top news and videos, plus exclusive subscriber-only content direct to your inbox.