Dynamic spectrum access gains momentum at ITU's annual regulation summit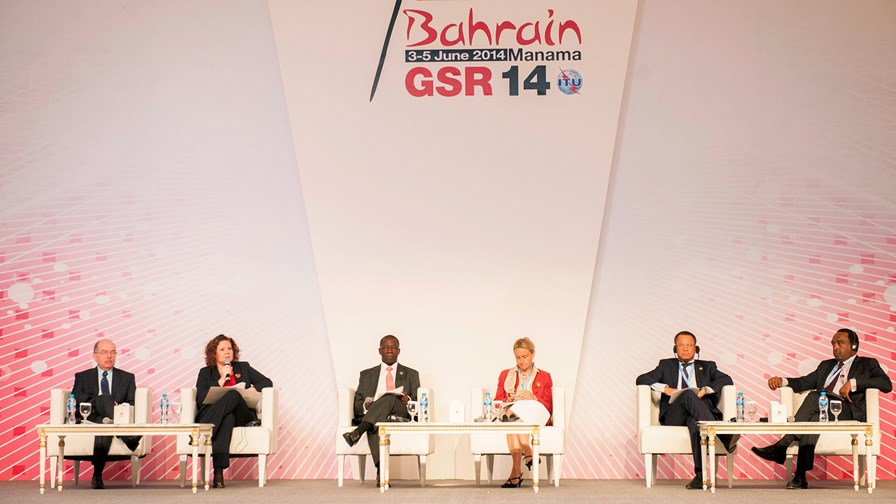 Who said regulation was boring? Despite appearances to the contrary, regulation underpins the whole connected society and decisions made at international events such as WRC affect the future shape and capabilities of ICT.
This week, the 2014 Global Symposium for Regulators, organised by the ITU, is being held in Bahrain. At a side event on Monday, a workshop was held on White Spaces and Dynamic Spectrum Access (DSA) to discuss opportunities and challenges linked to new approaches to spectrum management.
DSA is slowly gaining support and wider interest. There may or may not be a shortage of spectrum, depending on who you listen to, but the industry could certainly do with new ways to use this resource more efficiently.
Over 100 experts participated, from regulatory and technical organisations to ICT vendors, looking at best practices for national and international regulations. It's not a lot, but it's a good start. And it builds momentum from last month's summit of the Dynamic Spectrum Alliance in Kenya (good write up here).
"The issue of White Spaces has been generating a great deal of discussion worldwide, and I am delighted that ITU is once again at the forefront of emerging industry trends, bringing together public and private stakeholders for fruitful debate and information sharing," said ITU Secretary-General Dr Hamadoun Touré.
In his opening speech, François Rancy, Director of ITU's Radiocommunication Bureau, emphasized the need for carefully coordinated spectrum management at the national, regional and worldwide levels, to ensure that all wireless services coexist without interference and create the stable environment needed for ongoing investment in networks, devices and services.
"In today's fast-changing digital world every country's spectrum management process needs to take into account the present and future requirements of all users, as well as the evolution of technology," said Rancy.
There appeared to be broad consensus for need to ensure that spectrum management approaches are harmonized. Over the next decade, growth of wireless services is forecast to increase exponentially with a huge range of diverse products and applications requiring connectivity. Whatever the final approach chosen, spectrum management is going to be critical.
The ITU, of course, also has its development agenda, and is keen to ensure that DSA and white space services be available and affordable in emerging nations, as an enabler for broader social and economic development.
Licensed versus unlicensed
One of the more contentious points is the question of licensed versus unlicensed spectrum (thoughts from the US FCC can be read here). A licensed spectrum regime allows the opportunity for policymakers to impose, in the words of the ITU, "socially desirable conditions on the use of spectrum", such as for population and geographical coverage.
Peter Pitsch, Director of communications policy at Intel, stressed the importance of the frequency bands below 1GHz in providing broadband mobile coverage worldwide and argued that they presumptively should be allocated for licensed use. Shiv Bakhshi, VP of industry relations at Ericsson, questioned whether or not it was judicious to subject prime spectrum in the 470MHz to 694MHz band (which could serve critical policy goals of inclusion and inclusive social growth) to the whims of the open market.
Jim Beveridge, Senior Director of International technology policy at Microsoft, speaking on behalf of the Dynamic Spectrum Alliance, stressed the need for near term policy decisions to enable rapid deployment of shared spectrum solutions to meet the immediate demands in the market place. He noted that several relevant standards are being developed by the IEEE and second generation White Space equipment is now becoming available. Once international harmonization on dynamic spectrum occurs, these radio devices will be able to quickly adapt to the emerging shared spectrum model.
Rancy concluded the workshop by outlining the four possible approaches to current and future spectrum management challenges:
Licensed Exclusive (e.g. mobile cellular networks),
Licensed Shared Access (e.g. as proposed for 2.3GHz),
Unlicensed Exclusive (e.g. current WiFi systems at 2.4GHz),
Unlicensed Shared Access (as proposed for TV White Space systems).
These four approaches, he said, need to be carefully studied and addressed to ensure that all social needs in relation to spectrum access are taken into account. So expect more workshops, more conferences and more talk. Hopefully though, individual regulators will be encouraged to start trials (if they haven't yet done so) and identify any local interference problems, ahead of final global regulatory consensus, if it ever happens.
The danger is, of course, that the market doesn't wait for a globally coordinated approach that supposedly protects existing investments and ensures a level playing field – it will just get on with things.
The IoT is not going to wait for the ITU.
Email Newsletters
Sign up to receive TelecomTV's top news and videos, plus exclusive subscriber-only content direct to your inbox.