What's up with… SoftBank, Nvidia, AT&T, Broadcom, VMware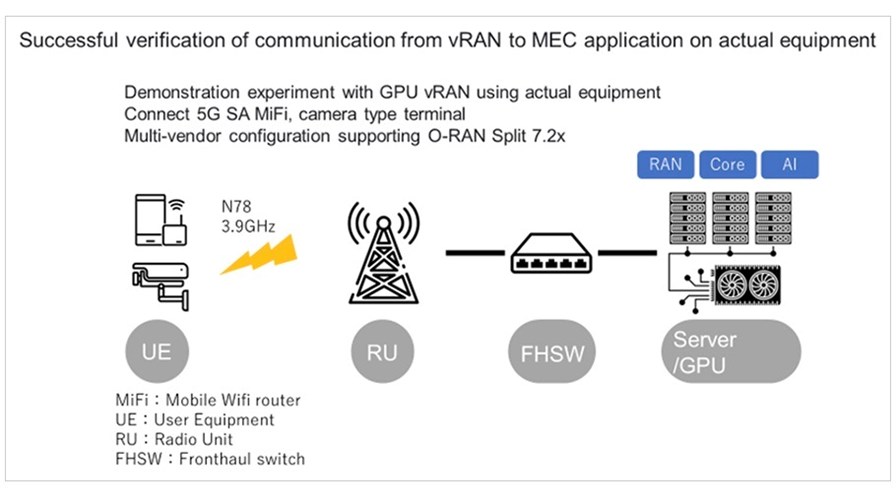 SoftBank teams with Nvidia and Mavenir on breakthrough vRAN architecture
Nvidia is also helping AT&T to become more operationally efficient
The UK's competition watchdog has concerns about Broadcom's acquisition of VMware
In today's industry news roundup: Nvidia is shouting about a number of interesting engagements, including one in Japan with SoftBank and Mavenir focused on an integrated, open multi-vendor edge and vRAN architecture, and one in the US that will help AT&T streamline its operations; the UK's Competition and Market Authority (CMA) has articulated some concerns about the acquisition of VMware by Broadcom, which may send its investigation into a new and more detailed phase: and much more!
Specialist chip giant Nvidia marked the start of its latest GTC developer conference by issuing about 30 announcements of new products, developments and industry engagements. Among the throng were two of particular relevance to the telecom sector. The first is a collaboration with Japanese network operator SoftBank and virtual RAN (vRAN) software vendor Mavenir to trial wireless communications between end user devices (such as a wireless camera) and AI-enabled image processing edge computing applications via a vRAN architecture running on Nvidia graphic processing units (GPUs) where the edge computing and vRAN functionality is running on the same server (see image above). The overall setup is based on an Open RAN architecture which, in this instance, is based on Nvidia rather than Intel hardware. "SoftBank has been working on ways to share resources with several applications using GPUs, even though many vRAN accelerators are specialised for vRAN software," noted the Japanese operator. "This achievement proves GPU are usable with both RAN and AI applications. In the future, SoftBank will utilise the GPU platform for AI application as a vRAN platform when adding RU and vRAN software, and enable the vRAN site as a MEC [mobile edge computing] location that uses GPUs. SoftBank plans to realise dynamic resource allocation depending on RAN and MEC demand, and lower power consumption of vRAN in the future," added the operator. Read more.
The second announcement of note is a collaboration between Nvidia and AT&T, which is to use "Nvidia-powered AI for processing data, optimising service-fleet routing and building digital avatars for employee support and training. AT&T is the first telecommunications provider to explore the use of a full suite of Nvidia AI offerings," noted the graphics chip giant in this announcement. "This includes: enhancing its data processing using the Nvidia AI Enterprise software suite, which includes the Nvidia Rapids Accelerator for Apache Spark; enabling real-time vehicle routing and optimisation with Nvidia cuOpt; adopting digital avatars with Nvidia Omniverse Avatar Cloud Engine and Nvidia Tokkio; and utilising conversational AI with Nvidia Riva." Andy Markus, chief data officer at AT&T, noted: "We strive each day to deliver the most efficient global network, as we drive towards net zero emissions in our operations. Working with Nvidia to drive AI solutions across our business will help enhance experiences for both our employees and customers," added Markus.
The proposed US$61bn acquisition of VMware by chip giant Broadcom could "lead to less innovation and drive up the cost of computer parts used by government, banks and telecoms," the UK's Competition and Market Authority (CMA) announced today following a Phase 1 investigation into the impact of the deal. "The CMA found that VMware has a leading position in server virtualisation software and that compatibility with its software is critical for the server hardware components sold by Broadcom and its rivals. The CMA is concerned that the deal could enable Broadcom to harm its rivals by preventing them from being able to supply VMware-compatible hardware components – such as NICs and storage adapters – reducing competition and ultimately choice for customers. The investigation also found that the merger may result in Broadcom obtaining commercially sensitive information (such as details of new planned products) that its hardware rivals currently supply to VMware. The CMA is concerned that this could damage innovation and leave customers worse off, including fewer product updates or new features,' noted the CMA. Broadcom now has five working days to "offer legally binding proposals to the CMA to address the concerns identified." The CMA would then have a further five working days to consider whether its concerns have been addressed, or if the case should be "referred to the next stage, Phase 2 investigation," the CMA added.
Santa Clara, California-based Marvell is the latest tech company to lay off staff. The chip giant is axing about 320 staff, equivalent to 4% of its workforce, in response to an industry slowdown, reported the Straits Times (citing Bloomberg). "We are streamlining our organisation to ensure that our workforce is positioned to take advantage of our most promising opportunities, both now and when we emerge from the current industry downcycle," the company said in a statement sent to Bloomberg. "Specifically, we have been taking a close look at how our teams are distributed across multiple sites, and how they are being managed to ensure their optimal performance." The cuts include the entire R&D team based in mainland China, according to the South China Morning Post.
Meanwhile, it seems like Intel might be in line to get a German state aid top-up to build two chip fabrication plants (fabs) at the so-called Silicon Junction in Magdeburg, capital of the German state of Saxony-Anhalt. The government had promised to contribute €6.8bn towards the construction, the plans for which were initially announced in March 2022 at a cost of €17bn and as part of a broader, decade-long European investment strategy. But costs have risen significantly for everyone in the past year, Intel delayed the start of construction from this year to 2024, and in February it was reported by German newspaper Handelsblatt that Intel wanted the German state's contribution to increase to a whopping €10bn. Now, during a visit to Saxony-Anhalt, German federal minister of economics, Robert Habeck, has spoken in favour of boosting the aid to Intel, alluding to there being support in government circles for this. "I think it's an open secret that the production costs for everything have increased again and that we still have to find the money in the budget for the additional costs," Habeck is quoted as saying, adding that local renewable (wind) power plants could be built to help keep the costs of the sites down in the future. The German government will be very keen to ensure that Intel's fab construction goes ahead, as it is set to create 7,000 construction jobs over a number of years and up to 3,000 permanent Intel jobs once the sites are up and running. Will Intel get the state aid boost it wants? We wouldn't bet against it.
China Telecom booked a 9.5% year-on-year increase in operating revenue in 2022 to ¥481.4bn ($69.9bn), boosted by a nearly 20% growth in annual revenue from industrial digitalisation services to ¥117.7bn ($17.1bn). Overall service revenue grew at a slower pace, up 8% year on year to ¥434.9bn ($63.1bn), highlighting modest performance across mobile services, and Wireline and Smart Family services (as the telco puts it, these include "digital life applications with wider connectivity, broader reach and higher level of intelligence"), both of which booked less than 5% growth in revenue. Net profit increased by 6.3% year on year to ¥27.6bn ($4bn). The Chinese operator has added 80.1 million 5G package subscribers in the past year, reaching a total of nearly 268 million, which represents a 68.5% penetration rate. Its overall subscriber base was 391.1 million by the end of 2022, of which 18.8 million were new additions. You can see the company's full-year results here.
The government of Egypt has reportedly abandoned plans to sell a stake in state-controlled operator Telecom Egypt due to market conditions. According to Reuters, the state has called off plans to sell a 10% stake in the telco, which it announced earlier this month. It is unclear whether the cancellation of the plan is permanent or if it could be reinstated once the economic landscape improves. The Egyptian government currently holds 80% of Telecom Egypt.
Qatar-based Ooredoo Group appears to have had a fruitful time at this year's Mobile World Congress in Barcelona, signing major deals with global companies aimed at advancing its digital services and modernising its networks. In an agreement that extends its partnership with Chinese vendor group ZTE, Ooredoo will supply battery products to all of the vendor's operations, and has been awarded a contract for radio access network- and IP-related business at Ooredoo Algeria where it will modernise the telco's network. In a separate deal, the operator's networks in Algeria and Tunisia will be enhanced through a new partnership with Finnish vendor Nokia. The telco's Tunisian operation has also brought in Comviva as a partner to deploy a marketing platform, supported by data science services, to enable "real-time, contextual digital experience across all customer touchpoints." Additionally, the group's Qatari unit has also signed new agreements with the likes of Samsung, Starlink and ZTE. Its division in Indonesia, Indosat Ooredoo Hutchison, has also signed partnerships to boost its services portfolio for customers and to enhance its network, including with Cisco, Huawei, ZTE, Nokia and industry association GSMA. Ooredoo has previously announced an expansion of its collaboration with Microsoft to consolidate its position as a "one-stop-shop for connectivity solutions and services", as well as new agreements with Huawei related to network upgrades and delivery of mobile-first financial services. Read more.
Telefónica's digital business has beefed up its cybersecurity services portfolio with the launch of an enterprise offering that is set to deliver advanced scanning and analysis capabilities to address security vulnerabilities in web applications. Dubbed 'Web Application Scanning 2.0', the new service from Telefónica Tech is available globally and is based on technology developed by Tenable, which provides exposure management or, in other words, insight into all of the assets of a company, as well as their related vulnerabilities. The operator noted that its new solution allows businesses to identify vulnerabilities, "take immediate action to protect their data and systems", and make informed decisions on enhanced security. The offering is an evolution of Telefónica Tech's Vulnerability Risk Management solution (NextDefense-VRM) and is part of the NextDefense cybersecurity services brand that it launched in 2021 to help large enterprises protect themselves from cyberattacks. Find out more.
Openreach, the wholesale fixed access network operator owned by UK telco BT, has hit a new milestone by reaching 10 million premises across the country with its "ultra-fast, ultra-reliable" full fibre broadband network. The location of the ten millionth build is in the village of Ketton, Rutland in the East Midlands region of England. "Today marks a significant milestone in our transformation of the UK's broadband. Not only will access to full fibre technology improve the speed and reliability of the internet connections used by people, businesses and public services, it also provides us with the infrastructure we need to meet the demands of an increasingly digital world," said Clive Selley, CEO of Openreach. The company is now setting its sights on the next phase of deployments and Selley noted that plans are in place to make full fibre available to more than 25 million premises by the end of 2026.
Vodafone Qatar plans to trial prototype fibre access technology from Nokia Bell Labs to achieve broadband access speeds of 100 Gbit/s, having already installed Nokia network equipment in Msheireb Smart City that enables downstream speeds of up to 25 Gbit/s, the operator announced this week. "Msheireb Downtown's Smart City district is now the first Gigacity in the Middle East to deliver super-fast network speeds to its users on [a] 25Gbit/s fibre network. Vodafone Qatar GigaHome Fibre customers in Msheireb Downtown will receive an upgrade to 1 GB on their existing plans," added the operator.
- The staff, TelecomTV
Email Newsletters
Sign up to receive TelecomTV's top news and videos, plus exclusive subscriber-only content direct to your inbox.