Linux Foundation opens ONS event with the launch of DANOS operating system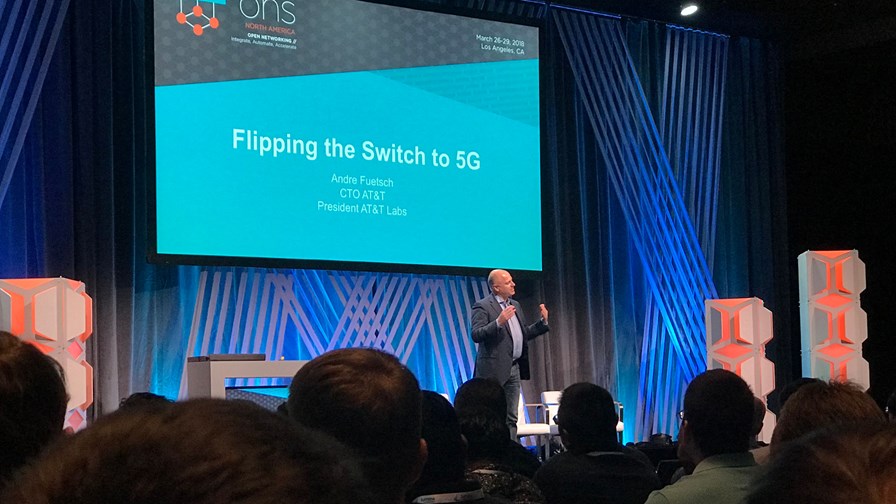 Linux Foundation this year passed 1,000 members
Strategy this coming year focused on "Harmonisation 2.0"
DANOS launched with seed code from AT&T's dNOS
Open source a "critical element" of AT&T's network transformation strategy
Has open networking finally come of age in telecoms? A number of key telcos are, at face value at least, certainly throwing their weight behind it, and the open source movement is doing its part to ensure that it evolves to meet the needs of telecoms. At the ONS North America event in Los Angeles this week, the Linux Foundation praised the community efforts during the past twelve months whilst setting an agenda for its future direction.
"This year we're seeing a big shift in the networking sector," said Jim Zemlin, Executive Director of the Linux Foundation, revealing that the Linux Foundation this year passed 1,000 members. "We're really starting to see the telecoms sector take these open source projects and build real solutions on top of them."
Arpit Joshipura, GM of Networking at The Linux Foundation, described last year as being Harmonisation 1.0; in terms of both open source and open standards. AT&T's ECOMP merged with Open-O to create the ONAP project, and LF Networking was created to house six different open source projects under one umbrella. A partnership just last week with the Facebook-led OCP (Open Compute Project) represented a collaboration on the common layer of operating systems that touch both hardware and software. Plus there have been collaborations with ONF in the OpenFlow arena, MEF in the inter-carrier space, the TMForum for APIs, and most recently the P4 language consortium has joined LF Networking.
Joshipura says this is all part of trying to remove any roadblocks to deployment and collaboration with open source. In fact, LF Networking has just reported that it has signed up 100 member companies in under 100 days. ACG Research says there is $11 billion at stake in terms of networking spend ($7 billion on hardware alone) over the next five years, and that future strategic vendors will be those who embrace open source. Most of this open source, it is worth noting, is at the interface level – often the most complex and ultimately the most important.
The research also revealed major growth in network control, orchestration and the edge. The network control and orchestration software markets are expected to double in size by 2023, according to ACG, while edge networking will see growth rates in excess of 100 per cent year over year.
"So we're now heading to Harmonisation 2.0," said Joshipura, "how networking impacts adjacent areas. Not just networking, but beyond."
From dNOS to Danos
As part of this new initiative, the Linux Foundation today announced the Disaggregated Network Operating System (DANOS) project to enable community collaboration across network hardware, forwarding and operating system layers. DANOS is based on AT&T's dNOS software framework to control white box switches and routers (see Monday's story – keep up; a week may be a long time in politics, but it's a lifetime in the open source world…). As part of The Linux Foundation, DANOS will incorporate contributions from complementary open source communities to build a standardised (with a lower case 'S') distributed Network Operating System (NOS).
"DANOS will provide an open NOS framework that leverages existing open source resources and complementary platforms such as switches and white box routers," said Joshipura. "We invite others in the broader ecosystem to join the effort to accelerate innovation and creation of an industry-standard disaggregated NOS."
"As far as we know, DANOS is an industry first: an open-source, carrier-grade operating system for wide area networks," said John Medamana, VP of Packet Optical Network, AT&T. "DANOS is a milestone for us and the industry, and we're excited to see how developers and other users implement and build upon it."
Code and collateral transitions are underway, expanding on the seed code from AT&T. A first code release is expected in the second half of 2018.
Joshipura also demonstrated the power of another darling of the open source world – Kubernetes. He showed how Kubernetes can enable ONAP on any public, private, or hybrid cloud. ONAP is now a part of the new Cross-Cloud project that integrates, tests and deploys the most popular cloud native projects. For end users, the integration of open networking and cloud native technologies provides seamless portability of applications.
For provide service providers hoping to take advantage of containers, microservices and an open source cloud native software stack, the combination of ONAP on Kubernetes offers another choice when selecting virtual and cloud infrastructure implementations.
"The ONAP community is already committed to offering services providers maximum choice and flexibility with our Multi VIM/Cloud for Infrastructure Providers efforts," said Joshipura. "Kubernetes is another option – a special magical VIM that allows users to work with any cloud environment. Our new demo illustrates that Kubernetes and ONAP are key to the future of network virtualization."
White box evangelists
Joshipura's keynote was followed by a presentation from Andre Fuetsch, President, AT&T Labs and Chief Technology Officer, AT&T.
"Open source has become such a critical element of our network transformation strategy, we call all of this our network AI approach – network artificial intelligence," said Fuetsch. "You make the network smarter by turning it into software, injecting AI into it, and then opening it up to the developer community. We think this is really powerful."
"This is a really pivotal year for AT&T and our industry as 5G starts to redefine what connectivity means and what network applications will look like in a few years," added Fuetsch. "I believe we're going to see a range of use cases we can't imagine right now. Whether its edge computing, smart cities and IOT, super hi-res streaming video, or something else entirely new, we know the world is eager to see what 5G can do. And frankly, all we can do is make sure we have networks that are ready for ready for whatever developers, businesses and consumers want to throw at us. White box hardware, powered by open source software, is how we make this happen."
Email Newsletters
Stay up to date with the latest industry developments: sign up to receive TelecomTV's top news and videos plus exclusive subscriber-only content direct to your inbox – including our daily news briefing and weekly wrap.