Telco top brass need to gen up on AI – poll result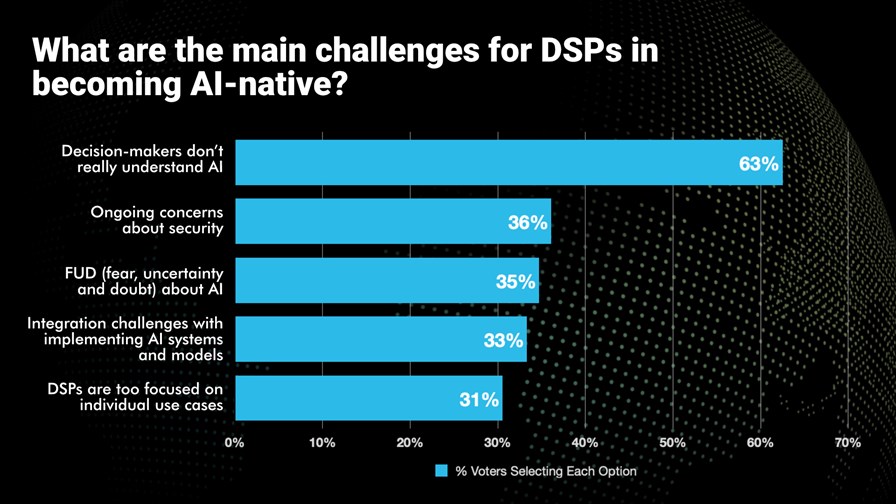 AI will play a critical role in future telco operations
Network operators need to consider how to become AI-native organisations
There are a number of hurdles to overcome
Educating telco decision-makers about AI will be critical, according to our recent poll
The whole communications networking sector is excited about the potential operational gains and insights that the use of artificial intelligence (AI) tools could deliver for network operators, but a recent TelecomTV poll shows that one of the main hurdles the industry needs to overcome if telcos are to become AI-native organisations is the lack of AI knowledge among decision-makers.
AI was a recurring topic of conversation during the two days of TelecomTV's recent DSP Leaders World Forum event and was the primary focus during the very well-received session titled 'Creating a framework for the AI-native telco' that was co-hosted by Deutsche Telekom's VP of technology strategy, Ahmed Hafez – see Towards the AI-native telco.
A quick look at our AI/ML page on TelecomTV shows just how much activity there is around AI developments in the sector right now, including a major $5.4bn investment plan by South Korean operator KT in AI service developments.
But while there is a lot of interest, excitement and investment in AI right now, there are also many hurdles to overcome if it is to be harnessed in an optimal and responsible way by digital service providers (DSPs).
So we set up a poll to ask our in-person and online DSP Leaders World Forum audience the following question – What are the main challenges for DSPs in becoming cloud-native?
Respondents were able to select all options they deemed relevant.
The answer from our voters was resounding: The main challenge lies with the AI awareness of key executives, as 63% of respondents voted for the option 'Decision-makers don't really understand AI'.
Interestingly, that option was way ahead of all other options, which otherwise attracted very similar levels of support as each other. And perhaps surprisingly, the poll option 'Ongoing concerns about security' secured votes from just 36% of respondents, just ahead of 'FUD (fear, uncertainty and doubt) about AI' at 35%.
Not far behind was 'Integration challenges with implementing AI systems and models' cited by 33% of respondents, while 31% voted for 'DSPs are too focused on individual use cases' – a reference there to the suggestion by Deutsche Telekom's Hafez that network operators have, so far, focused their AI efforts on specific tasks but have not yet thought about the bigger, broader steps needed to become an AI-native telco.
It's very clear that the use of AI will be key to the evolution of communications service providers (CSPs) into DSPs and that the whole industry needs to be engaged in at least an ongoing debate, if not a coordinated effort, as to how AI can be best deployed and managed – we'll be exploring this topic in greater depth during the AI-Native Telco Summit in October.
- Ray Le Maistre, Editorial Director, TelecomTV