Will going mobile in business help UK productivity?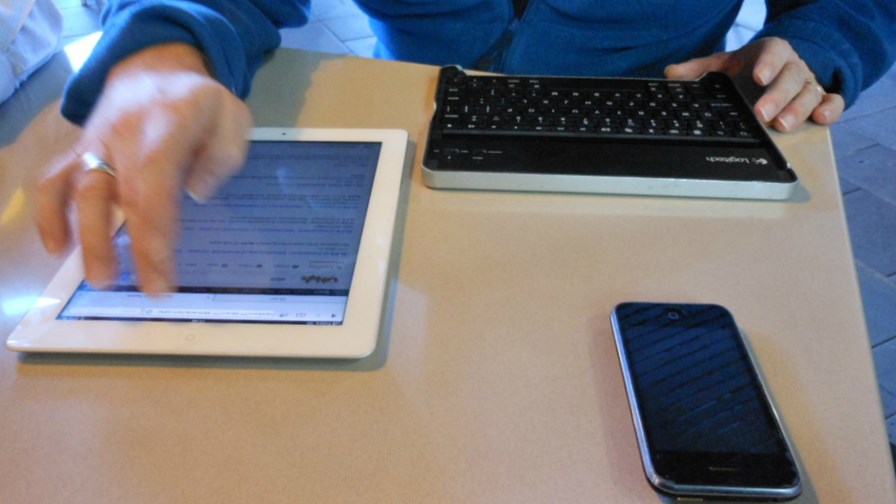 More than half of UK workers spend time out of the office every day
But only 37 per cent use a smartphone or tablet for work purposes
Pool of 10.4 million people could boost national productivity if given the right tools
Incredibly, 15 per cent of workers still fill out paper forms before they are later copied to digital format
A new research report from Deloitte concludes that mobile devices can play a decisive part in enhancing the productivity of individual workers in the UK and that by fully applying the capabilities of smartphones close to 30 per cent of the workforce (that's upwards of 10.4 million people) could play a pivotal role in boosting Britain's economic performance.
The report, "Mobile Readiness for Work" finds that these days about 51 per cent of the 32.3 million people in work in the UK routinely spend time out of the office and away from a fixed location during their working day. However, and this is a very interesting point given the remorseless marketing hoo-hah that swirls endlessly around the benefits of mobile technologies and the nirvana of 5G, even today only 37 per cent of the workers use a smartphone or tablet for work purposes. One has to wonder why.
The rest continue to rely either on PCs, some other sort of mobile device, or in a remarkable number of instances given how long mobile technology has now been available, use no modern technology at all in their daily work other than a ballpoint and a piece of paper - and the Biro (the first effective ballpoint pen) was patented in England in 1938.
As the Deloitte report says, these percentages translate into a workforce of over 10 million employees who do not spend all their working hours at a fixed location but still do not use a mobile device of smartphone. The head of the telecoms practice at Deloitte, Dan Adams, commented, "Almost one-in-three UK workers do not use a mobile device, despite spending a proportion of their time working away from a desk. There is a clear opportunity to narrow the productivity gap through improving the technology that is issued to employees."
He adds, "With every year tablets and smartphones become more capable: they are more powerful, secure and connect faster. Many consumer processes, from payments to travel to consulting doctors, have been re-designed for a mobile screen and the same revolution can now benefit the UK's businesses. UK workers can unshackle themselves from their desks, and leave their bulky laptops behind. For any role that requires movement, mobile technology should be essential."You can't argue with that.
Brit workers still not taking the tablets
In greater detail, the research (which was conducted on behalf of Deloitte by Opinium Research and was conducted during May and June this year) finds that mobile devices - i.e smartphones and tablets - are now used by 40 per cent of the UK's working population while most Brits (62 per cent) continue to use either a laptop or desktop computer in the office.
What's more, laptop computers remain the most common device for work purposes. They are used by 37 per cent of workers and, surprisingly, top out only one percentage point above the 36 per cent of workers who continue to use desktop computers. Meanwhile, 34 per cent of employees routinely use smartphones for work but just 14 per cent use tablets so there's a long way to go as far as the use of smartphones by the bulk of the British workforce is concerned.
As Paul Lee, partner and head of research for technology, media and telecommunications at Deloitte, rightly observes, "For consumers, smartphones have become integral to many aspects of their daily lives, but this revolution has yet to happen in the workplace. Businesses should make core processes accessible via mobile devices. In many cases this may require the creation of a brand new app: the existing PC based application cannot be simply dragged and dropped into a smaller space."
He adds, "As technology becomes more sophisticated and apps become more available, employers will respond by deploying mobile more widely. The smartphone will become used for a broader range of work processes, with the PC becoming a more specialised device used for more complex tasks, such as data analysis, which require a larger screen."
PC-based apps can't just be dragged and dropped onto smartphones
The "Mobile Readiness for Work" report also analyses the tasks typically carried out by the UK workforce and finds that they routinely include timesheet management, job allocation, communication with clients and colleagues and accessing information, all tasks that can be done equally effectively (and perhaps even more so) via a smartphone instead of a desktop or laptop computer.
However, a major obstacle to such usage is that 42 per cent of the statistically significant 3,369 working-age adult respondents to Deloitte's research said they don't use a smartphone or tablet to carry out a work task because the device screens are too small because applications have not been redesigned to work well within smartphone or tablet screen sizes. It is yet more evidence (as if any more was needed) that PC-based apps a can't simply be dragged and dropped onto smartphones without root and branch redesign.
Perhaps the most jaw-dropping finding in the report is that across all industries and sectors of UK workplaces, 24 per cent of workers still have to fill out reams of forms on paper. And 66 per cent of those that do then have submit them up the chain of command for the details thereon to be translated into digital format or waste time themselves transcribing paper reports onto a digital terminal later in the day. This pointless, time-consuming and error-prone doubling-up of of work has no place in a modern economy but more than 5 million UK workers still have to do it every day. It is an antedeluvian embarrassment.
Paul Lee is absolutely right when he says, "As technology, connectivity and applications improve, the total amount of tasks that can be done using a mobile device should rise, across all levels of skilled and unskilled employment. There is a big opportunity to make mobile much more a part of driving productivity and speeding up processes." It's high time for the entirety of British industry to abandon outdated analogue inefficiency and turn determinedly to the benefits that digital smartphones and 5G technology can confer on an increasingly mobile workforce.
Email Newsletters
Sign up to receive TelecomTV's top news and videos, plus exclusive subscriber-only content direct to your inbox.