When stuff sucks Three goes nuclear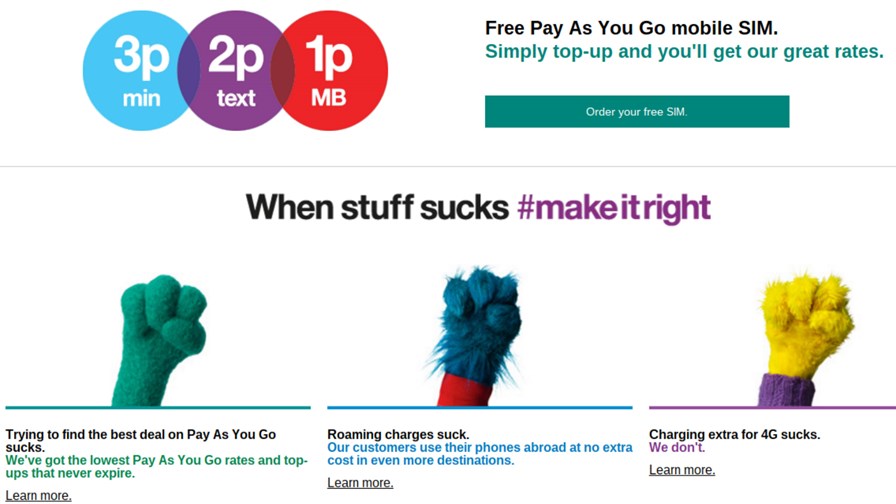 Three goes on the offensive over £10.5 billion merger plans
Claims it will invest, won't raise prices and will sell capacity to competitors.
Will also help little old ladies to cross the road
UK operator Three pushed the attack button today with a letter of promises (3 of them of course: never let a branding opportunity go begging) and an astonishing attack on the UK regulator, Sharon White.
At issue is Hutchison's (Three's parent) proposed takeover of UK mobile network rival, O2, currently held by Telefonica. A successful buy would see Three catapult from number four (in size) mobile operator to number one.
The letter, ascribed to Canning Fok, Group Co-Managing Director of CK Hutchison Holdings and Chairman of Three UK, commits the merged entity to a customer price freeze for five years (not even three years, missed a trick); a £5 billion investment promise for the network; and an MVNO commitment, all in the hope of swaying regulatory sentiment in favour of the merger.
The letter starts off with a swipe at Sharon White, Ofcom CEO. "We might be forgiven for wondering why Sharon White, the new (not that new - Sharon was appointed in late 2014) CEO of Britain's telecom regulator Ofcom, felt the pressing need to go public with her conclusions about the effects of CK Hutchison's proposed acquisition of O2 without having asked for or heard our views in response to her concerns."
Maybe I'm alone in detecting a patronising "you're new to the club Sharon and don't understand our little ways" tone to that sentence. In any case, given that the Ofcom CEO is an important party to the final decision (it's ultimately influenced by Margarethe Vestager, the EU Competition Commissioner) it seems rather clumsy to start kicking her before the results envelope is opened.
So what of the 3 big promises?
According to the letter they are (in full):
PROMISE NUMBER ONE: Three+O2 will NOT raise the price for consumers of a voice minute, a text or a megabyte in the 5 years following the merger. Every cost efficiency that combining the businesses achieves will be shared with our customers. Like for like, customers' bills will go down.

PROMISE NUMBER TWO: Three+O2 will invest £5 Billion in their UK businesses over the next 5 years. That is at least 20% more than would have been invested by the two companies on their own. More importantly, it is much more efficient spending, so quality of service in terms of capacity, coverage, reliability and data speeds will improve much more than if the two companies had not been combined. For those who care to take an objective look, what we've done since combining Three with Orange in Austria in 2013 provides empirical proof of this assertion. [Ed… actually, prices in Austria soared after that merger].
PROMISE NUMBER THREE: Three+O2 will enable other meaningful competitors in the UK market to offer services on a completely level playing field by offering for sale fractional shared ownership interests in our network capacity – in effect selling slices of the same network capacity and quality we use to serve our own customers. This is unprecedented in the UK telecom wholesale market. It eliminates the tricks some wholesalers use to disadvantage their wholesale customers and thus make it harder for them in turn to make competitive offerings to their own customers. This approach will deliver real competition, not just slogans.
This, says Canning Fok "will be an important part of the case Three will put to Europe's competition authorities, who have had the wisdom not to rush to judgment until, as the law requires, they have heard our response to their concerns."
As far as I can see, Sharon hadn't rushed to judgement despite headlines such as 'Ofcom comes out against £10.5bn O2 and Three merger'. Instead she did as we suggested in ours - Ofcom chief executive pours cold water on Three/O2 merger - and reaffirmed Ofcom's policy position while making her concerns about the merger clear.
In any case regulatory minds (in Europe or the UK) won't be too influenced by the 'Three Promises'.
For one thing, keen-eyed readers will note that Three has swiftly raised its prices in the run-up to the takeover so that they now sit comfortably at the higher end of the UK market.
According to consultancy Rewheel, "since the onset of the merger with o2 [it's] doubled the price of its flagship All-you-can-eat Data smartphone plan from £15 to £30 and increased prices of other plans by big double digit percentages.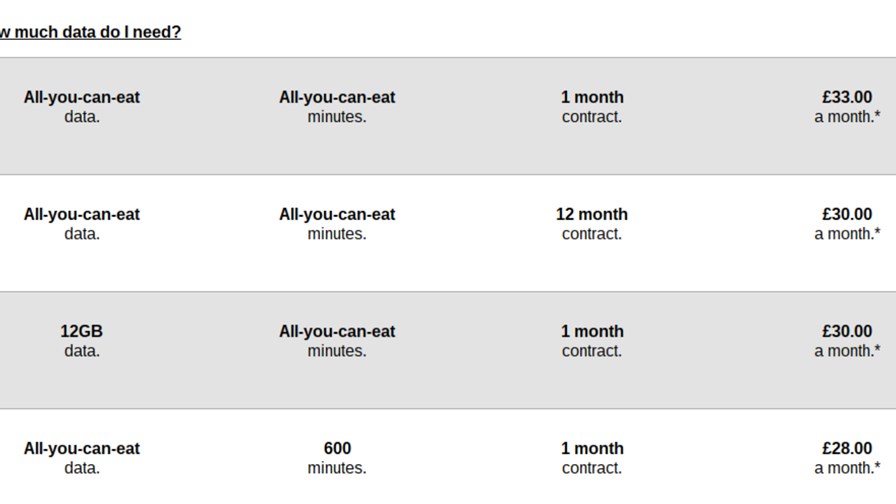 The fact is that any price movement in a competitive market like this should always be down, not up, so holding prices for five years forward will be tantamount to increasing them.
Investment? Well both operators must invest over the next 5 years. They will probably invest even more apart than together.
MVNO's? They've proved to be an unsatisfactory way of stimulating or even maintaining underlying network competition so reworking a basic wholesaling mechanism into ' fractional shared ownership' seems unlikely to move the dial on that one.
Next step will probably see Margarethe Vestager offer some remedies for the merger, and they're sure to be more substantive than Fok's 3 promises.
We have a question for you...
We've been asking: Are Europe's regulators right to favour four-player mobile markets to maintain competition? So far our readers feel strongly that four is good, three is bad, with the running total being:
Yes, regulators are right to favour four-player markets - 67%
No, regulators are NOT right to favour four-player markets - 33%
Email Newsletters
Stay up to date with the latest industry developments: sign up to receive TelecomTV's top news and videos plus exclusive subscriber-only content direct to your inbox – including our daily news briefing and weekly wrap.