US mobile service revenue declines, but the value of mobile increases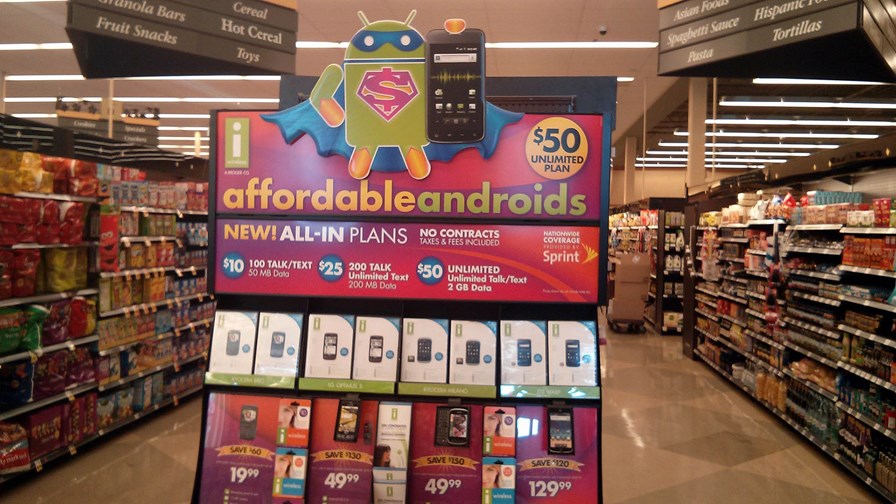 US mobile services revenues in the second quarter declined by two per cent year-on-year, or $1 billion, making it one of the biggest revenue declines in recent times. So concludes Chetan Sharma, who has today released his "US Mobile Market Update" for the second quarter, and it is full of the usual excellent research, although it could do with some copy-editing. Head over there for more facts and figures than you could possible want.
The upside though is that mobile data services revenue continued to increase and is on track to exceed the $100 billion mark this year. Data contribution to the overall revenues is now at 55 per cent. Verizon and AT&T dominated the quarter accounting for 68 per cent of the mobile data services revenue and had 68 per cent of the subscription base.
Between them, the US operators added 3.2 million new customers with T-Mobile showing the most growth. T-Mobile crossed the 50 million subscriber mark during the quarter and could overtake Sprint for the number 3 position within the year, according to Sharma (T-Mobile now has 50.5m subs compared to Sprint's 53.3m, as shown in TelecomTV's chart yeaterday).
However, 84 per cent of the net-adds in Q2 were from the "non-phone" category (tablets and M2M). The net-effect has been that while overall subscriber count has increased, there has been a negative impact on the ARPU, which declined by 2.27 per cent or $1.15. Verizon's tablet net-adds accounted for almost 48 per cent of the overall tablets that were added in Q2, although AT&T still has the most number of tablets on its network.
Verizon has also become the world's leading LTE operator and now has 54 million LTE subscribers. The telco has reported that 76 per cent of its total data traffic is carried by its LTE network. Meanwhile, smartphone penetration increased to 70 per cent and 93 per cent of mobile devices sold now are smartphones. Sharma believes that the feature phone category will practically be extinct in the US market within two years.
For the first time, Verizon sold more iPhones than AT&T, while Android continues its dominance with 60 per cent of the market. Windows remains a long way behind in third spot, as despite Microsoft's steady progress in other regions, it's not gaining any meaningful traction in the US and its share remains at a distant 1-3 per cent. How long Microsoft can afford to remain in the OS and handset market is a difficult call. Like our own analysis, Sharma suggests that Microsoft "might be better off giving up on its device dream and just focus on services on top of the platforms that dominate."
Sharma also notes that the number of companies making $250 million per quarter on mobile continues to increase rapidly and is not just limited to traditional wireless players. Mobile contributes 62 per cent to Facebook's quarterly revenues, for example, and Twitter's mobile advertising revenues now accounts for 81 per cent of the total.
"We are also seeing continued investments from the operators especially AT&T, Verizon, and Sprint in non-traditional segments like home security, healthcare, insurance, automotive, enterprise mobility, advertising, and security, and others," says Sharma. "Collectively, this is already a multi-billion dollar business in the US."
Email Newsletters
Stay up to date with the latest industry developments: sign up to receive TelecomTV's top news and videos plus exclusive subscriber-only content direct to your inbox – including our daily news briefing and weekly wrap.