TPG relies on Vodafone merger for mobile move, Huawei a red herring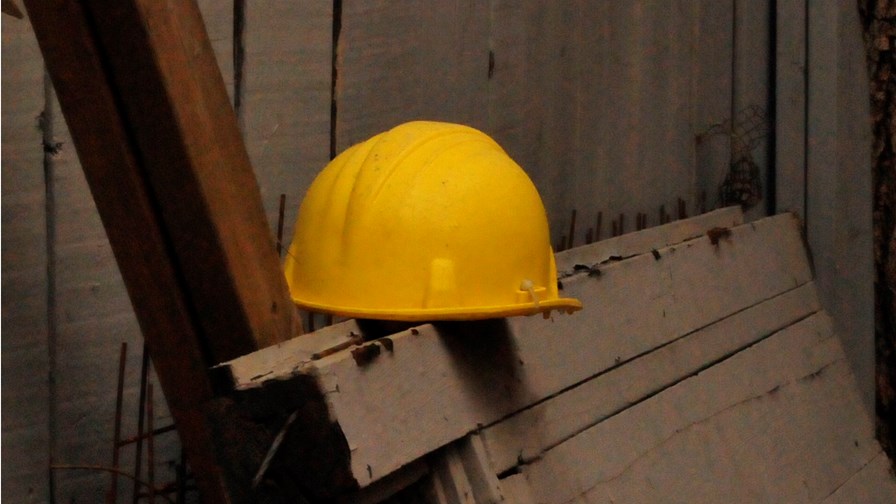 Australian broadband firm cancels plans to roll out own mobile network
Cites government ban on Huawei 5G equipment
Regulator due to rule on Vodafone merger in April
Precedent already set for three-player mobile market, but 5G changes things
TPG Telecom has pulled the plug on its plan to roll out Australia's fourth mobile network. Publicly, it is blaming Huawei – or rather the fact that it is barred from using Huawei equipment – for the move, but behind the scenes there are other forces at play, namely the economics of its planned merger with Vodafone and its efforts to gain the required regulatory approvals for that merger.
The operator announced its decision to cease the rollout of its mobile network on Tuesday, citing "factors outside [its] control."
TPG, a fixed broadband player that also runs an MVNO on Vodafone's network, has been working on the build-out of a small cells-based network for almost two years.
"A key reason for the selection of the vendor and the design of TPG's network was that there was a simple upgrade path to 5G, using Huawei equipment. In light of the government's announcement in late August 2018 that it would prohibit the use of Huawei equipment in 5G networks, that upgrade path has now been blocked," a statement from TPG reads.
The operator said it has sought alternative solutions, but has been unable to find a commercially viable route forward.
Reading between the lines, the Huawei 5G ban comes at a convenient time for TPG, which announced plans to merge with Vodafone in August. To date, TPG says it has spent around A$100 million on mobile infrastructure, plus an additional A$30 million already committed, and clearly it does not see the sense in ploughing more money into its own network at this stage.
TPG Executive Chairman David Teoh insisted that the company "must continue to make independent business decisions in the best interests of TPG shareholders pending the outcome of the merger process," but the firm's actions suggest it is putting all of its mobile eggs in the merger basket.
Vodafone – or Vodafone Hutchison Australia, to give it its full title – is the market's third-largest mobile operator with around 6 million customers. It also offers fixed broadband using the NBN, but the tie-up with TPG would add significant fibre assets plus 1.9 million residential fixed-line customers, as well as government and wholesale clients. The deal would create an integrated, full-service telco with the scale and financial strength to compete more effectively with Telstra and Optus, the companies said when they unveiled their plans.
While the deal clearly makes sense for the parties involved, they have still to convince the regulator that it will not harm competition in the market. However, as paradoxical as it might seem, TPG's withdrawal from the mobile infrastructure space could effectively circumvent one of the Australian Competition and Consumer Commission's (ACCC's) major concerns over the removal of a mobile player from the market.
In its statement of issues on the merger published late last year, the ACCC made reference to TPG's progress in becoming the market's fourth mobile operator and the fact that it would likely price its offerings aggressively in order to compete effectively.
"We therefore have preliminary concerns that removing TPG as a new independent competitor with its own network, in what is a concentrated market for mobile services, would be likely to result in a substantial lessening of competition," said ACCC chair Rod Sims. "The merged TPG-Vodafone would not have the incentive to operate in the same way, and competition in the market would be reduced as a result. A mobile market with three major players rather than four is likely to lead to higher prices and less innovative plans for mobile customers," he warned.
However, you could argue that history is on the telcos' side...
So, what's new?
It is almost 10 years since Vodafone Hutchison Australia came into being in its current form, as a 50:50 joint venture between what were then Australia's third and fourth-largest mobile operators.
In May 2009 the ACCC announced that it would not stand in the way of the tie-up, noting that it would be unlikely to lessen competition, despite reducing the market from four to three facilities-based players.
"Absent the merger, the parties are unlikely to sustain the significant investment in their mobile networks to provide competitive high speed data services, such as mobile broadband," the ACCC ruled, highlighting the need for scale to make such investments. Furthermore, the regulator concluded that the deal would not affect price-based competition, since separately the two players would be unable to sustain aggressive pricing anyway.
Re-reading that statement doubtless gives hope to Vodafone and TPG, but a decade is a long time in telecoms. Surely things have changed in the market since Vodafone and Hutch merged.
Not massively, actually. Telstra remains the top dog, its market share still above the 40% mark and Optus sits at number two with just under 30%, according to the ACCC's own figures (see charts). Vodafone and Hutchison have together lost the most ground since the merger and non-network-based players have gained market share, but the figures really haven't changed substantially.
Prices have though.
"We estimate that for 2016–17, average prices paid for (post-paid) mobile phone services decreased by 4.4 percent in real terms accompanied by a 49 percent average increase in data quotas for (post-paid) mobile phone services," the ACCC revealed in its latest comprehensive market study, published in the middle of last year.
"This continued the long-term downward trend in the price of mobile phone services in Australia. Overall, the ACCC's mobile phone services price index has fallen by an average of 4.2 percent annually since it commenced in 1997–98," it said.
The regulator is keen to avoid reversing this trend and is therefore thinking hard about the Vodafone/TPG merger, but it would be hard-pressed to rule that a three-player market has proved detrimental to consumers thus far.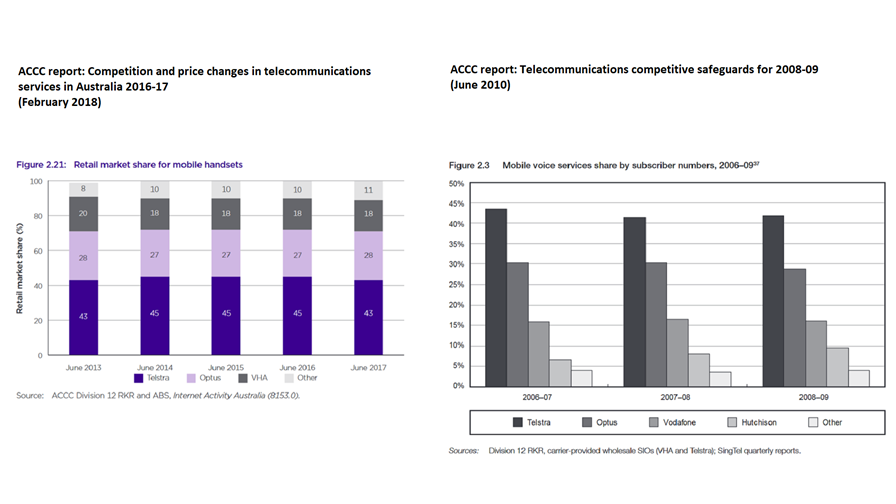 The ACCC has other issues to consider in its analysis of the Vodafone/TPG deal, such as its impact on the fixed broadband market.
"Although Vodafone is currently a relatively minor player in fixed broadband, we consider it may become an increasingly effective competitor because of its high level of brand recognition and existing retail mobile customer base," Sims said in December.
The ACCC said it will also look at the longer-term impact of the merger in the context of 5G and the likelihood that mobile broadband services will start to replace fixed. "The ACCC is continuing to consider whether operators will need to offer both mobile and fixed broadband services in the longer-term to remain competitive, meaning that TPG and Vodafone will necessarily be closer competitors in the future," Sims said.
This changing positioning of fixed and mobile is something the regulator didn't really have to consider 10 years ago and could have a bearing on its decision this time round.
And, as we know all too well, regulators are nothing if not idiosyncratic, so we will await the outcome of the ACCC's deliberations with an open mind. It is due to rule in April.
And as for Huawei, while being scapegoated by TPG is doubtless the least of its worries right now, it could be a sign of things to come across the industry. TPG's decision to can its mobile rollout appears to be the first concrete example of the impact of the ban by various governments on the use of its 5G equipment. It may well not be the last.
Email Newsletters
Stay up to date with the latest industry developments: sign up to receive TelecomTV's top news and videos plus exclusive subscriber-only content direct to your inbox – including our daily news briefing and weekly wrap.