The original mobile "disrupter" does it again: Apple continues to do things its own way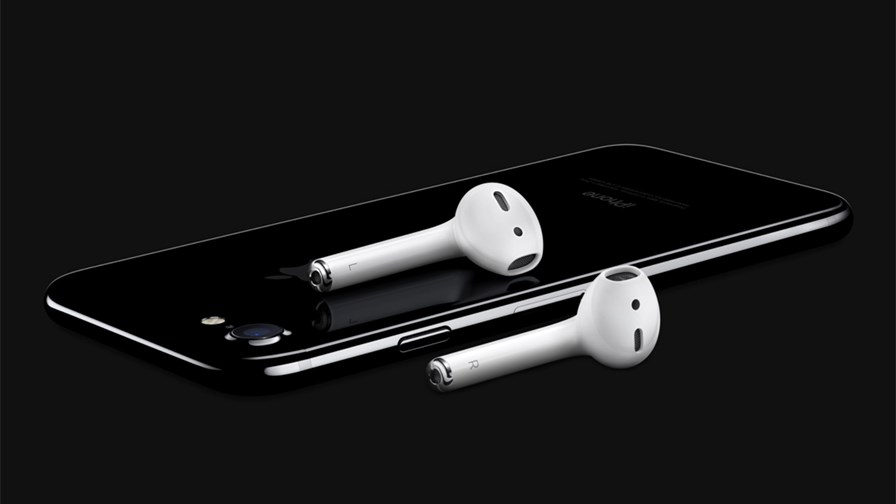 New iPhone 7 models offer incremental improvements, but game-changing disruption
Bluetooth audio gets a rebuild from Apple's engineers
The demise of legacy technology continues
New retail model expands to international markets
Hurrah for Cupertino. Imagine what life would be like without Apple? Would we still be carrying around brick-sized devices overloaded with physical keys and adornments? Would we have apps? Would we still be using dated wired connections? Would the retail industry be dominated by telco-owned franchises? And if not for Apple, who would everyone else copy? Apple didn't just re-launch the smartphone – it changed so many aspects of the mobile telecoms business, and it's doing it again.
Yesterday saw its latest product announcement and celebrity appointment-to-view event. The fans love these occasions, although it has to be said that Steve Jobs made them his own, and whilst Tim Cooke does his best, he's not quite the charismatic showman that Jobs was. For the rest of us, they make for amusing yet strangely compulsive viewing. Everything is awesome (to borrow a phrase from the Lego movie), totally cool, beautiful, incredible and, of course, simply the best ever. Personally, I like to switch channels every now and again to the QVC shopping channel and try and spot the difference (QVC has a cheap set, but the descriptive fawning over features is pretty much the same).
Yet strip away the frankly unnecessary over-selling from the Apple event, remove the hyperbole and what's left is rather interesting. Yes, there are two new phones and a new watch model, as we all expected. Yes, Apple corrected some earlier moves – adding GPS to the watch (duh) and increasing the onboard storage of not just the new phones but the older models too (adding a few cents to the bill of materials whilst generating far more valuable customer satisfaction). And we should add that the new iPhone 7 models appear to be LTE category 9 compatible, supporting 3-channel carrier aggregation through LTE-Advanced – and with Samsung's exploding Note devices being recalled, telcos need all the cat 9 devices they can.
End to legacy technology
But there are three significant innovations and disruptions that are worth mentioning, all of which will have a major impact on the global business.
First is the move away from an analogue 3.5mm audio port towards using the lightning port instead. This was widely rumoured for some time and remains a deeply unpopular decision. But so what? Get over it. It's old technology and it needs changing. Yes, practically every set of wired headphones you can buy all use the analogue connector, but that's because every consumer audio source only has 3.5mm jack as an output. It's a little chicken and egg here.
And please, let's not forget that this kind of change happens all the time in consumer electronics. Scart moved to HDMI, the old PS/2 connectors moved to USB, firewire moved to thunderbolt, USB is moving to lightning, and wired Ethernet ports are disappearing faster than the dodo. This change is driven by a combination of technological advances, cost, space restrictions and business models. It's the way of all things.
Improving wireless audio
This brings us along nicely to the second major disruptive innovation – AirPods. Now, you may find them aesthetically repulsive or the most beautiful thing Apple has ever created. You may be concerned that without a connecting wire or band to drape them around your neck, you may well lose them. Or you may be taken by the rather clever charging case. Chances are though, that Joe Public will be oblivious to the major connectivity change going on here – no standard Bluetooth. Apple has decided that off the shelf Bluetooth just doesn't cut it, and the only explanation hinted at during yesterday's presentation concerned the need for Bluetooth devices to have to go through a lengthy pairing process.
Is that the only reason? It's a pretty good one, as pairing between accessories and devices can be a tedious and often frustrating process. There's also the question of audio quality, with it generally acknowledged by audiophiles that you have to splash the cash to buy a decent sounding pair of Bluetooth headphones. But without being able to test the new AirPods, it's impossible to compare. There's also Apple's new wireless W1 processor, which it has embedded in each AirPod. What this does exactly remains unclear. Apple is never one to release copious amounts of information, and it is often left to tear-down specialists to unearth its secrets.
It's unclear if the new technology is based on Bluetooth or is completely new – all we have been told is that the W1 chip operates at "ultra-low power" at about a third of that of other wireless chips. However, it would appear likely that it is still based on core elements of Bluetooth (we are awaiting confirmation and will share updates later) as the AirPods will work with other equipment. The W1 chip would appear to be adding signal processing and a new type of authentication. But again, details are not yet forthcoming.
It's not the first time Apple has deviated from core Bluetooth technology, as a few years ago it created the iBeacon protocol, based on Bluetooth BLE. Since then, iBeacon has been widely adopted by other vendors, but it is unclear if Apple will share its new proprietary wireless tech with others. Still, the move must be a blow to the Bluetooth SIG, as there is implicit criticism of its technology from the world's leading consumer electronics firm.
Ringing the retail changes
And so to the third disruptive announcement – the decision to widen its iPhone Upgrade Programme. The scheme offers interest-free monthly instalments to cover the cost of an unlocked handset, requiring users to buy their own airtime direct from a service provider. This was first announced last year but restricted to the US only. Since then, a handful of mobile operators have come up with similar retail deals, whereby you pay slightly more per monthly instalment in order to swap out your phone in a year's time for the equivalent new model, ensuring that you always have the latest model.
Sales breakdowns from Apple are, unsurprisingly, somewhat hard to come by, so it's pretty difficult to discover what impact Apple's purchase plan has had on the US market. However, it's decision to now widen the scope of this scheme to customers in the UK and China must mean Apple is confident of making it a success.
Why is this disruptive? Because it offers users "unlocked" devices at a similar cost to the regular "pay monthly" subsidised telco plans (who has a spare £700 or more to splash out upfront on a new phone?), and means they are only selecting a carrier based on what airtime plans and coverage work best for them – and being able to swap and change at will. Telcos hate having to acquire or re-acquire new customers, it's a costly business. Cheaper to have them tied in to a two-year contract. But if I can have the latest iPhone every 12 months, complete with Apple's own rather good insurance and care package, and pick and choose airtime as and when I need it (responding instantly to new deals and offers), at a price not too much more expensive than a traditional telco pay monthly tariff, then why wouldn't I take advantage of this?
Time will tell how Apple's upgrade programme impacts the telcos' retail business. Will customers still opt for annual airtime contracts, or chose monthly ones? How many will churn on a regular basis? For Apple, it strengthens the relationship with its customers and pushes telcos further back in the pecking order. That's not going to go down well with operators, who are already facing service disruption from all quarters.
Yesterday's Apple announcement was ostensibly about the new iPhone 7 models, and much media coverage has been made of "only incremental" improvements to the devices in a plateauing marketplace. They overlook just how profitable the iPhone is to Apple, and its desire for it to remain so. They might be incremental changes to most users, but there is huge business innovation going on just under the surface. And what Apple does today, its rivals will do tomorrow. Expect even more disruption.
Email Newsletters
Sign up to receive TelecomTV's top news and videos, plus exclusive subscriber-only content direct to your inbox.