Stupid marketing stunt of the year: AT&T launches "5G Evolution" service to consumers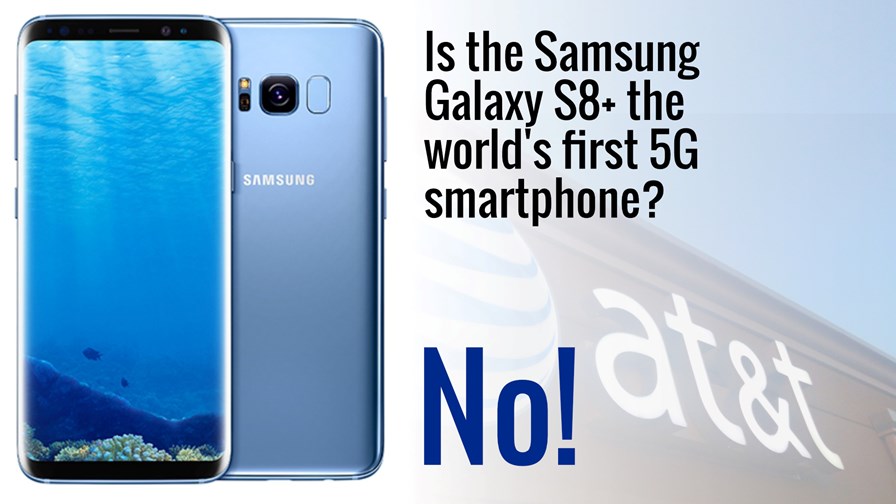 Service launches in Austin, with 20 "major metros" planned by end of 2017
Only available for owners of Cat. 16 equipped Samsung Galaxy S8 or S8+ devices
Service actually running over LTE Advanced network
Proof that AT&T is "not waiting until the final standards are set"
Remember when TelecomTV launched its 5G Evolution channel almost two years ago? Well, AT&T obviously recognises a good thing when it sees one, and the US telco has announced its own 5G Evolution. Unfortunately, far from helping the 5G cause, this can only confuse the market and lead to disappointment.
AT&T's version of 5G Evolution is actually LTE evolution, and is the perfect example of a telco's marketing team running roughshod over the industry's carefully structured and time-lined technology development efforts. This has absolutely nothing to do with "5G", as defined by 3GPP as being first unveiled with Release-15, which won't be frozen until March 2018.
AT&T says it will "pave the way to the next generation of faster speeds for its wireless customers with the latest devices in over 20 major metro areas by the end of this year". It carefully and prudently adds that it will "continue to lay the foundation for our evolution to 5G while the 5G standards are being finalised."
Bizarrely, it says its customers in "select areas" of Austin, Texas, can access the faster 5G Evolution internet speeds "starting today". Yes, today. So long as they own a Samsung Galaxy S8 or S8+. And no, that does not make the Samsung the world's first 5G handset…
Rather, it is an LTE user equipment category 16 device, as defined by 3GPP. Cat 16 is certainly cutting edge, with theoretical download speeds of 1Gbit/s and uploads of 150Mbit/s, to support LTE Advanced and LTE Advanced Pro networks. The Samsung devices uses the Qualcomm Snapdragon X16 LTE modem, which was the first commercially announced modem to support Gigabit Class LTE speeds. It does this by aggregating ten streams of 100Mbit/s data across three carriers with 4x4 MIMO. The only other commercial device we know of that supports similar speeds is a router from Netgear.
"Our 5G Evolution in Austin gives our customers a taste of the future," said David Christopher, chief marketing officer, AT&T Entertainment Group. "With 5G Evolution from AT&T you don't have to wait to experience endless entertainment possibilities on the next generation network when you have the latest devices."
It is quite telling that AT&T's quoted spokesperson happens to be the CMO from its entertainment division.
AT&T's marketing team says the service will offer "twice the speeds of our 4G LTE network", so that implies that we are talking about LTE Advanced Pro – despite the fact that AT&T never mentions it once. Incidentally, AT&T currently markets its LTE Advanced service as being 50 per cent faster than LTE, so it would appear that the telco has decided that the term "LTE Advanced Pro" should be replaced with "5G Evolution" for its marketing purposes. Shame. (It also said it would offer "infinite possibilities", which is misleading in the extreme).
Following Austin, AT&T says it will introduce the service in Indianapolis in the summer, followed by Atlanta, Boston, Chicago, Los Angeles, Nashville and San Francisco in the following months, reaching 20 metro areas by year end. By this time, it says it also plans to offer "numerous other devices" that can take full advantage of the speeds (whether the next iPhone will support Category 16 is causing much speculation); note that it currently offers 17 other smartphones that support LTE Advanced, to various extents.
You can't say we weren't warned
Eagled-eyed TelecomTV readers will remember that AT&T warned us of their plans back in January. Here's what they said at the time:
"We're not waiting until the final standards are set to lay the foundation for our evolution to 5G. We're executing now," said John Donovan, chief strategy officer and group president, Technology and Operations, at AT&T. "Our 5G Evolution plans will pave the way to the next-generation of higher speeds for customers."
Yes, AT&T is apparently making great strides with its proper 5G technology lab tests (claiming it has already achieved speeds up to 14Gbit/s) and field trials, and these will continue and feed into the ongoing standards work.
It also correctly predicted that it would begin reaching peak theoretical speeds of up to 1Gbit/s at some cell sites in 2017, and that the continued deployment of its 4G LTE Advanced network "remains essential to laying the foundation for our evolution to 5G".
It added that it will continue to densify its wireless network this year through the deployment of small cells and the use of technologies like carrier aggregation, with four-way carrier aggregation and LTE-License Assisted Access (LAA) expected later this year.
In fact, AT&T was setting the scene for its 5G Evolution as far back as February 2016. Back then it said it was conducting its 5G trials in such a way that "we'll be able to pivot to compliant commercial deployments once 5G technology standards are set". Studiously avoiding the "5G Evolution" product name (I guess the marketing team hadn't got their fingers into the pie at that stage), it added that its trials would "set the stage for widespread commercial and mobile availability once technology standards for 5G are established". Those trials, of course, were held in Austin.
So there we have it. The industry tried valiantly to avoid the repeat of mis-sold technology that so badly damaged LTE's introduction – even the 3GPP were hesitant about using the term "5G", although they recently relented. We're not even at the end of April 2017 and already the first telco is using 5G as a marketing stunt way ahead of the technology's true completion and introduction. Let's just hope consumers don't get sick of under-performing "5G" before true 5G is even ready for deployment.
Email Newsletters
Sign up to receive TelecomTV's top news and videos, plus exclusive subscriber-only content direct to your inbox.