Samsung rides into the Wild West of the mobile payments sector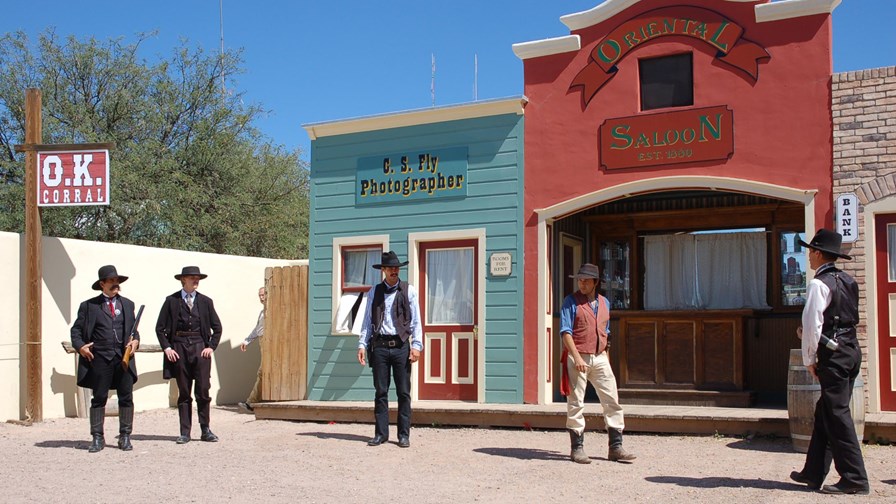 Samsung Pay to launch in US 28 September
Key European markets and China to follow
MST technology provides alternative to NFC
Competition increasing from Google, merchants and banks
Samsung has revealed more details of its Samsung Pay mobile payments service, which will compete against the likes of Apple Pay and (when it too launches) Android Pay, not to mention a plethora of other services either deployed or being trialled. And it's not as though mobile is the only contactless payment mechanism available – there is already a huge installed base of contactless bank cards that do the job perfectly well.
It all feels like the Wild West at times, as more and more hopeful (desperate?) pioneers move into town with hopes of making their fortunes. And just like the American West, most will leave disappointed, or worse. There is still no sign of the settlers – the market is still far too turbulent with way too many uncertainties.
Samsung has decided that it must yet again compete head-to-head with Apple and launch its own mobile payment service. Having already given some details in March earlier this year, yesterday it revealed that it would launch in the South Korea on 20 August and in the US on 28 September this year (a little later than first expected). The payments service will then expand to the UK, Spain and China, but Samsung declined to give specific dates
Samsung's differentiator is the fact that it doesn't rely on NFC-enabled retail point of sale terminals, as its payment technology allows phones to send signals to existing magnetic stripe card readers, thereby offering greater store coverage – especially in those countries that have been slow to embrace chip and pin and NFC (notably the US).
Whilst it will also work with NFC, Samsung Pay uses Magnetic Secure Transmission (MST) technology, which Samsung gained through its $250m acquisition of mobile payments firm LoopPay. In terms of usage, you select the app, choose your payment card, authenticate with the fingerprint sensor, then tap your phone on the POS terminal. Use of the fingerprint sensor obviously implies that Samsung Pay will only be available on the firm's latest and high-end devices. The app is pre-loaded on the new Galaxy S6 Edge+ and Galaxy Note5 devices, which Samsung launched yesterday, and will be available on existing Galaxy S6 and S6 Edge devices via a software update.
The usual financial suspects – MasterCard, Visa and American Express and Bank of America – are already on board, amongst others, including Synchrony Financial, which is the largest provider of private label credit cards in the US. But surprisingly, Samsung has announced the service without having completed a deal with Verizon. Whilst agreements are in place with AT&T, T-Mobile and Sprint, negotiations are still continuing with Verizon.
Finding a competitive edge
The MST technology could be an advantage in the short term, but it is expected that all contactless payments will use NFC within three to five years. However, that short-term momentum could be enough to ensure Samsung Pay gets a head start over Android Pay (which, let's face, is unlikely to appear before the end of September, having being delayed so many times already). But with only four devices being able to support Samsung Pay, the company is restricting the service to a limited subset of its users – in what is a hugely fragmented Android market (see this amazing graphic to visualise the range and distribution of Android devices on the market). Will it be enough? Remember, Android Pay will work without the need for a fingerprint reader.
All of which begs the question, "who will emerge the winner?" The answer, unfortunately, is "probably no-one". You can thank the smartphone market for making us think in terms of absolutes – who will win, Android or iOS?. With mobile payments we will see a return to a more competitive and fragmented market. We've already seen various operator-led mobile payment initiatives that went nowhere, and we will likely see more in the coming years, plus merchants are launching their own services (such as CurrentC from MCX) as are the banks (such as Pay by Bank from Zapp, a consortium of UK banks).
Plus, all of this also implies that we will leave our wallets and purses at home and solely rely on our smartphones. That's been mooted for years but still seems years away from reality. Meantime, we all carry cash, loyalty cards, scraps of paper and miscellaneous junk with us, and so producing a contactless payment card in a shop is no big deal and not exactly strenuous. Using the likes of Apple Pay for mobile online purchases is another matter, and potentially of far greater importance.
Welcome to the Wild West of payments, Samsung. Watch out for Apple ahead of you and Android behind. Now go stake your claim.
Email Newsletters
Sign up to receive TelecomTV's top news and videos, plus exclusive subscriber-only content direct to your inbox.