Mass texting: a potentially powerful weapon to combat the Ebola crisis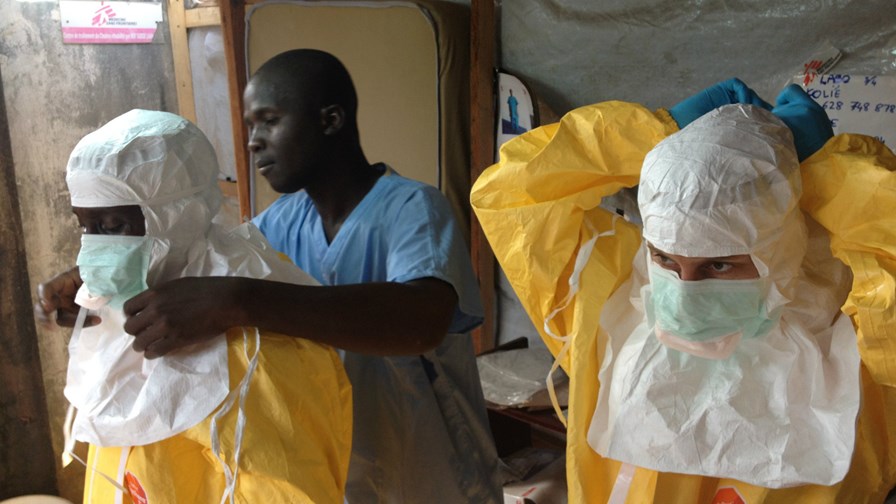 As just about everyone on the planet knows by now, the outbreak of Ebola in Western Africa is being seen as the biggest health emergency of modern times. Unlike natural disasters like an earthquake - our usual mental template for an 'emergency' - a virulent disease is doubly nasty because it's open-ended while an earthquake impacts a finite area and affects a finite number of people inside a particular time period. The extent of a disaster like an earthquake may be daunting, it can at least be sized.
With Ebola, we just don't know how long, how bad, how fast, and neither do those directly affected. And that has a crippling effect. "A disease like ebola can contribute to state failure," says Robin Burton, who has a day job as Head of Marketing at UK telecoms specialist, Evolved Intelligence.
"Schools are closed, farms are abandoned, economic and social activity totally undermined. Communications are terribly undermined."
Robin has been giving his time for some years to the Red Cross and Red Crescent in an effort to get some of our over-plumped mobile technology pointed at really useful and life saving applications.
One of the big assists is that mobile technology can be applied to help empower the people affected to start helping themselves (after all they're the people on the spot), as opposed to the old approach which was to fly over and drop stuff. So mass texting could make a huge difference where Ebola looks like its taking hold and may be about to cause a panic.
The TERA (Trilogy Emergency Relief Application) project was born out of the Haiti disaster a few years back. It's a mass texting programme and is being rolled out by the Red Cross in 40 countries now, hopefully more to come as minds are concentrated by the Ebola disaster.
The fact that most of the world now clutches a mobile phone is a great thing, of course. Except that in a disaster, a deluge of texts, tweets and attempted phone calls does nobody any good. In the case of Twitter it can easily lead to the wrong messages being sent and acted upon and make things worse.
The idea with TERA is to make texting more a one-way, broadcasting sort of process, at least at the beginning, by carefully controlling the messages (even preparing them and their order of release in advance of a disaster ever happening) because mid-disaster is no time to have an open discussion of the issues. It's the time to get advice from a trusted source and just act on it.
The system itself is a box that stays attached to a service provider's host mobile network. It's 'carrier-grade' and runs on twin servers.
It connects to the network at two points: a CDR output from the switch which registers the handsets that are actually active. It also shows the system which cell sites each active number is typically connected to, allowing for targeted SMS messages to be sent. The other point is a typical SMS gateway contained within the system.
The system then allows the Red Cross Red Crescent to send SMS text messages to people in defined geographic areas. The operator simply draws a circle or a polygon onto a map on the graphical user interface. He can then send a message to every live handset that is within that area.
Simple and effective for the outgoing but more difficult handling is required for incoming - user messages are automatically scanned for keywords so the system can respond with a pre-set message. So if a text mentions cholera, say, a preset message is sent in response to give the sender some immediate relevant information and also to reinforce that the message has been received and acted on.
Experience so far is that TERA has been highly successful both in giving early warnings and in organising and informing people in a disaster aftermath. When it comes to ebola, it could really help to stop panic, inform people of what to do to stop the spread of the disease and so on.
The Red Cross Red Crescent already has a system in Sierra Leone which is is sending out 2 million messages a month, says Robin. It was initially installed there to battle cholera. It would now be a simple process - as they have a template system - to roll it out to every other country.
"It's not just about broadcast information, though," says Robin. "You also need to have targeted information sent out to the right people at just the right moment - you don't want to bombard people with the same stuff over and over otherwise they'll switch off. Messages have to be relevant and timely and you want to build up trust."
So how well does it work?
"Well, we get all the normal stats back and we do surveys after a disaster to find out how many people recalled those messages. Ninety per cent of people changed their behaviour because of the messages they received."
If you think you're in a position to help the process of getting this technology installed with all the world's mobile operators, email [email protected].
Email Newsletters
Sign up to receive TelecomTV's top news and videos, plus exclusive subscriber-only content direct to your inbox.