If telcos want their customers to spend more, they had better improve their services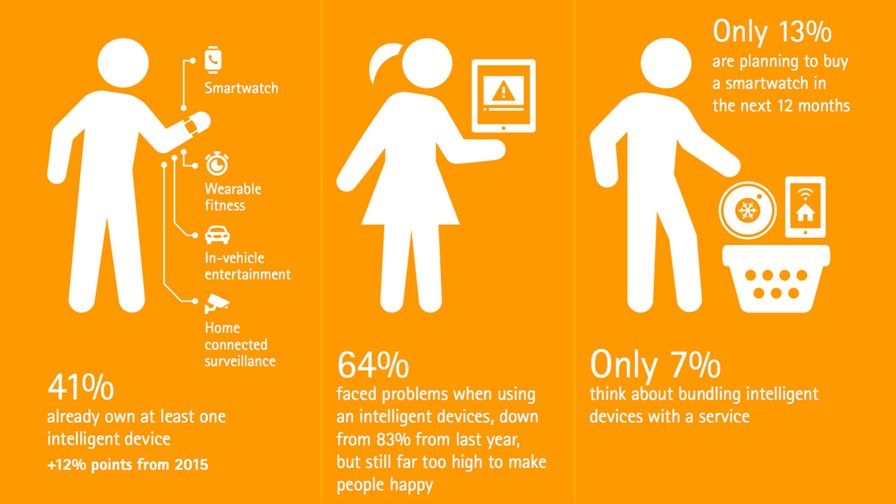 60 per cent of smartphone users dissatisfied with their experience and would switch providers
Only 13 per cent plan to increase spending on devices in the next 12 months
83 per cent are unhappy with mobile advertising interfering with their experience
Accenture finds that wireless providers need to develop new revenue streams
According to the latest Accenture "Screenager" Report, 60 per cent of smartphone users are dissatisfied with their mobile experience and are ready to switch mobile providers. What's more, only 13 per cent said they plan to increase spending on smartphones, tablets, laptops and PCs in the next 12 months, down from 33 per cent in 2014. Leaving aside the cringe-inducing term "screenager" (yes, very clever, but don't expect it to enter the Oxford English Dictionary any time before the next ice age), this is bad news for wireless service providers.
Of course, the likes of Accenture thrive on alarmist reports and surveys; after all, they need to persuade their clients to implement change management and undergo that equally horrible term, "transformation". But even allowing for margin of error, these numbers don't suggest a happy and contented customer base, rather one that is making do with what's on offer. After all, there's precious little alternative for people, but don't expect these same people to jump onboard the smart revolution and buy whatever connected device the industry throws at them next.
The Accenture Report uses data collected in the firm's 2016 Digital Consumer Survey, which investigates the attitudes, behaviours and trends of 28,000 consumers in 28 countries who are adopting and using mobile smart devices and related services. The study found that despite the widespread ownership and use of smartphones – with 80 per cent of consumers surveyed now owning a device, up from 26 per cent in 2012 – the majority of smartphone owners are unhappy with their mobile service.
60 per cent are dissatisfied with their connectivity and experience and would switch providers
62 per cent are concerned about the security of financial transactions
47 per cent are concerned about privacy and security
83 per cent are unhappy with mobile advertising interfering with their experience.
So much for the bad news, now for the reconciling arm of "good news". Accenture's data pointed to opportunities for mobile providers to improve their service. For example, 71 per cent of smartphone users said they would pay more to a provider for better connectivity, and 83 per cent said they would buy more products and services if reliability and the speed with which problems are resolved were improved. The report found that the most common activities for which smartphone owners use their devices – other than talking and texting – are watching video (81 per cent of smartphone owners) and playing online games (69 per cent).
"Mixed data on consumer satisfaction coupled with flat growth in smart devices could be seen as a threat, but forward-looking providers will see an opportunity as consumers' digital appetite has never been greater," said Marco Vernocchi, global digital lead of Accenture's Communications, Media and Technology operating group. "The key is delivering new, high-quality, multi-device and multi-channel experiences that meet the consumer's expectations immediately."
The combination of increased smartphone ownership and usage, coupled with dissatisfaction with the mobile experience, presents opportunities for service providers. The following are some strategic recommendations from Accenture Consulting to help providers retain customers by improving the mobile experience while developing new revenue streams:
Accenture says that mobile service providers need to re-imagine the user experience from the user end and work back to the provider's infrastructure and front-end systems. They need to remember that the device is a delivery vehicle for multiple services used daily, but no single provider can do it all – an "open innovation" approach that entails partnering with content and service providers to create a dynamic ecosystem is required to reinvigorate the user base. And apparently, "screenagers" don't have the patience to wait for a second or third version to get it right, so executing flawlessly is the key to building and maintaining customer loyalty.
Email Newsletters
Stay up to date with the latest industry developments: sign up to receive TelecomTV's top news and videos plus exclusive subscriber-only content direct to your inbox – including our daily news briefing and weekly wrap.