Ericsson reports strong growth in mobile video viewing in an increasingly fragmented TV market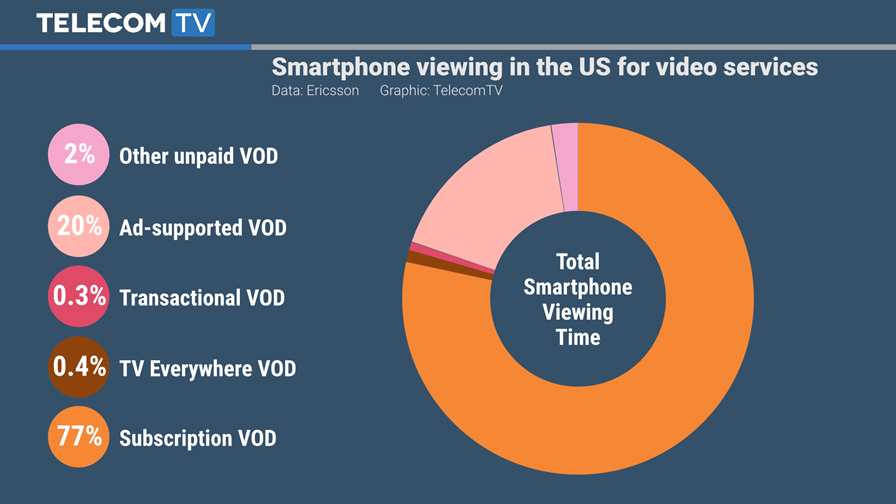 Time spent watching TV and video on mobiles up 85 per cent in the last six years
US consumers rate VOD services higher than broadcast TV
10 per cent of consumers watch YouTube for more than three hours a day
Average viewing times on mobiles up by more than 200 hours a year since 2012
Guess what? We're spending more on video on demand, watching less linear TV and – fanfare please – using our mobiles for video viewing more. Those are the entirely unsurprising findings from Ericsson's seventh edition of its annual ConsumerLab TV & Media Report, which it published this morning. Unsurprising they key findings may be, but Ericsson has quantified them to show the extent of the enormous and rapid shift in TV and video viewing behaviour towards.
However, it's not all good news. With the change in viewing practices and the massive fragmentation of the market, content discovery remains a huge frustration for consumers. According to the survey, US consumers spend 45 per cent more time choosing what to watch on VOD services than linear TV, which isn't surprising when you consider that 44 per cent say they can't find anything to watch on linear TV on a daily basis. We've come a long way since the 1970s.
It's good news and bad news for telcos – far more video traffic leads to more subscriber engagement but also higher usage of their network resources. It's a dilemma that's set to continue, with no obvious answer, other than some brave and progressive telcos need to fundamentally change their business models. Don't hold your breath just yet.
And so to some of the key findings – pick and mix at your discretion:
Average viewing times on mobile devices has grown by more than 200 hours a year since 2012
This has driven up overall TV and video viewing by an additional 1.5 hours a week
Fixed screen viewing has declined by 2.5 hours a week, on average
Weekly share of time spent watching TV and video on mobiles has grown by 85 per cent between 2010 and 2016
Weekly share on fixed screens has gone down by 14 per cent over the same period
40 per cent of consumers globally are "very interested" in a mobile data plan that includes unrestricted video streaming
20 per cent of mobile viewing in the US is paid-for premium content using services such as Netflix, Hulu and Amazon Prime
Total viewing time of on-demand content has increased 50 per cent since 2010.
Consumer spend on VOD services in the US has increased by over 60 per cent since 2012, from $13 to $20 per month
40 per cent of respondents say they watch YouTube daily
10 per cent of consumers say they watch YouTube for more than three hours a day
"For consumers in general, and millennials in particular, being able to watch on the smartphone is key," said Zeynep Ahmet, Senior Advisor at Ericsson ConsumerLab. "Consumers not only want the shared, social broadcast TV experience, they also expect the flexibility of an à la carte on-demand media offering. Today's experience is multifaceted and consumers want to create their own worlds of compelling, personalized content."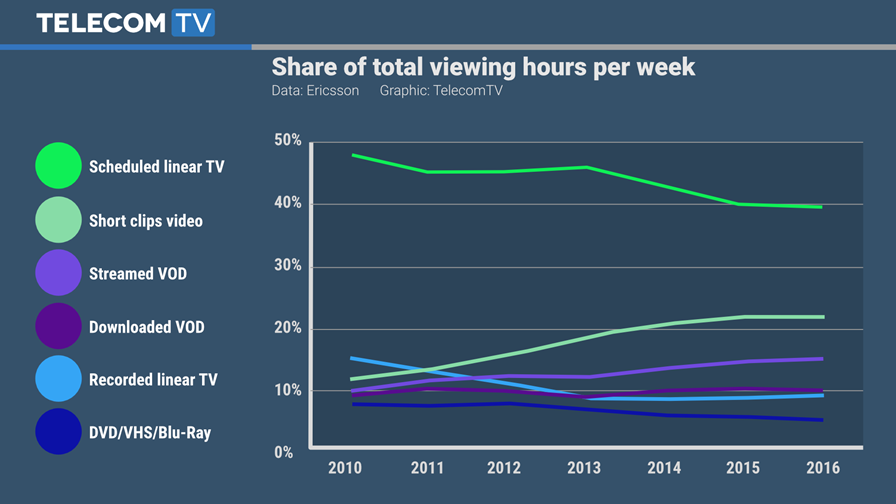 It's interesting to look at the graph of the share of total viewing hours per week for each type of TV/video viewing (above). From 2010 to 2015 each has had a distinct trend line (up or down). Yet for the past year, all lines have basically been flat. Are we now in a settled period of mixed viewing habits? Or is this a blip in the statistics? Either way, as Ericsson notes in its report, "the definition of TV is changing and growing – both technically and in the eyes of consumers".
The annual report was based on interviews with 30,000 individuals, aged between 16 and 69, in 24 countries – which Ericsson says is the largest study of its kind into TV viewing habits. All respondents have a broadband Internet connection at home and watch TV and video at least once a week.
There are plenty of charts and graphs in the report, and it is well worth downloading, although access to the raw data would have been appreciated and reflective of our "open data" society.
Email Newsletters
Stay up to date with the latest industry developments: sign up to receive TelecomTV's top news and videos plus exclusive subscriber-only content direct to your inbox – including our daily news briefing and weekly wrap.