Does the demise of Phones 4u signal the end of mobile resellers?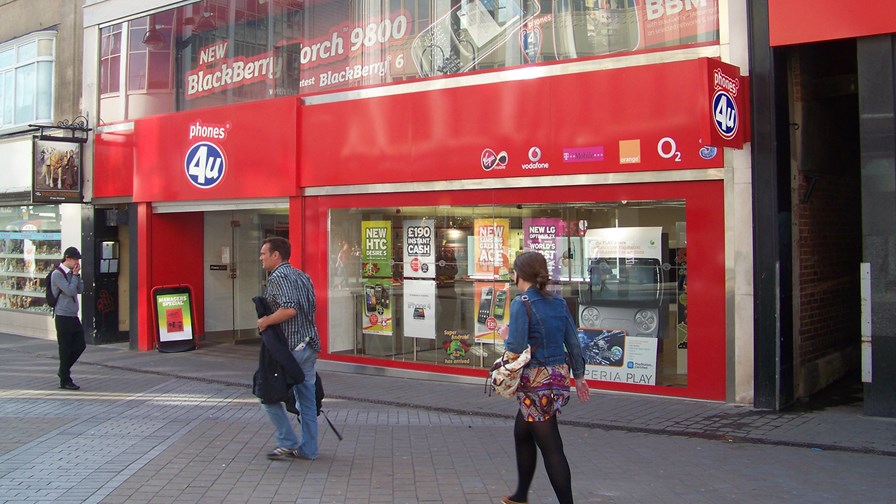 The news on Monday morning that UK-based mobile phone reseller Phones4u has gone into administration raises serious questions about the future of the third-party and indirect retail market. Now former founder John Caudwell, who sold the business in 2006 to private equity firm BC Partners for £1.5bn, is calling for an investigation into how suppliers pulled their contracts.
So what exactly happened? How did a company that was profitable and cash-rich, with a turnover of more than £1bn and earnings of £105m in 2013, suddenly go into receivership and put 5,596 jobs at risk? It may have been profitable, but it also carried £430m of debt, and this may have proved to be its Achilles heel.
With the marvellous use of hindsight, the end was heralded back in January when O2 stopped selling its service through the company, citing poor sales as the reason. EE's decision on Friday to do likewise (as had Vodafone two weeks earlier) merely confirmed the end.
Unfortunately combination of short term private equity strategy combined with ruthless network 'partners' & government killed @Phones4u

— johncaudwell (@johndcaudwell) September 14, 2014
The UK mobile retail sector is undergoing another shift in power. When carphones and analogue mobiles first hit the mainstream market, thousands of independent stores sprang up, offering devices and airtime contracts through the network operators. Every town or district had its own unique outlets. It was the only way you could buy a phone. But consolidation soon happened, and for every successful chain operation (Phones4u, Carphone Warehouse, etc) there were many more entrepreneurs that lost out and went bust.
Fast forward to today, and there are now many ways for a consumer or business to get devices and contracts, not least via the internet. But physical stores (whether actual shops or outlets within larger stores) are still popular, as they offer the only way for people to actually see and touch devices. They also supposedly offer great help and advice, but as we can all testify this is often far from reality.
The big difference in the past few decades has been the emergence of operator-branded stores. The success of the Apple Stores has convinced operators of the need for their own retail shops – the same is not true for device manufacturers, with failed attempts by Nokia to open stores and an exploratory effort from Samsung to work closer with Carphone Warehouse. According to TelecomTV's figures, the break-down of dedicated UK retail stores is as follows:
EE: 574 (100 are franchised)
Vodafone: 357, increasing to 500 this year
02: 466 (over 180 are franchised)
Three: 348
Carphone Warehouse (UK and Ireland): 524
Phones 4u: 550
If Phones4u cannot continue to trade or no buyer is found, then its stores will close. There will also be close scrutiny of Carphone Warehouse, as the final major alternative to the networks' own stores. Like Phones4u, Carphone Warehouse relies on contracts with the operators – otherwise it cannot sell subsidised devices connected to networks. Now that the operators have built up their retail operations to the magic figure of about 500 stores, they don't need the High Street presence of Phones4u.
Carphone Warehouse saw this coming, especially when it lost its contract with Three earlier this year, which is why it has diversified into overseas operations (through the Phone House brand) and in August merged with electrical retail giant Dixons. Phones4u wasn't so smart.
Less choice for consumers, more margin for telcos
Customers use the independent stores because they get to compare a range of options, tariffs and coverage, and can select a package that is best for them. Once O2 decided not to renew its contract, Phones4u lost its ability to cover the wide market. The confirmed departure of Vodafone in February 2015 means it would then only represent EE – not much of a consumer choice.
EE issued the following statement: "In line with our strategy to focus on growth in our direct channels and to move to fewer, deeper relationships in the indirect channel, and driven by developments in the marketplace that have called into question the long-term viability of the Phones 4u business, we can confirm that we have taken the decision not to extend our contract beyond September 2015."
Whilst EE still has a year to run on its contract, having given notice of termination, it was an untenable situation for Phones4u. BC Partners managing partner Stefano Quadrio Curzio said that: "EE's decision on Friday is surprising in the context of a contract that has more than a year to run and leaves the board with no alternative but to seek the administrator's protection in the interests of all its stakeholders."
However, he was even more scathing of Vodafone, saying: "Their behaviour appears to have been designed to inflict the maximum damage to their partner of 15 years, giving Phones4u no time to develop commercial alternatives."
Vodafone, however, quickly rebutted this and placed the blame back at Phones4u, saying in a statement: "We were told by the Phones4u management team that they had little commercial flexibility due to their debt repayment obligations, but that they had a number of alternative strategies in place if we couldn't reach an agreement with them."
It also appears, according to Sky News, that both Vodafone and EE were in talks with Phones4U about a take-over of their stores.
As the service providers look to squeeze whatever savings they can from their operations, third-party resellers were an obvious choice. Why not cut out the middlemen and keep all the margin for themselves? And at the same time, retain full control over promotions and pricing. Another factor is that for the operators the focus is on the tariff plan (and offering devices to match), whereas the resellers focus on the devices (and offer tariffs to match) – a subtle difference but an important one.
Last word for now to David Kassler, CEO of Phones4u: "The ultimate result will be less competition, less choice and higher prices for mobile customers in UK."
Email Newsletters
Sign up to receive TelecomTV's top news and videos, plus exclusive subscriber-only content direct to your inbox.