As the China smartphone market consolidates, the door closes on Xiaomi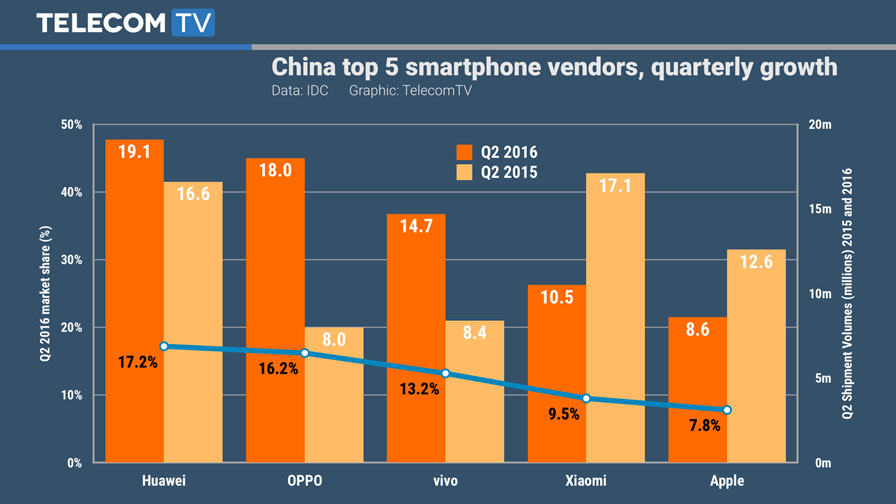 Top three China vendors account for 47 per cent of market
Xiaomi drops from first to fourth in the year, losing 38 per cent share
Huawei takes top spot, followed by OPPO and vivo
Oh dear, what has happened to the Apple of China's eye, the consumer technology company Xiaomi? Yesterday it was the darling of the new fashion-conscious, social media aware, young Technorati of China, with its Apple-inspired smartphones, laptops, tablets, and, well, practically every other Apple product. Today it is losing favour and, more importantly, domestic market share.
Industry research firm IDC provides the facts in its latest report, which shows that the top three smartphone vendors collectively accounted for 47 per cent of the China smartphone market in the second quarter of 2016. In 2015 and Q1 this year, the top three smartphone vendors for that period had a market share of 43 per cent and 45 per cent respectively, showing that the market continues to consolidate further as the share of the top three vendors continue to increase.
Unfortunately for Xiaomi, the top three vendors are Huawei, OPPO and vivo. Xiaomi has to make do with fourth place and a 9.5 per cent market share – after suffering a huge 38.4 per cent decrease in share year-on-year. That's right, in Q2 2015, Xiaomi was top of the pile in first place with a commanding 16.1 per cent market share shipping 17.1 million smartphones. Fast forward a year and sales were down to just 10.5 million. Ouch; that's almost (but not quite) as bad as Apple's declining share.
"The success of Huawei, OPPO, and vivo in the market can be attributed to their concerted effort to build their brand and aggressive marketing to attract the consumers, along with the focus on product differentiation," said Xiaohan Tay, Senior Market Analyst, Client Devices Research, IDC Asia/Pacific. "In the past, Xiaomi started the trend of selling its phones online and other vendors soon followed suit and created their own online brand. After vendors witnessed OPPO's success with its R9, they also started riding on the trend of hiring celebrity endorsers to represent their brand and appeal more to the young crowd."
Indeed, the shift of sales is down, in no small part, to the role of advertising. Xiaomi won big in the past with its focus on offline channels and manufactured demand, and this approach has been copied by OPPO and vivo. But celebrity endorsements are now the flavour of the month, with even the more conservative and technology-focused Huawei getting in on the act. This also signals a shift away from extremely low-cost social marketing to much more expensive paid advertising and sponsorship.
"Hiring celebrity endorsers may help increase numbers in the short-term, but this alone may not be sufficient to drive numbers in the long run," added Tay. "As there is very little differentiation across products to warrant significant brand loyalty, vendors must constantly think out of the box to get people hyped up about their products."
Xiaomi certainly has crawl out of that box of theirs and experience some blue sky thinking (as the marketing people love to say). It faces huge and perhaps unsurmountable problems in selling its current generation of smartphones in Europe and the US, so is heavily reliant upon its domestic market to support its operations. Remember though, for all its Apple love and Steve Jobs tribute keynotes, this is a young company (it only launched in 2010) that still has much to learn. The question is whether or not it can build on its phenomenal early success, when it was worth in excess of $46 billion, and become a long-term leading player in this market. Discovering its own identity would be a big help – being the poor man's Apple was only ever going to take it so far.
For now though, it needs to seriously lower its growth sights and remove the Jobs-inspired reality distortion field. It wanted to sell 100 million smartphones last year – it ended up reaching just 70 million. Consequently, its revenue for the year flat-lined, according to reports, at an estimated $11.9 billion.
Those pundits looking for the next mega-brand from Asia may need to take a closer look at OPPO (with its 124 per cent annual China market growth) and vivo (with a healthy 75 per cent growth, and not under-estimate the sizeable backing enjoyed by this year's market leader Huawei – which is already enjoying considerable success in overseas markets. When Xiaomi decided to mimic Apple and its iPhones, it most likely never thought it would also copy its fall in market share… that really is true love.
Email Newsletters
Sign up to receive TelecomTV's top news and videos, plus exclusive subscriber-only content direct to your inbox.