Give me a child until he (or she) is 13 and I will show you the nerd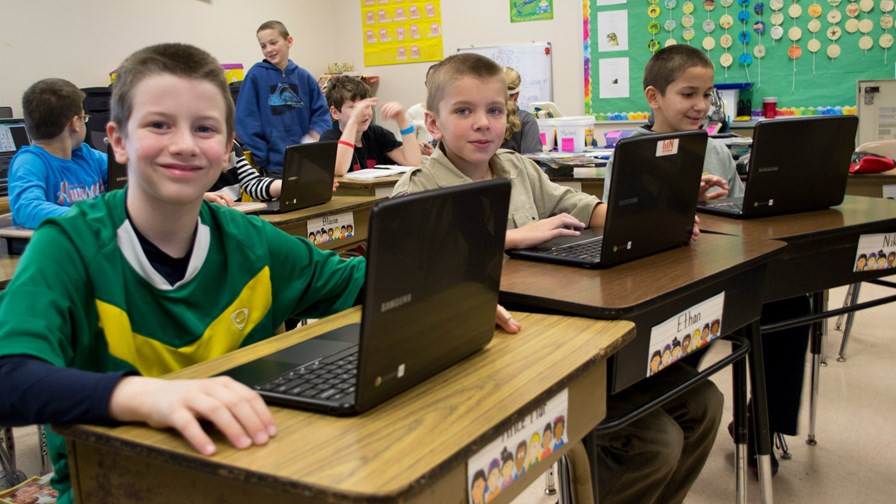 Microsoft is hatching a surprise for May 2 (allegedly)
Leaked documents suggest it is poised to take on Google's Chromebook
The idea that exposure to computer 'x' in the classroom will always play a big part in IT choices as pupils get older and able to buy their own, would not only win the endorsement of Aristotle, but is currently concentrating minds in the US educational computer market.
Google has recently been making the educational running with its Chromebooks but now it appears that Microsoft is preparing to take the covers off a Chromebook challenger.
What started as a rumour has hardened over the past few days after the leaking of a Microsoft internal document to the Windows Central site. That document - if genuine - outlines minimum specifications for what appears to be a Chromebook-alike, lightweight Windows machine aimed at taking on Google in US education - a market which has developed a distinctly Chrome OS hue the over the past couple of years.
Microsoft's document appears to be describing a baseline system matching Chrome OS: an all-day (10 hour) battery life required (covers a full school day); speedy boot-up and sign-in times also. Minimum specifications include: a quad-core (Celeron or better) processor; 4GB of RAM (most Chromebooks still come with 2GB, but four is a more comfortable); 32GB of storage; and eMMC or solid state drive.
Windows Central thinks the Microsoft plan, whatever it is, is about to be unveiled on May 2nd and the product will likely be running something called Windows 10 S.
Scroogled!
It's all a long way from Microsoft's notorious 'Scroogled' negative advertising campaign against Chromebooks through 2013/14, which amongst other things recommended it be used as a door stopper. The ads were so extreme that the public seemed to take the reasonable view that Google had a hold of something quite exciting and the Chromebooks continued to sell, while Microsoft looked like it was running scared.
Now, two or three years later, Chrome OS holds 49 to 59 per cent of the US education market, up from about 10 per cent in 2013. It is also folding Android into Chrome OS so users can use both Android Apps and Web apps, which should strengthen the offer.
It's not hard to work out why Chromebooks are teacher's pet in the US. They're cheap per unit, easy to maintain (boot up in a few seconds, OS automatically updated, no moving parts and no viruses) and they have a growing stash of education software as well as free software for everything else, such as word processing, spreadsheets and so on. Why they aren't as popular in Europe for education I'm not sure, possibly a European educational software lag on Chrome OS.
Now, however, Microsoft apparently senses an opportunity to come back into the US education market with a bang before it's too late and Google holds a completely dominant position. Whether Microsoft is prepping a low-end Surface unit or gestating a Chrome OS copy (but better) will soon become clear.
Email Newsletters
Sign up to receive TelecomTV's top news and videos, plus exclusive subscriber-only content direct to your inbox.