Reach is king as TV dominates global ad spend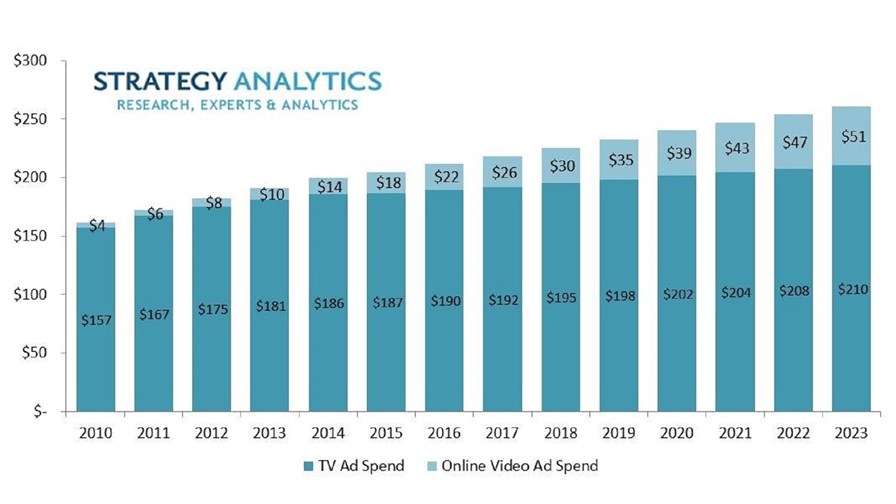 Online video to account for 20% of global video ad spend in 2023
Effectiveness and compliance concerns hold back online advertising
Online advertising a valuable revenue stream but has some way to go to top TV
Online video may be growing in popularity amongst consumers around the world, but linear television still captures the bulk of advertising dollars and that trend looks set to continue in the coming years.
Global TV advertising spend will grow to US$210 billion in 2023, while online video spend will reach $51 billion by the same date, according to new research from Strategy Analytics.
The digital video segment is the fastest growing, with a CAGR of 10.8% over the 2018-2023 period, the analyst firm said, but the reach afforded by television means that it remains streets ahead overall. Meanwhile, concerns over the effectiveness of digital advertising and safeguarding of the advertiser's brand are also helping traditional TV to stay on top, while GDPR compliance brings an additional challenge online.
The telco community knows all too well that while online video advertising can generate sizeable revenues, the segment has a long way to go.
In its Q3 results announcement earlier this month, Verizon disclosed that its Oath business saw revenues decline by 6.9% year-on-year to US$1.8 billion and admitted that the unit will not meet its target of $10 billion in revenues by 2020.
Original press release
TV to represent 80% of global video ad spend in 2023
BOSTON--(BUSINESS WIRE)-- The majority of budgets geared towards brand awareness continue to prioritize linear television over online video, all the more as multi-screen access and OTT distribution help traditional broadcasters reach new audiences, according to a new report from Strategy Analytics, Global Advertising Forecast – 2010-2023 . As evidence for these forecasts, the research noted that major advertisers have shifted ad spend away from digital advertising towards TV, audio and ecommerce, citing digital advertising's lack of efficiency and concerns over brand security and fraud.
The report can be access here: http://sa-link.cc/1nF
Key highlights of this report include:
In 2018, global TV ad spend will be over $195B and grow to $210B by 2023. The U.S. is the largest television advertising market, accounting for nearly 36% of global TV ad spend in 2018.
Digital video will represent only 20% of global video ad spend in 2023, despite being the fastest growing digital advertising category (+10.8% CAGR over 2018-2023), reaching nearly $51B in 2023.
The U.K., which has been a leader in adoption of digital advertising and was the first country to see total digital advertising eclipse that of TV advertising, leads the pack in terms of digital's share of total video accounting for 44% in 2023, followed by the U.S. (30%) and China (27%). On a per capita basis, marketers will spend $67.27 per person on digital video advertising in the U.K. versus $65.76 in the U.S. in 2023.
Michael Goodman, Director, Television & Media Strategies, noted, "With consumers increasingly watching video across platforms, including mobile devices and connected TV screens, audience measurement agencies are evolving their tools, however, cross-device measurement solutions are still geared towards reach-based metrics, and in a fragmented online world, no media can provide reach better than television."
Nitesh Patel, Director, Wireless Media Strategies, added, "While concerns about brand safety, viewability, fraud, and the impact of GDPR will be address by digital advertisers, traditional TV ad sales will continue to dominate for the foreseeable future."
Strategy Analytics uses key supply side inputs for historic performance and future market expectations include ad spend by category and macro-economic conditions. TV advertising includes ad spend on linear broadcast and cable channels while digital video ad spend includes online and mobile.
This content extract was originally sourced from an external website (
Strategy Analytics Press Releases
) and is the copyright of the external website owner. TelecomTV is not responsible for the content of external websites.
Legal Notices
Email Newsletters
Stay up to date with the latest industry developments: sign up to receive TelecomTV's top news and videos plus exclusive subscriber-only content direct to your inbox – including our daily news briefing and weekly wrap.