Driven by video streaming, Kiwis lead the world in adopting Smart TVs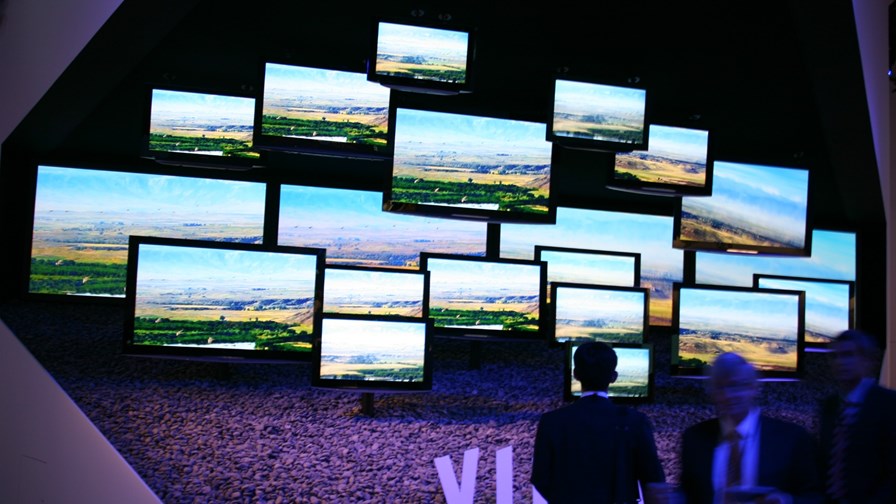 New Zealand: Small population but big on smart technologies
Second only to South Korea in uptake of Smart TVs
Driven by huge demand for video streaming services
Adoption of 4K TV also growing but not necessarily for the better picture quality
Television came late to New Zealand. The original state-owned service, closely based on the model pioneered by the BBC in the UK, began on June 2, 1960 and was available only to a few viewers in the city of Auckland. Programmes began at half past seven in the evening and the service closed down at half past ten. Highlights of that first night included an episode of the English TV series "The Adventures of Robin Hood" and an interview with a visiting British ballerina. The UK was very much the 'Mother Country' back in those days.
How times have changed. The population of New Zealand may be just 4.75 million (as at June this year while the US state of California had 40 million people at the same date) which equates to 0.06 of the world's population, but, even today, the "box" remains a central source of family entertainment and information and a key medium for news, sports coverage and advertising.
TV in New Zealand is a powerful cultural and social institution and it's importance is evidenced in a new report from research house IDC that shows the ever-increasing demand for video streaming services has made New Zealand the global leader in the uptake of Smart TVs.
IDC's 2018 Consumerscape 360 report reveals that individual New Zealanders now own an average of 4.20 electronic devices each, of which 77 per cent are "smart". Indeed, Smart TVs are in close third place in terms of popularity and utility behind smartphones and laptop computers. In fact, New Zealand come second only to technology powerhouse South Korea in terms of the adoption of Smart TVs. The adoption rate in NZ is 44 per cent and the worldwide uptake rate is 39.2 per cent.
Furthermore, the adoption rate for 4K TVs in New Zealand has doubled in the past year and is now running at 20 per cent and rising. Interestingly, upwards of 50 per cent of those New Zealanders who buy 4K TVs say they are do so for the inbuilt smart capabilities that come with the set rather than for the 4K picture quality.
New Zealanders can't get enough of video streaming services, are demanding high-speed broadband connectivity and high-quality content - and are prepared to pay for it. The forecast is that whilst the good old "box" retains a special place and affection in New Zealand hearts, consumers are using SmartTVs and ancillary equipment to break-away from the constricts of linear TV and are opting more and more to time-shift and use catch-up services at their own convenience rather at that of the TV station content programmers.
Its all a far cry from the days of Goodnight Kiwi, a perky animated version of the flightless (and increasingly rare) bird that symbolises the Land of the Long White Cloud. Every night at the end of transmission, (this was long before 24-hour TV) Goodnight Kiwi would close down the station, lock-up the shop, put out the milk bottles and the cat, take the lift to the transmission tower to his nest in an upturned satellite dish at the top where he would wave goodnight to viewers across the country before turning in for a well-earned rest. Goodnight Kiwi slept with the station cat under a blue and white checkered blanket. It was charming, it was innocent, it was then.
Original press release below
New Zealand now a global leader in smart TV adoption
AUCKLAND, 11 September 2018 – New Zealand consumers, driven by increasing demand for video streaming services, are now a global leader in the adoption of Smart TVs, according to the latest report from IDC Research.
IDC's just released 2018 IDC ConsumerScape 360 study reports that New Zealanders now own an average of 4.20 electronic devices, of which 77% are "smart devices", up from 67% in 2017.1 Smart TVs are now increasingly pervasive in New Zealand homes — they are the third most used smart device behind smartphones and laptops. With an adoption rate of 44%, New Zealand comes second only to South Korea in Smart TV adoption, and above the worldwide average of 39%.2
At the same time, the adoption rate for 4K TVs in New Zealand has doubled to 20% in the past 12 months, slightly above the worldwide average of 19%. However, less than half of 4KTV buyers in New Zealand say that the 4K capability influenced their purchasing decision.
Alex Yuen, IDC New Zealand market analyst for client devices, says this suggests that over half of New Zealand consumers purchased 4K TVs for their inbuilt "smart" capabilities, rather than the 4K picture quality.
"It is a testament to New Zealander's tech savvy that both Smart and 4K TV adoption rates now exceed the worldwide average. It reinforces the underlying trend we have seen in recent years, where New Zealand's overall digital uptake has been steadily growing, to the point where it has reached global parity, and is now quietly exceeding other countries in many areas," says Yuen.
According to the IDC ConsumerScape 360, a major factor driving Smart TV adoption has been New Zealand's growing thirst for online video streaming services. In 2018, 33% of New Zealanders were streaming online video, up from 26% in 2017. The worldwide average for online video streaming is now also at 33%. In previous years, New Zealand had trailed worldwide adoption by an average of 3%. This increase further highlights the convergence of New Zealand with worldwide consumer preferences says Yuen.
Yuen says that Smart TV owners are also more likely to value high-speed connections and high-quality entertainment.
"High-speed connectivity is increasingly important as the delivery backbone of high-quality entertainment. Our research shows that subscribers to online video streaming services are more likely to own a Smart TV, as well as a smartphone. The combination of these two devices allows consumers to access to their favourite shows anywhere they have a connection. These same subscribers also value smart capabilities more than the average consumer. They are more likely to want the best entertainment experience and more likely to spend to attain it," says Yuen.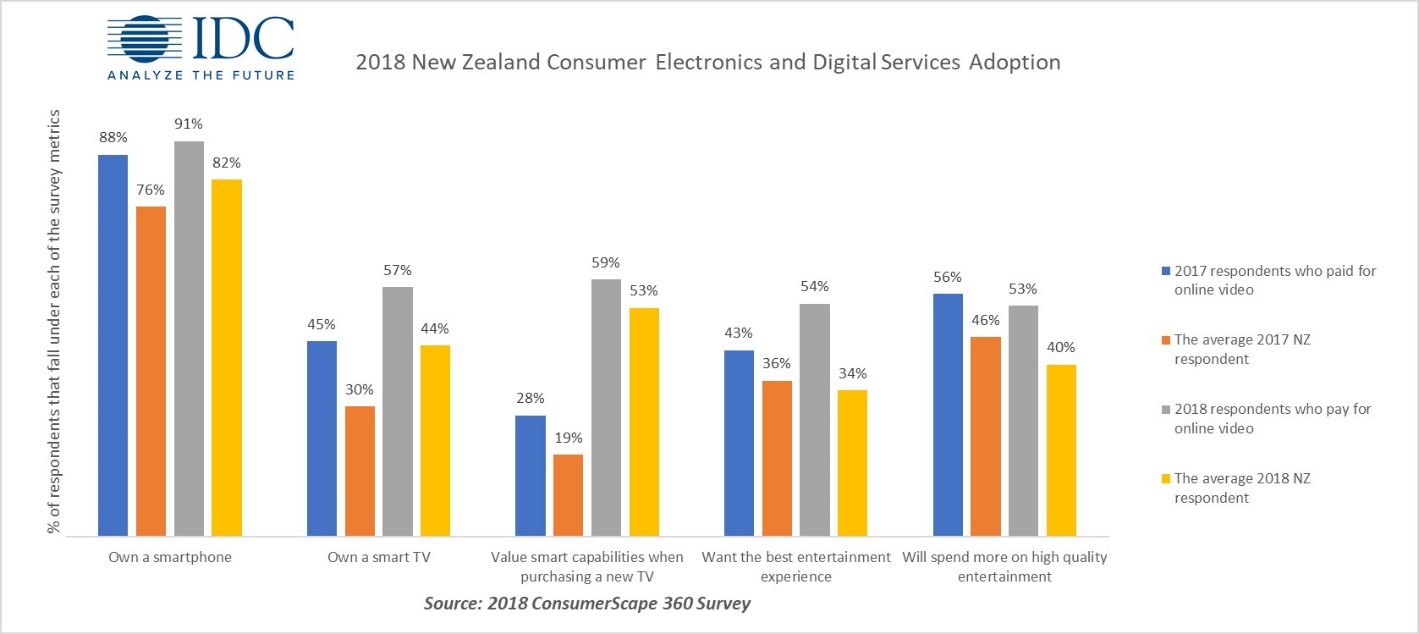 The IDC ConsumerScape 360 report series compares digital adoption of devices and services across 19 countries. It highlights the growing importance of digital technologies and services in consumers' lives and shows that New Zealand leads the way in many aspects of digital adoption.
According to Yuen, the silver lining for both hardware vendors and online video streaming providers, is that Smart televisions will become the new normal as adoption grows, and that online video streaming will steadily replace linear television.
"Hardware vendors can get ahead by articulating the value of connectivity between their televisions and other smart devices to their potential customers, while online video streaming providers should pay more attention to delivering a better television experience," says Yuen.
Notes:
IDC defines smart devices as any device that can connect to the internet and has the ability to run rich-featured operating systems

Worldwide refers to the 19 countries surveyed – New Zealand, Australia, Vietnam, China, South Korea, Japan, Russia, Poland, Turkey, Sweden, United Kingdom, Germany, France, South Africa, India, Brazil, Mexico, United States and Canada.
This content extract was originally sourced from an external website (
IDC
) and is the copyright of the external website owner. TelecomTV is not responsible for the content of external websites.
Legal Notices
Email Newsletters
Sign up to receive TelecomTV's top news and videos, plus exclusive subscriber-only content direct to your inbox.