White space networks get UK OK: dynamic database idea worked, but what about the services?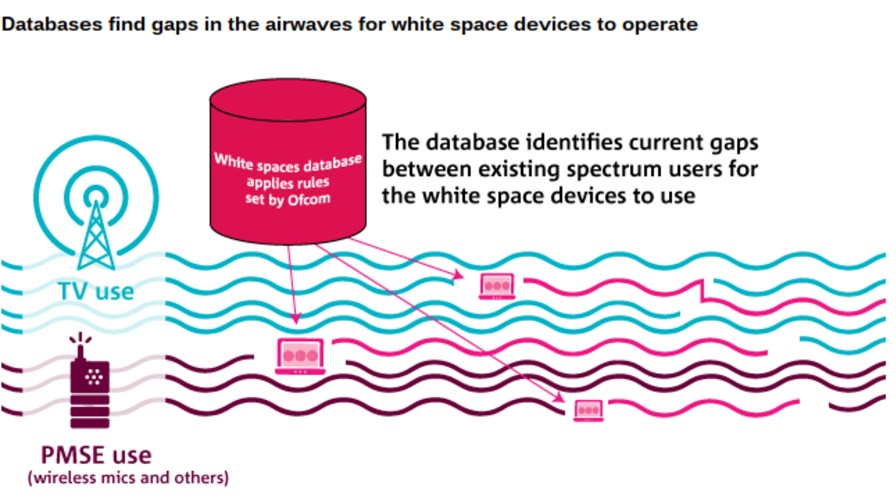 It's open season on so-called 'white space' spectrum in the UK. After what seems like years of trialing and head-scratching Ofcom today gave the commercial use and deployment of white space networks an all-clear.
The networks will use the gaps between TV channels in the relatively low 470 MHz to 790MHz band to deliver new sorts of wireless connectivity and new or underserved applications to go with it.
The enabler is a central online database which provides updated information on what frequencies can be used in particular geographical locations and at what power levels. This was essential to prevent the new radio applications interfering with each other and with TV transmissions.
All sorts of applications have been proposed with rural broadband coverage and M2M/IoT network coverage being the ones most often cited.
Ofcom itself has been bullish about IoT fostering: not only might UK plc utilise white space for IoT, but it has a potential role in incubating UK IoT expertise and IT exports.
But some of the initial enthusiasm generated when the idea was first mooted (free spectrum! Yay!) has, inevitably dulled somewhat. Major enthusiast, Cambridge-based Nuel (since bought by Chinese giant Huawei), for instance, has backed away from white space for it's IoT network claiming white space characteristics didn't really match up with its IoT network requirements of ultra-low battery power and ultra-low data transmission.
Others disagree. Russell Haworth, CEO of Nominet, which has been participating in the Ofcom trials, thinks Ofcom's announcement "is proof that dynamic spectrum allocation works and [is] significant." Indeed some, perhaps many, M2M-style applications use video and therefore require the 'medium' data throughput that white spaces offer.
It's also hoped that the dynamic spectrum utilisation database idea, underpinning the trials, might be applied more broadly to allocate other parts of the spectrum when these become available as the older technologies using them are retired. Ofcom expects that the first white space networks may be up and running by late 2015.
Email Newsletters
Stay up to date with the latest industry developments: sign up to receive TelecomTV's top news and videos plus exclusive subscriber-only content direct to your inbox – including our daily news briefing and weekly wrap.