Vodafone's Barometer says one third of companies now using IoT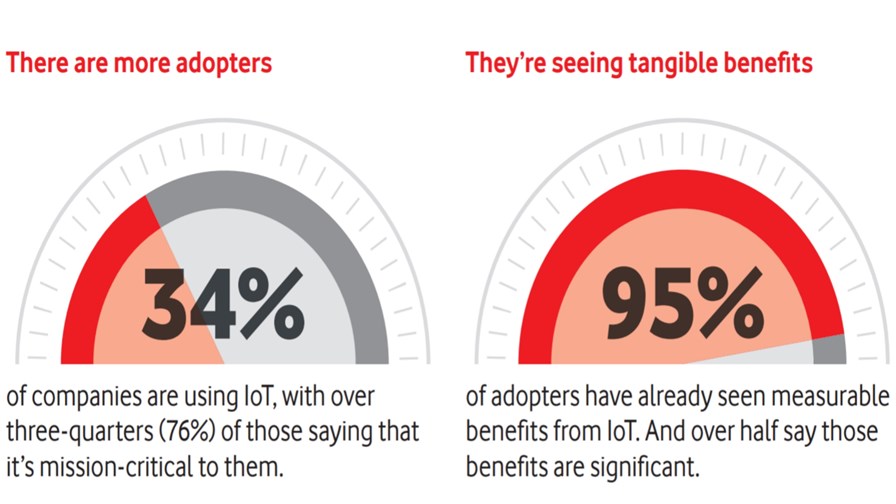 It's claiming a 'significant acceleration' in adoption since last edition
76% of IoT using companies say their projects are already mission-critical
Those who don't use IoT will fall behind
Vodafone has published its Internet of Things Barometer report where it tracks IoT adoption and highlights trends and best practice.
It says the number of companies using IoT has risen to over a third (34%) and the scale and importance of IoT projects has grown, mostly because the barriers to companies' entry have been broken down.
It identifies reasons for what it implies has been a burst of activity as the IoT scene has matured: it points out that IoT capabilities are sometimes included by default on replacement items and systems. It observes that off-the-shelf solutions are a fast way into IoT, and that enablement platforms are simply making implementation easier and driving further adoption.
All this has lead to dramatic increase in adoption by five percentage points, from 29% in 2017 to 34% in 2018. "We believe that this is being driven by the growing availability of IoT enablement platforms and new, cost-effective connectivity options," it says.
Barriers and concerns are being erased as the area develops and companies who have started with projects are naturally doing more as the first projects yield positive results.
What benefits are IoT adopters seeing as a result of implementing IoT?
Security, security
A couple of years ago you could hardly mention IoT without someone intoning "security". According to Vodafone that situation has turned around with 65 per cent of user organisations asserting that IoT security concerns are no more pressing than those presented by any new technology.
The report finds that IoT enablement platforms are making it faster to build, deploy and manage connected solutions effectively. It says 45 per cent of adopters would work with an IoT platform provider during the implementation phase of a project.
Adopters are also using a variety of connectivity options based on what's best suited to particular use cases. 25% of adopters are already using low-power wide area network (LPWAN) technologies like LTE-M (Cat-M1) and NB-IoT. And many are looking to the future — 52% of adopters are considering using 5G.
Data collection is key
The Barometer reveals that IoT deployers are fully bought into the idea that data is "the new oil", They're looking to use AI and data analytics to really drive some value from their investments. The Barometer claims that 71% of adopters say they expect companies to start listing data resources on their balance sheets within five years.
Confidence is growing
A full 76 per cent of the adopters polled say that their IoT projects are "mission critical", but at the same time only 8 per cent admit to their businesses being entirely reliant on it.
There is much more in the full report on the idea of IoT sophistication levels and how these yield the best results. Download the report here
Email Newsletters
Stay up to date with the latest industry developments: sign up to receive TelecomTV's top news and videos plus exclusive subscriber-only content direct to your inbox – including our daily news briefing and weekly wrap.