The IoT flexes its processing power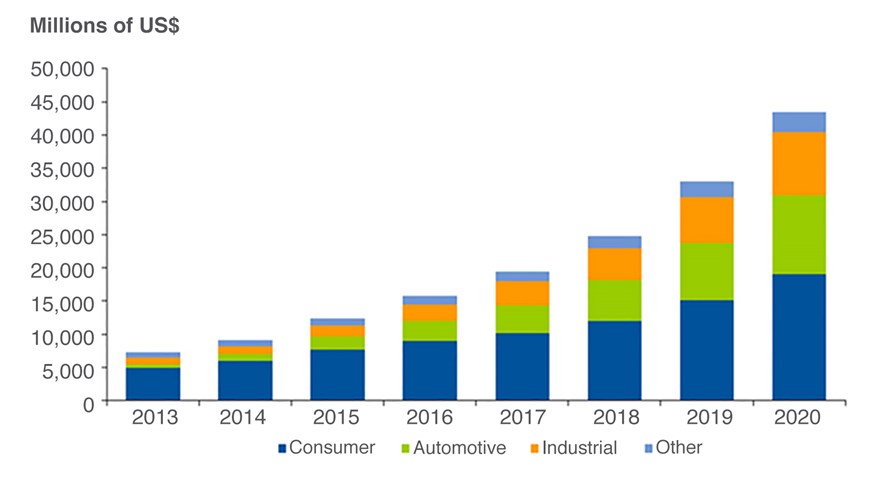 The processing, sensing and communications semiconductor device section of the Internet of Things (IoT) will be a rapidly growing segment of the total semiconductor market, growing 36.2 per cent in 2015, compared with the overall semiconductor market growth of 5.7 per cent, according to new research released by Gartner.
Of the three, processing – which consists of microcontrollers and embedded processors – will be the largest revenue contributor to the IoT semiconductor device market, at $7.58 billion in 2015. However sensors – which include both optical and non-optical – will see the biggest increase, with 47.5 per cent growth next year.
"The demand for billions of things will ripple throughout the entire value chain, from software and services to semiconductor devices," said Alfonso Velosa, research director at Gartner. "These 'things' will drive huge demand for individual chips. IoT semiconductor growth will come from industries spanning consumer, industrial, medical, automotive and others."
Gartner further identified what it believes will be the top 15 "things" of the IoT market, based on semiconductor revenue. It forecasts that the automotive industry will play a major role in semiconductor demand for the next five years or so, encompassing six segments in its top 15. The firm cites one example of how the IoT will transform a vehicle as being the use of predictive maintenance – by using small sensors throughout the engine, predictive maintenance allows for a better experience for the consumer while enabling cost savings for both the user and the car dealer.
LED lighting will also be a significant volume play, both in lowering costs and enabling new services through its capability to connect, network and sense the environment. And staying in the home, smart TV and set-top box revenue will continue to grow, due to the increased need for processing and the relatively expensive bill of materials (BOM) compared with a traditional embedded "thing". Smart glasses and smartwatches also benefit from a larger BOM cost and will be in more demand as wearables become a bigger part of every consumer's life.
"Gartner forecasts almost 30 per cent growth through 2020 for IoT semiconductor revenue," said Dean Freeman, research VP at Gartner. "This revenue spans every conceivable industry and is driven by the immense scale of low-cost devices. Some in the industry believe this growth will transform the semiconductor industry. However, further investigation shows that the majority of IoT devices are commodity offerings. The truth is that inexpensive devices are one of the biggest enablers of IoT."
Email Newsletters
Sign up to receive TelecomTV's top news and videos, plus exclusive subscriber-only content direct to your inbox.