The Grim Reaper is Heading for your M2M/IoT Cell Network - Keep Calm and Carry On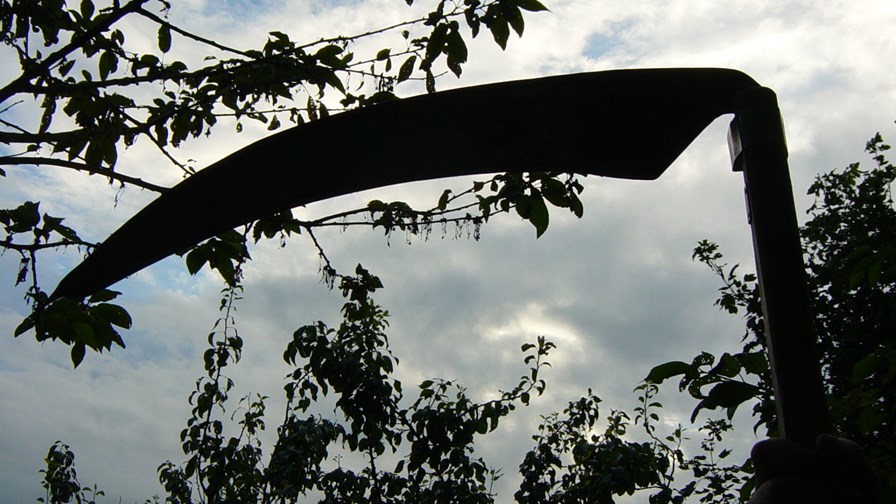 Cellular-based IoT applications may only have a few years left

Operators plan close down 2G and 3G networks - they need the spectrum
Asia and US reasonably 'transparent', Europe strangely quiet on timings
IoT developers and deployers need to think it through
The downside of the introduction of new - often low-powered - IoT/M2M networks is that the network operators, having invested in the new, will tend to be even more motivated to bring forward the 'end of life' phase for the old. That rude end may soon be nigh, not only for the old 2G networks, but even 3G, according to IoT specialist Machina Research which has just completed a study - 2G and 3G switch off: a navigation guide for IoT - looking at network trends and what they might mean for IoT developers.
Not that operators weren't already incentivised to write off the 2G and 3G networks as their new LTE networks came on-stream. The high operational costs of maintaining networks with a diminishing number of users paying ever-lower tariffs is spur enough. So too the value of 'refarming' wall-penetrating 2G spectrum in particular for LTE use.
All good for operators but, as Machina points out, more than a little bit of a problem for M2M/IoT-using companies and developers who are already invested in deploying relatively long-term technologies in the field and should now be trying to work out how much time the applications have left without major rewrites and new investments to keep them connected.
Machina reckons that the "overall trend is that by 2020 it will become increasingly difficult to guarantee 2G and 3G network availability in developed markets. By 2025 it will be almost impossible."
For reasons that aren't obvious, the fact of looming 2 and 3G shutdown has been much more out in the open in the US and Asia than in Europe, says Machina. In Asia, Korea with Japan and Singapore have already started shutting down 2G and in the US AT&T has set out a clear road map. But in Europe there has been almost total radio silence on the issue.
So what's the solution for potential deployers? The report's author, Matt Hatton, says while the easy advice would be to embed all the available radio generations into a device where the deployer was dependent on cellular technology, that would be far too costly for most applications. The only course is to try and work out where and for how long particular IoT/M2M radio technologies are planned to be deployed (where this can be known) and then start making prudent best guesses on what's likely to last to when, and what is not.
Matt says, "Lack of clarity risks problems with higher costs, stranded devices in the field, or slower IoT deployments as potential customers adopt a wait-and-see approach. Mobile Network Operators must be as transparent as possible, stating plans as far in advance as possible."
Email Newsletters
Sign up to receive TelecomTV's top news and videos, plus exclusive subscriber-only content direct to your inbox.