The connected pallet: the next 'greenfield' IoT application?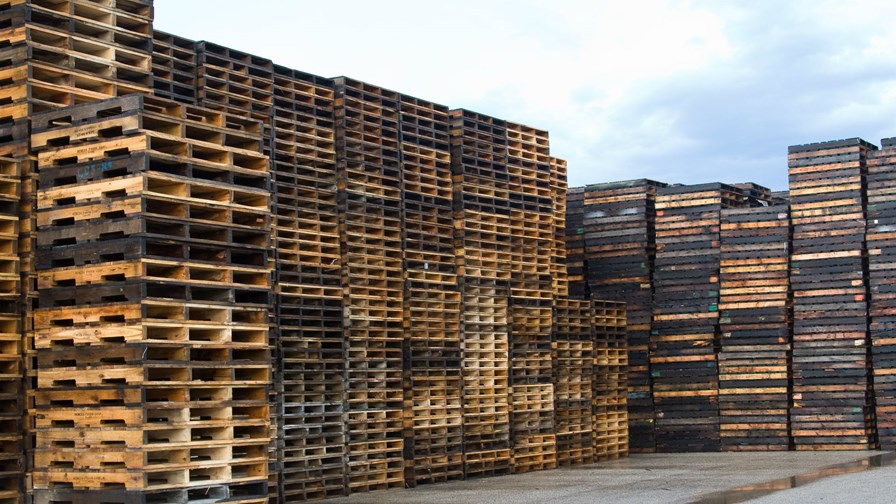 IoT can mean generating big money through clever new business models
It can also mean tiny savings per unit on the lifecycles of billions of cheap objects...
...like pallets
At one end of the IoT spectrum are applications such as Insurance IoT (see yesteray's - IoT/AI Insurance technology investment is booming, personalised insurance is on the road ahead) which generates and handles critical information, often requires sophisticated sensor and terminal technology and generally costs quite a lot to deploy but returns a lot of value to participants. At the other end are pallets.
These are the great unwashed, undervalued and unsung heroes of transport and logistics. They're cheap, disposable and badly treated: often thrown onto the back of the truck and quietly sold off by the driver to a man running a little pallet recycling business just off the motorway.
But they're just the sort of object that could do with a little IoT love.
IoT consultancy Berg Insight can see a big future in connected pallets. In fact it thinks they could represent one of the most promising greenfield IoT application enabled for the LPWA IoT technologies.
In a recent report it points out that the global installed base of pallets used for transportation is estimated to around 10 billion units .
"With an average sales price of US$ 10 per unit for regular pallets, the cost of adding connectivity can be justified by increasing efficiency in many logistics operations", says Tobias Ryberg, Senior Analyst and author of the report. "The ability to track pallets can also contribute to extending their lifespan which is currently around 2 years". He adds that connected pallets are being evaluated by several large industry players right now who could proceed with large-scale deployments in the very near future.
Berg thinks smart cities and smart agriculture are other potential mass-volume market segments where LPWA technologies will be a key enabler, although it believes that there are significant barriers that must be overcome before they can scale, pointing out that moving from today's limited smart cities demonstration projects to city-wide deployments will be costly, complex and time-consuming.
Smart agriculture is in an even earlier stage of development where the initial focus lies on proof-of-concept and application prototyping. "Today's top IoT devices – the connected car and the smart meter – needed more than a decade to mature", says Mr Ryberg. "The smart city and the intelligent farm will need at least that much time to grow from vision to reality".
Email Newsletters
Stay up to date with the latest industry developments: sign up to receive TelecomTV's top news and videos plus exclusive subscriber-only content direct to your inbox – including our daily news briefing and weekly wrap.