IoT business models: Viva the vending machine and the IoV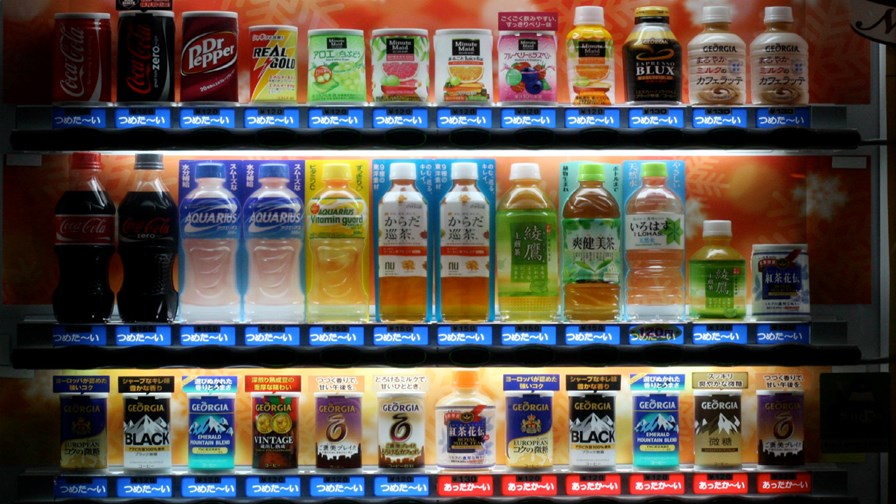 The connected vending machine ecosystem is gearing up
Big players want to increase operational efficiencies.
Analytical insights into how to manage inventory (when and how to restock the machine) foot traffic, and automatic maintenance requests are being sought
The vending machine isn't dead it's just reinventing itself, according to ABI Research. It never occurred to us at TelecomTV that the vending machine concept was even slightly off-colour, let alone dead, but we're pleased it's about to find a new lease on life.
As occasional users of vending machines (as most of us are) we can't see why the concept shouldn't be in rude good health considering all the technological assists it's getting or is about to get.
Here are a few examples.
The biggest vending machine problem has always been to find one when you need it. Let's say you're in a railway station - or similar - out of hours and feel the need for a chocolate bar. You know there are vending machines in here somewhere. Ten years ago you might have wandered aimlessly around looking and then given up. Today there's probably a geo-aware app that can take you straight to the chocolate.
And again: Ten years ago, having found the machine, you'd have to fumble for change, Today your contactless card should take care of the payment side of things, no mess, no fuss, no asking dangerous-looking strangers for coins.
Back then, having found your vending machine in some dark corner of the station, you might worry slightly about personal security. Today there could be a camera on the thing so while you might still get battered, at least the police will be able to see the whole thing afterwards and put the vid on social media.
And so it goes on… these are all technological tail-winds which make the smart city/environment friendly to vending machines.
Vending machines keep on giving
According to ABI Research there's also a substantial IoT push side as well - that's really why a renaissance is on the way.
It cites an evolving vending machine ecosystem which is seeing companies such as Coca-Cola, PepsiCo, and VE Global Vending looking to expand distribution and connect their machines to the Internet to increase operational efficiencies.
The connections will provide valuable IoT-style analytical insights into how to manage inventory (when and how to restock the machine) foot traffic, and automatic maintenance requests.
These extra possibilities are really pushing the vending machine sector along. According to ABI there will be more than 10 million network connections to vending machines by the end of 2016 with growth estimated to reach nearly 24 million connections in 2021 for a CAGR of 17%.
"There is a point in the near future where the physical and digital worlds will blend to create new experiences. And it's vendors that optimize their supply chains that will best succeed in this market." says Jeff Orr, Research Director at ABI Research.
VE Global Vending, for instance, keeps pace with evolving technologies, refurbishing used vending machines into digitized versions that include touchscreens, sensor technologies, and flexible payment methods. ABI Research suggests that there remains room in this market for new players that mirror this methodology and optimize the supply chain to focus on everything from machine manufacturing, placement, and payment solutions to restocking and service.
As the connected machines continue to automate services that humans historically did - , such as key duplication - opportunities will emerge for enterprises to become involved in small scale customized manufacturing and 3D-printing.
"We're starting to see this trend today; for example, personalized ID tags created on-the-spot in a retail pet store," concludes Orr. "In the coming years, as manufacturers perfect 3D-printing and small-scale machining operations, new services will be possible for producing custom items through a vending and fulfillment experience. The physical and digital worlds are converging—and it's only a matter of time before their intersection leads to new experiences and opportunities for businesses."
Mary had a little lamb, Bob's choice was a spiced ragu
News just in of a vending machine serving up lamb dishes. It's the first one in Australia (perhaps the world) and it's been installed in a convenience store in Cootamundra. Patrons need not enter the store (this is probably primarily for after-hours gourmets) but can order and collect from outside. Hot lamb meals include tagine and Italian meatballs 24 hours a day. The chilled meals take around 3 minutes to (presumably) microwave to the right temperature.
The primary motive of the lamb growers and processors involved in the project is to find a way to "value-add secondary lamb cuts" and thus to shift the meat without recourse to last minute discounting. The project hopes it will have 160 vending machines worldwide within five years.
Email Newsletters
Stay up to date with the latest industry developments: sign up to receive TelecomTV's top news and videos plus exclusive subscriber-only content direct to your inbox – including our daily news briefing and weekly wrap.