Intel acquires eASIC to target IoT and cellular growth markets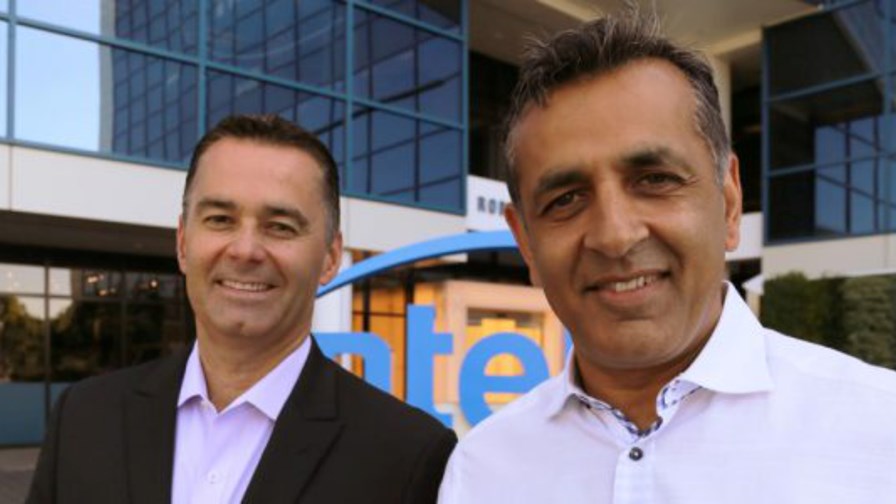 Intel will expand its portfolio to include structured ASICs
Targets high-performance and power-constrained applications
Structured ASICs are a mid-point between FPGAs and ASICs
Goal is to architect a new class of programmable chip
Intel has announced that it plans to expand its programmable solutions portfolio to include structured ASICs by acquiring California-based eASIC for an undisclosed fee. The team of the 19-year-old company, led by CEO, Ronnie Vasishta (pictured with Intel's Dan McNamara) will join Intel's Programmable Solutions Group. Intel hopes this will provide customers with more choice, faster time-to-market and lower development costs.
The key market here is IoT, where there is a demand for power-constrained applications that also often have to be high-performance. This also extends into LTE, including cellular IoT, and future 5G applications. Intel says it can also provide a low-cost, automated conversion process from field programmable gate arrays (FPGAs) – including those from other vendors – to structured ASICs.
Customers in the aforementioned markets will often begin deployments with FPGAs for fast time-to-market and flexibility. They then migrate to so-called structured ASICs, which can be used to optimize performance and power-efficiency. A structured ASIC is an intermediary step between FPGAs and ASICs – offering performance and power-efficiency closer to a standard ASIC, but with the faster design time and at a fraction of the non-recurring engineering costs associated with ASICs.
In the longer term, it sees an opportunity to architect a new class of programmable chip that takes advantage of Intel's Embedded Multi-Die Interconnect Bridge (EMIB) technology to combine Intel FPGAs with structured ASICs in a system in package solution.
Key Quote:
"Intel is competing to win in the largest-ever addressable market for silicon, which is being driven by the explosion of data and the need to process, analyze, store and share it," said Dan McNamara, corporate VP and GM of Intel's Programmable Solutions Group. "Intel has expanded its products and introduced breakthrough innovations in memory, modems, purpose-built ASICs, vision processing units and FPGAs."
This content extract was originally sourced from an external website (
Intel Newsroom
) and is the copyright of the external website owner. TelecomTV is not responsible for the content of external websites.
Legal Notices
Email Newsletters
Sign up to receive TelecomTV's top news and videos, plus exclusive subscriber-only content direct to your inbox.