AT&T loudly proclaims its perch at the top of the IoT tree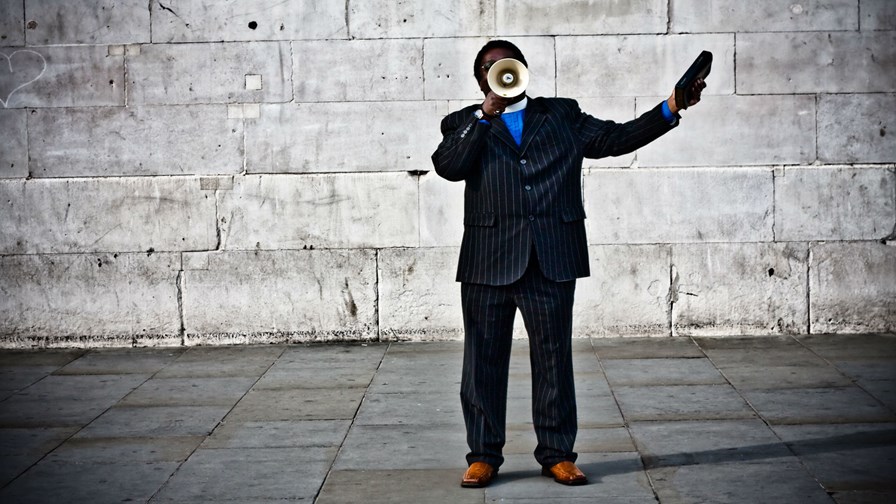 AT&T, not an organisation to stand murmuring modestly in the wings, is commanding centre stage and blowing it's own trumpet so loudly with regard to it's expertise in and commitment to IoT, that the sheer volume tends to detract from the content of the message. The carrier's new press release on the subject comes across as having been written throughout in blaring block capitals - even though it wasn't.
So, taking out some of the self-congratulatory verbiage, the nub of the matter is that AT&T has now inked IoT agreements with 136 companies a cross a wide variety of industry sectors, including agriculture, automotive, aviation, energy, healthcare, transportation, security and supply chain logistics.
IoT devices connected to AT&T's network are now installed in connected cars, homes, smart city infrastructure and across public services as well as in mass consumer products such as smart watches, connected health and fitness devices and other wearables. As at March 31 this year, AT&T's network had close to 22 million connected devices running on and over it.
Recent analyst forecasts have it that the I0T market will be worth US$1.7 trillion by 2020, three times its value today.
The AT&T release shows that some 945,000 smart devices were connected to the network during the first quarter of 2015, a 70 per cent increase on Q1 2014. Of those 684,000 were connected cars. AT&T is particularly strong in the automotive sector and works very closely with eight of America's biggest car and vehicle manufacturers.
Commenting on his company's success in this potentially massively lucrative new market, Ralph de la Vega, the CEO of AT&T Mobile and Business Solutions, said, "We're seeing major interest from companies in almost every industry. They want to connect their machines, fleets, factories, shipping containers – even pallets – to our network. We're helping businesses solve real problems by building custom solutions that automate operations, reduce costs, and save time."
He added that more and more businesses are turning to M2M and IoT technology and solutions to help them cut costs, increase revenues, save time and cut energy usage.
AT&T lists five areas that will be key to fostering the uptake of connected devices. First is the efficacy of the user experience that will come with simple and easy-to-use interfaces. The second is open platforms and a consistent set of standards that support multiple types of devices. Third is security. As every device and connection is a point of potential malicious attack it will be essential to take a layered approach to enterprise security. At Number Four is increasing battery life as devices/sensors that currently support high bandwidth services tend to drain batteries very quickly. Fifth and last, but by no means least, is reducing the costs of devices and IoT services to ensure the global ubiquity of IoT connectivity.
First one to the IoT party gets a big slice of the cake
Glenn Lurie, the president and CEO of AT&T Mobility says, "There's no question that AT&T is leading this connected revolution. We were the first wireless carrier to recognise the IoT opportunity. We started investing early and put a dedicated team behind it more than seven years ago. That's why we're the farthest along in connecting cars and seeing real traction in other areas which are just starting. Just think of how much has been accomplished in a short amount of time – yet we're still just scratching the surface of what's possible. You'll see us continue to push, to innovate and play where our competitors simply are not"
It is quite true that AT&T was the first telco company to look seriously at the Internet of Things. It set up a unit dedicated to exploring the possibilities of IoT back in November 2008, long before anyone else had even begun to consider the idea. Later on, in 2014, AT&T opened one of its "Foundry" innovation centres in Plano, Texas and dedicated it solely to research into IoT technologies, services and applications. And AT&T has launched 10 M2M projects to date and a further 20 are in course of development.
Elsewhere, AT&T was the first carrier to dedicate a research lab to the possibilities of the connected car. It launched the AT&T Drive Studio in 2014 and the company says it is on target to provide 50 per cent of devices, services and network connectivity to all new passenger vehicles in the US by the end of this year. What's more, AT&T connects more than 40 percent of the connected farm machines in the US, more than 1.9 million fleet vehicles and 283,500 refrigerated shipping containers.
The operator has also certified more than 2,200 types of connected devices to date with many more in the offing and also offers a Global SIM platform providing wireless connections to more than 200 countries around the world.
All very impressive... if only they wouldn't shout so much.
Email Newsletters
Sign up to receive TelecomTV's top news and videos, plus exclusive subscriber-only content direct to your inbox.