Intel: Proof that a leopard can change its spots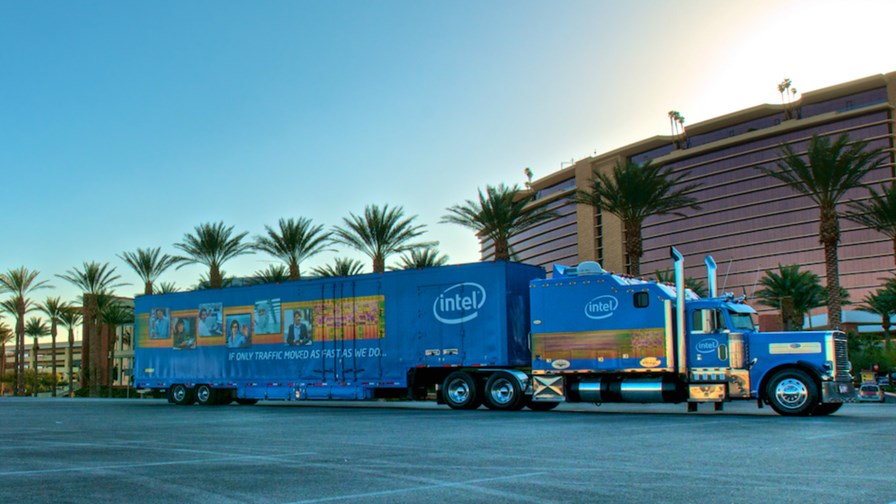 Semiconductor giant transforms.
Moving away from reliance on PC market.
Focus on data centres, IoT and other Internet-based networks.
It's still chips with everything - but fewer for PCs.
One of the buzzwords most frequently bandied-about in the global comms industry in recent years has been "Transformation". Indeed, it has acquired a talismanic resonance somewhat akin to those who whistle loudly when walking past a graveyard to show that they not in the least afraid of what might be lurking amongst the headstones.
That said, the exact definition of 'Transformation" has been a matter of considerable debate with different companies and corporations applying their own meanings and then adducing sometimes dodgy evidence to support the claim that they have indeed been transformed either from a lumbering behemoth into a sleek and hungry panther or ugly hairy caterpillar into a gorgeous butterfly.
However, one company of very few that can legitimately claim to be transforming itself from the inside out and from top to bottom is Intel. The evidence is there and investors and Wall Street analysts alike applaud what is happening.
Intel, of Santa Clara in California, is one of the biggest manufacturers of semiconductors in the world, having built its first empire on the runaway global success of the personal computer. However, things ain't what they used to be in the PC world and the glory days of endless growth are definitely over. The bulk of today's consumers use other and much more handy mobile devices, including smartphones and tablets, as their basic computing devices and that sea-change is causing waves; waves that are washing beneath the foundations of the established semiconductor industry.
Thus, yesterday, Intel reported that income from its chips for PCs business declined, year-on-year, by 14 per cent in Q2. The company added that compared to 2014, semiconductor sales in 2015 will be down by 5 per cent overall.
That is not great news but Intel long-ago recognised and realised that it would need to transform itself if it is to remain a global player and, in light of the emergence of cloud computing, SDN and NFV, has been researching, designing and manufacturing semiconductors for data centres, IoT and other Internet-based networks.
And the strategy is working. Intel has just announced that sales of data centre chips are up by 10 per cent on 2014 figures with IoT and so-called "high-level" semiconductor sales rising to 40 per cent of revenue and 70 per cent of profits.
For Q2, the company posted net income of US$2.7 billion, a figure that is actually $100 million down on Q2, 2014 but is balanced out nicely in terms of value per share because Intel has zealously been pursuing a major share buy-back programme. Times might be tough for chip-makers but Intel's results were well above analyst forecasts and expectations.In a statement, Intel's CEO, Brian Krzanich, wrote, "Second-quarter results demonstrate the transformation of our business. We continue to be confident in our growth strategy and are focused on innovation and execution."
PCs still important but not as important as they used to be.
Meanwhile, the PC market may be in decline but it will remain an important sector for the near- to medium-term future. As Stacy Smith, Intel's CFO, said, "The PC continues to be one of the key form factors people use to compute."
Given that, Intel is hoping that the upcoming release of Microsoft's Windows 10 software will help increase sales of its 'traditional' chips. However, analysts warn that Intel should not place too much reliance on the latest iteration of an operating system to boost sales for very long. Bill Kreher, an analyst at Edward Jones Investments in Missouri commented, "In the past we'd see a new operating system every three years or so, and people would buy a new PC, but now a lot of things you do are based on subscriptions in the cloud, and you don't need new hardware to get a subscription."
Simultaneously however, analysts also believe that Intel's latest semiconductors, used for highly-sophisticated apps and services such as log-ons performed and validated by facial recognition and also for touch-screen gaming, will sell in more than sufficient numbers to keep the 'traditional' Intel lines moderately buoyant whilst development continues apace in the data centre and IoT space.
The only potential downside here is that while Intel's latest successful chip sets are based on 14 nanometre wires, the company has announced plans to introduce 10 nanometre-wired chips in 2017. They will be smaller, faster, cooler and greener but they will be more expensive and difficult to manufacture. That reality could adversely impact Intel's numbers in the short-term, say a year or so down the line.
As a countervailing strategy, Intel has been investing some of its considerable war chest on mergers and acquisitions. Last year it spent $740 million to take part of Cloudera, a data analysis software specialist with considerable reach into the date centre market. As it made its investment Intel simultaneously abandoned its R&D into similar technologies. There's a message there. Then, this June, Intel spent $16.7 billion to purchase its semiconductor manufacturing rival Altera. The main reason for that expenditure was to take command of Altera's considerable data centre attributes.
Another straw in the wind.
Intel is publicly demonstrating that a leopard can indeed change its spots, provided, in the first place, that it understands that it has to become something else if it is to survive and has the determination to effect the difficult transition.​
Email Newsletters
Sign up to receive TelecomTV's top news and videos, plus exclusive subscriber-only content direct to your inbox.